Pardee Center Director in the Media on Pakistan Floods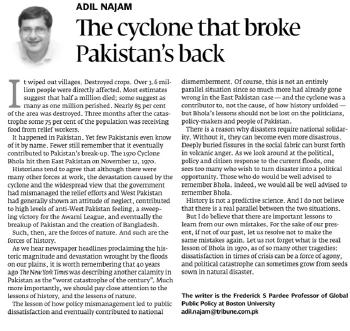 The Director of the Frederick S. Pardee Center for the Study of the Longer-Range Future and Boston University Professor of International Relations and Geography and Environment, Prof. Adil Najam has been widely quoted in the international and Pakistani media on the devastating floods in Pakistan, the international humanitarian response to them, and on efforts for longer-range rehabilitation and development in the post-flood reconstruction.
The Pardee Center Director appeared in an hour long episode of National Public Radio (NPR) show, On Point with Tom Ashbrook, on the epic floods in Pakistan (here). The show can be heard in its entirety here or via the program's page (here). The program discussed at length the scale and scope of the calamity as well as its developmental and political implications and the need to take a longer-range view of the rebuilding efforts and possibly even use it as an opportunity.
Prof. Adil Najam also write an op-ed on the subject for The Express Tribune (August 18, 2010), looking at the 1970 cyclone in then East Pakistan and drawing lessons from that for today's crisis. In the Op-Ed (here), Prof. Najam argues that "we should pay close attention to the lessons of history, and the lessons of nature" and that "There is a reason why disasters require national solidarity. Without it, they can become even more disastrous. Deeply buried fissures in the social fabric can burst forth in volcanic anger." The Op-Ed concludes by pointing out that "dissatisfaction in times of crisis can be a force of agony, and political catastrophe can sometimes grow from seeds sown in natural disaster." (Read full article here).
Prof. Adil Najam has also been following these issues on his blog All Things Pakistan, including here, here, here, here, here, and here.