New Book on China's Future Based on Pardee Center Conference
A new book on China's future – China Today, China Tomorrow: Domestic Politics, Economy and Society – edited by Pardee Center Faculty Fellow Prof. Joseph Fewsmith and based on a Pardee Center's December 2008 conference has just been published by Rowman and Littlefield Publishers.
The book is based on essays presented at the Pardee Center conference on "Where is China Headed?" held in December 2008 which brought together some of the leading experts on China together. In this timely book, a group of leading scholars provides a comprehensive assessment of China's polity, economy, and society. Taking the thirtieth anniversary of Beijing's adoption of reform and opening as an occasion to reflect on the course of development over the past three decades, the contributors consider where the country may be going in the future. Just as China has had enormous success in developing its economy, it continues to face equally enormous challenges across a wide variety of issues, including inequality, social protest, energy, the environment, and a resurgence of religion.
In a pre-publication review, noted China expert Prof. Ezra Vogel of Harvard University writes: "This book offers the best overview available of Chinese society, economy, and politics. It brings together many of the finest scholars on contemporary China, giving a rounded view of the PRC over the past thirty years and raising incisive questions about where China is going. The authors show that the country's rapid economic growth, adaptive authoritarian government, and developing institutions over the last three decades give hope for coping with difficult problems like pollution, climate change, corruption, and inequality."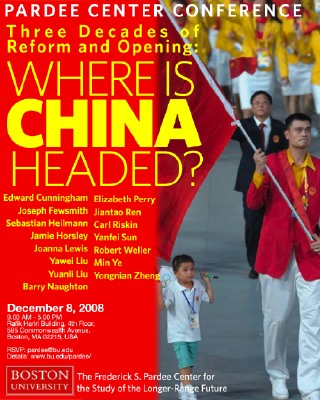 Prof. Joseph Fewsmith, who organized the original Pardee Center conference and is the editor of this collection is himself a noted China expert and author of China Since Tiananmen (2001) and Elite Politics in Contemporary China (2000). Other contributors of the book include Edward A. Cunningham, Joseph Fewsmith, Sebastian Heilmann, Jamie Horsley, Joanna Lewis, Yawei Liu, Barry Naughton, Elizabeth J. Perry, Ren Jiantao, Carl Riskin, Sun Yanfei, Robert Weller, Min Ye, and Yongnian Zheng. All of the authors had presented these papers at the Pardee Center Conference in December 2008 except Joanna Lewis, whose paper was based on a later Pardee Center seminar talk she gave in 2009.
Videos of all the original talks are available at the Pardee Center Videos page, and a report of the conference is available here.