Reception for The Millennium Project Planning Committee Held at Pardee House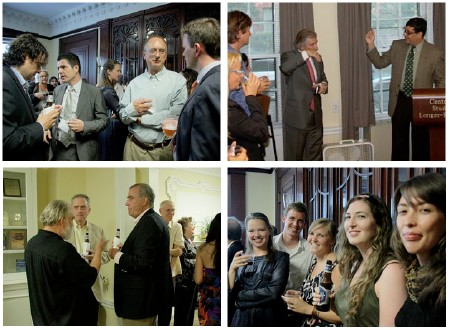 A reception in honor of the Planning Committee of The Millennium Project was held on the evening of July 6, 2010, at the Pardee House, Boston University.
The reception was attended by nearly 60 contributors to The Millennium Project from across the world and by faculty and researchers from Boston University, including Pardee Center Summer Fellows. Prof. Adil Najam, the Director of the Boston University Frederick S. Pardee Center for the Study of the Longer-Range Future welcomed the guests and introduced them to the work of the Pardee Center. Jerome Glenn, the Director of The Millennium Project, briefly introduced the work of the project and presented a copy of the 2010 State of the Future Report to Prof. Najam.
The Millennium Project is an independent non-profit global participatory futures research think tank of futurists, scholars, business planners, and policy makers who work for international organizations, governments, corporations, NGOs, and universities. It manages a coherent and cumulative process that collects and assesses judgments from all over the world, which are then distilled in its annual "State of the Future", "Futures Research Methodology" series, and special studies. The Planning Committee of The Millennium Project includes international thought leaders from all across the world, representing the 36 regional nodes of the project.