Experts Discuss Health & Development in Africa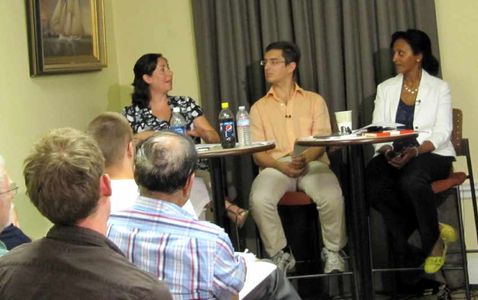 On Thursday, July 1, 2010, The Frederick S. Pardee Center for the Study of the Longer-Range Future held a lunch seminar on 'Africa 2060 – Health & Development'. Part of the 'Pardee House Seminars' series, the event featured Prof. Astier M. Almedom, Dr. Alfredo Burlando, and Dr. Melissa Graboyes , and was moderated by Prof. Adil Najam, Director of the Pardee Center.
Prof. Astier M. Almedom is Director of the International Resilience Program at the Institute for Global Leadership at Tufts University. She kicked off the discussion by discussing the need to have a resilience index to manage adversity and disaster, as a way to look at the issue in a constructive and positive light. Prof. Almedom also highlighted the need to look at systems and sub-systems in Africa
Dr. Alfredo Burlando, who recently received his Ph.D. from the Department of Economics at Boston University and is currently a Research Fellow at the Pardee Center, began by highlighting the positive trends in health and development that Africa is showing. He also pointed out that although Africa's growth has been accelerating, it is still lagging behind other parts of the world. He argued that with improved infrastructure, there could be increased development and health in Africa.
Dr. Melissa Graboyes, who recently received her Ph.D from the  Department of History at Boston University, shared with the audience on medical research in Africa. She addressed the issue of ethics in conducting medical research in Africa and how it could be compromised given poor medical services and infrastructure available in the region. She also discussed the benefits and risks for Africans in being subjects to medical research.
Following the presentations the audience engaged in a lively discussion with the panelists. The issue of linking knowledge to action was brought up again at this seminar. Some of the other issues discussed included the use of traditional medicine in Africa and how it is incorporated into the medical infrastructure, the definition of development and how it can be measured, and comparisons with other developing countries. The  seminar ended with the speakers discussing on what could be done to improve health and development in Africa.
This seminar is part of the Africa 2060 Project, a Pardee Center program of research, publications and symposia exploring African futures in various aspects related to development on continental and regional scales.
The video of the seminar will be soon made available at the Pardee Center's multimedia webpage.
The seminar also marks the first live-tweet event of the Pardee Center. Follow the Pardee Center on Twitter for future live tweeting events.