Prof. Najam Elected Fellow of Human Development and Capability Association (HDCA)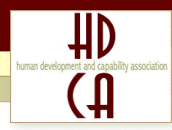 Pardee Center Director and Boston University Professor of International Relations, Geography and Environment, Prof. Adil Najam, has been elected by the Fellows of the Human Development and Capability Asosciation to serve as a new Fellow of the HDCA.
According to the notification from HDCA, Prof. Adil Najam was elected as a HDCA Fellow because of his significant contribution to othe field of human development, and because his work reflects the kind of contributions the Association endeavors to foster. Prof Najam's five-year tenure as Fellow begins on 21 September 2010.
Launched in September 2004, the Human Development and Capability Association promotes research from many disciplines on key problems including poverty, justice, well-being, and economics. Frances Stewart is the president of the HDCA. Nobel winning economist Prof. Amartya Sen was the Founding President of HDCA 2004 – 2006; Martha Nussbaum was President of HDCA 2006 – 2008. Human Development and Capability Association (HDCA) promotes high quality research in the interconnected areas of human development and capability. It is concerned with research in these areas across a broad range of topics where the human development and capability approaches have made and can make significant contributions, including the quality of life, poverty, justice, gender, development and environment inter alia. It shall further work in all disciplines – such as economics, philosophy, political theory, sociology and development studies – where such research is, or may be, pursued. While primarily an academic body, the Association brings together those primarily involved in academic work with practitioners who are involved in, or interested in, the application of research from the fields of human development and capability to the problems they face.
Prof. Najam is also a Senior Fellow at the International Institute for Sustainable Development (IISD), a Visiting Fellow at the Sustainable Development Policy Institute (SDPI), and serves on the Boards of the Pakistan Institute for Environment-Development Action Research (PIEDAR) and the Centre for Global Studies at the University of Victoria, Canada. See his full profile here.