Pardee Center Holds Conference on "Good News from Africa"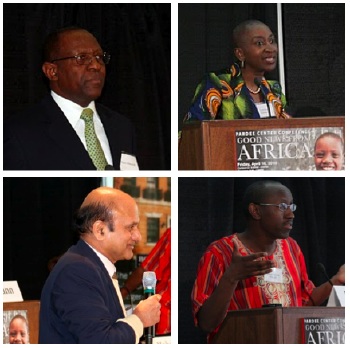 The Boston University Frederick S. Pardee Center for the Study of the Longer-Range Future held an all-day conference on 'Good News from Africa' as part of its Africa 2060 program of research. The conference was held on Friday, April 16, 2010 at the Boston Law School and brought together experts from a variety of fields and from across the world and an audience of nearly a hundred to discuss different aspects of Africa's longer-range future.
The all-day conference featured four panels which focussed, respectively, on Social Development, on Markets and Economy, on Politics and Institutions, and on Society and Culture), a lunch keynote address, and a post-conference reception with African food and music.
In his opening remarks Prof. Adil Najam, the Director of the Pardee Center laid out the concept behind the conference and highlighted that the conference took a purposely broad and long-range view of Africa. He urged participants to take the future and the study of the future seriously in thinking about the things that can be done today to make Africa's tomorrows better. Prof. Najam thanked the African Studies Center (ASC), the African Presidential Archives and Research Center (APARC) and the Global Health and Development Center (GHDC), all also at Boston University for collaborating in the design and organization of the conference. He highlighted the breadth and depth of African studies across all campuses of Boston University.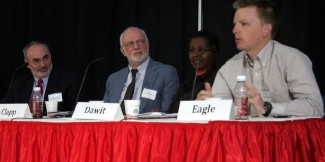 The first panel, on social development, was chaired by Prof. Jon Simon of the Boston University School of Public Health and Director of the Center for Global Health. Prof. Sable Dawit's presentation focussed on the spread of peace studies education in Africa and analyzed the quality and number of such programs as an indicator of how educational institutions in Africa and taking on these issues. Prof. Richard Clapp, presenting on behalf of his South African colleague Dr. Leslie London, focused on pesticides and health challenges in South Africa. Dr. Nathan Eagle's presentation looked at how cell phone technology has not just penetrated Africa but has become a major force for social good. He highlighted the potential of new technologies unleashing the entrepreneurial spirit of the continent.
The second panel, on economy and markets, was chaired by Prof. Jim McCann of the Boston University History Department and a Pardee Center Faculty Fellow. It began with a rousing presentation from Prof. Vijay Mahajan based on his book Rising Africa. He was followed by Prof. Margaret McMillan who looked at the local economic dynamics that are propelling growth in Africa. Dr. Julius Kariuki, Post-Doc Research Fellow at the Pardee Center, presented his recent Pardee Center paper on how perceptions about Africa have changed over time. The final presentation was from Prof. Harounan Kazianga who looked at challenges in agriculture, especially in Burkina Faso.
A keynote address was presented over lunch by Ambassador Kaire Mbuende who is currently the Ambassador of Namibia to the United Nations. He has earlier served as Namibia's Deputy Minister for Agriculture, Water and Rural Development, as Deputy Minister for Foreign Affairs, and as a member of the Namibian Parliament. He has also served as the Executive Secretary of the South African Development Community. In his address, Amb. Mbuende expanded on a list of ten factors that are fueling current African growth. He argued that it is now up to the African continent itself to build on these dynamics to make this growth lasting. He suggested that the most important investments were in people, including through education.
The third panel, on politics and institutions, was chaired by Prof. Tim Longman, the Director of the BU African Studies Center. The first speaker, Prof. Robert Rotberg based his presentation on the premise that the most important things that would influence Africa's future are governance and institutions. He argued that there was much good news in this area, but we also have to be very careful about the news that is not good as we think about the future. Prof. Abdul Paliwala's presentation looked at the challenges of measuring justice in Africa. Prof. Oyeronke Oyewumi looked at the role of women in African politics and institutions are highlighted both the good and not-so-good news in this area.
The final panel looked at issues related to culture and society and was chaired by Prof. Fallou Ngom. Prof. Bahru Zewde focused on various aspects of society and looked at the trends, including in sports. However, he focussed specially on scholarship and knowledge networks in Africa and reviewed their progress. Dr. Marc Sommers' presentation looked at youth in Africa and he highlighted this as a major challenge for the future and one that needs to be addressed as a matter of urgency. Finally, Dr. Heran Sereke-Brhan talked about the role of music and film at a pan-Africa level and highlighted how active these fields are and how a distinct African identity is visible. She especially focused on the 'Nollywood' film industry which is thriving not just in Nigeria but all over Africa, including in the African diaspora and beyond.
Each of the panels, and the keynote address, were followed by lively and engaging discussion sessions with the audience. After concluding remarks from the Pardee Center Director, a reception was held at the Africa Studies Center which featured African food and live African music played by Balla Tounkara, a master kora player from Mali.
As part of the Pardee Center's Africa 2060 program, the conference also helped launch a number of Africa 2060 publications – including recent Pardee Papers on regional development in Africa and on narcotics trade through Africa, and recent Pardee Center Issues in Briefs on the changing perceptions about Africa, on obesity in Africa, on developing a resilience index for Africa, on Malaria in Africa, and on agriculture and climate change in Africa. A number of other Africa 2060 related publications are now in the pipeline and others will continue to be developed, including one reporting on this conference.
Papers and slides from the panels will soon be available here and videos of all the panels and the keynote address will be posted at the Pardee Center Multimedia page. Publications coming out of the Pardee Center Africa 2060 program are available here.