Pardee Center to Hold Workshop on the Distal Determinants of Public Health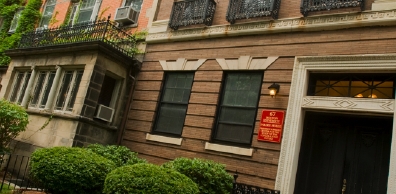 Experts from a variety of disciplines will meet at Boston University on April 29 – 30, 2010, to discuss the current best practice modalities for preventing and treating a host of communicable and non-communicable diseases and what explains variation in the implementation of the bio-medical knowledge. The workshop is sponsored by The Clinton Global Initiative (CGI) at Boston University and the Frederick S. Pardee Center for the Study of the Longer-Range Future.
The workshop, titled " The Distal Determinants of Public Health",  will explore the distal determinants of public health policies and focus on prior actions and conditions that make certain types of policies – certain styles of leadership – more or less likely.
The motivations for this workshop are severalfold. First, distal factors in public health seem to have been largely neglected by scholars and policymakers. Whereas institutions are granted central importance in explaining economic growth and other outcomes of concern, they have not been accorded the same importance in explaining public health. Second, the workshop hopes to facilitate greater exchange across the social sciences in matters relating to public health and finally, the workshop hopes to find ways to enhance the political, social, and economic incentives that govern the provision of public health.
The workshop will be led by John Gerring, Professor of Political Science at Boston University and Pardee Faculty Fellow and Evan Liberman, Associate Professor of Politics at Princeton University.
The participants will attend a dinner reception in the evening of Thursday, April 29 2010, and convene at the Pardee House on 67 Bay State Road, Boston, on Friday, April 30, for a full day workshop.
The workshop is restricted to invited participants only.
Participants in the conference include:
1) Varun Gauri, Senior Economist, Development Research Group, World Bank
2) Wei Huang, MS student, Department of Health Policy and Management, Boston University School of Public Health
3) Randall Kuhn, Assistant Professor and Director, Global Health Affairs Program, Josef Korbel School of International Studies, University of Denver
4) James McGuire, Professor, Department of Government, Wesleyan University
5) Carol A. Medlin, Senior Program Officer, Global Health Policy and Advocacy, Bill and Melinda Gates Foundation
6) Grant Miller, Assistant Professor, School of Medicine, Stanford University
7) Adil Najam, Director, Pardee Center for the Study of the Longer-Range Future; Professor, Department of International Relations, Boston University
8) Connie Nathanson, Professor, Mailman School of Public Health
9) Kandala Ngianga-Bakwin, Principal Research Fellow, Clinical Sciences Research Institute, Warwick Medical School, University of Warwick
10) Richard Parker, Professor, Mailman School of Public Health
11) Nita Rudra, Professor, Graduate School of Public and International Affairs, U. of Pittsburgh
12) Jeremy Shiffman, Associate Professor, Public Administration, Maxwell School
13) Jonathan Simon, Chair of the Dept of International Health (DIH); director of the Center for International Health; Professor of International Health; School of Public Health, Boston University
14) Strom Thacker, Professor, International Relations, Boston University (sthacker@bu.edu)
15) Muhammad H. Zaman, Assistant Professor, Biomedical Engineering and Medicine, Boston University (zaman@bu.edu)
For more information on the workshop, please contact the Center's administrator, Theresa White.