Next Pardee House Seminar: Dealing With Disasters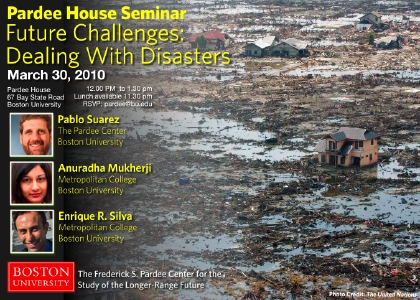 The Frederick S. Pardee Center for the Study of the Longer-Range Future will hold a lunch seminar on 'Future Challenges: Dealing with Disasters ' on Tuesday, March 30, 2010, featuring Dr. Pablo Saurez, Dr. Anuradha Mukherji and Prof. Enrique R. Silva. The Seminar will be moderated by Prof. Adil Najam, Director, Pardee Center.
Dr. Pablo Saurez is a visiting scholar at Boston University and a guest scholar at the International Institute for Applied Systems Analysis (IIASA). He has worked and published on a diverse range of issues including transportation modeling, food security implications of changing rainfall patterns, microinsurance instruments for subsistence farmers, and the impact of the HIV/AIDS pandemic on disaster management organizations. His current work addresses adaptation to climate change, institutional innovation and integration, and the use of video and other communication tools for awareness, advocacy and capacity building.
Dr. Anuradha Mukherji is an Adjunct Faculty at the City Planning and Urban Affairs program at Boston University, where she teaches courses on Disaster Recovery Planning and Comparative Housing. She has a PhD in Architecture from the University of California at Berkeley. Her research focuses on housing, institutions and policy, and hazard mitigation and recovery with an emphasis on social and sustainability issues in planning. She is interested in policy and planning solutions that are appropriate for the housing needs of low-income communities. Her doctoral work examined equity and affordability in provision of post-disaster housing across different socio-economic groups – such as homeowners, renters, and squatter communities – in India. Dr. Mukherji was in Haiti from January 19th to 26th, as part of a Boston University interdisciplinary team, in an advisory capacity to the Haitian government. She is currently collaborating on an NSF funded research project that documents and assesses the mobilization and use of community capacities for housing recovery in Port-au-Prince, Haiti.
Prof. Enrique R. Silva is Assistant Professor of Urban Affairs and City Planning, at Boston University. An expert in comparative urbanization and the formation of public sector planning institutions and practices, Dr. Silva's research into the institutionalization of participatory planning policies in Chile and the U.S. raises questions about the challenges inherent in the democratization of planning and policy-making in general. Silva teaches courses on the theory and history of city planning, comparative urbanization, politics and public participation, and qualitative research methods. He has worked abroad in the fields of international development, philanthropy, and human rights, and has several years of professional experience as a city planner and environmental permitting consultant in the Greater Boston area.
The Seminar will be held at Pardee House (67 Bay State Road, Boston) on Tuesday, March 30, 2010.
The Pardee Seminar Series focuses on a variety of issues and invites experts from different disciplines to discuss the long-range challenges and trends in that particular issue.
Lunch will be available from 11.30am, and the seminar itself will start at 12.00pm. Please RSVP to pardee@bu.edu by Friday, March 26, 2010. Seating is limited to 30 participants.