Next Pardee Seminar (Mar. 1) : Making Local Governance Deliver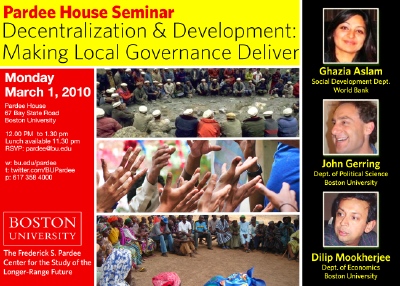 The Frederick S. Pardee Center for the Study of the Longer-Range Future will hold a lunch seminar on 'Decentralization and Development: Making Local Governments Deliver ' on Monday, March 1, 2010, featuring Ms. Ghazia Aslam, Prof. John Gerring and Prof. Dilip Mookherjee. The Seminar will be moderated by Prof. Adil Najam, Director, Pardee Center.
Ghazia Aslam is currently working with the Social Development Department (SDV) at the World Bank and is a doctoral candidate at the School of Public Policy at George Mason University. She has also previously worked with the Development Economics Research Group at the World Bank and has held a Visiting Faculty position at Economics Department, Lahore Univeristy of Management Sciences where she taught Constitutional Political Economy. She has participated in a number of initiatives on local governance at the SDV including Economic and Sector Work Report (2009).
Prof. John Gerring is a Professor of Political Science at Boston University and a Pardee Center Faculty Fellow. His recent books include A Centripetal Theory of Democratic Governance (co-authored with Strom Thacker, Cambridge University Press, 2008) and he currently serves as the president of the American Political Science Association's Organized Section on Qualitative and Multi-Method Research. Prof. Gerring also leads the "Governance in the Developing World" research project at the Pardee Center.
Prof. Dilip Mookherjee is a Professor of Economics at Boston University and the Director of the Institute for Economic Development. He specializes in the area of incentives and institutions. His recent research includes tax enforcement and public administration reforms; the role of inequality; and land reforms and contracting structures in developing countries. His recent books include Market Institutions, Governance and Development: Collected Essays (Oxford University Press, 2006). He has served as a past co-editor of the Journal of Development Economics.
The Seminar will be held at Pardee House (67 Bay State Road, Boston) on Monday, March 1, 2010.
The Pardee Seminar Series focuses on a variety of issues and invites experts from different disciplines to discuss the long-range challenges and trends in that particular issue.
Lunch will be available from 11.30am, and the seminar itself will start at 12.00pm. Please RSVP to pardee@bu.edu by Friday, February 26, 2010. Seating is limited to 30 participants.