Experts Discuss Cuba-US Policy
The Frederick S. Pardee Center for the Study of the Longer-Range Future, the Office of the Dean of the BU College of Arts and Sciences and BU Latin America Studies Program co-organized a conference on US-Cuba policy on November 6, Friday. The conference, titled, Whither US Cuba Policy? is supported by a grant from the Christopher Reynolds Foundation and the CAS Dean's Office, and headed by Professor Susan Eckstein and Ambassador Paul Hare.
Senator John Kerry was not able to make it to the conference at the last minute due to other commitments.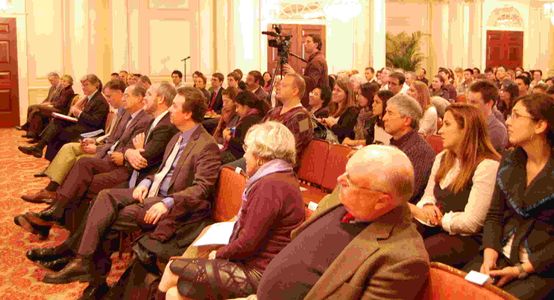 The program of the conference was as follows:
1:30 ~ 2:15 pm  The State of Cuba Today
Raphael Hernandez, Editor of Temas and Professor Jorge Dominguez
2:15 ~ 3:00 pm U.S. Business Prospects
Professor Paolo Spadoni and Ambassador Mark Entwistle
3:00 ~ 3:30 Address on US Cuba policy (via video conferencing)
Congressman Bill Delahunt
3:45 ~ 4:30 pm The Cuban Diaspora and the Future of Cuba
Carlos Saladrigas and Professor Miren Uriarte
4:30 ~ 5:15 PM Whither U. S. Cuba Policy?
Discussion led by Fulton Armstrong, Senior Advisor on the Western
Hemisphere to Senate Foreign Relations Committee; Carl Meacham,
Senior Foreign Policy Advisor to Senator Richard Lugar, Professor Susan
Eckstein and Ambassador Paul Hare