Pardee Summer Fellow's Research Honored by the American Anthropological Association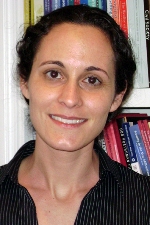 Pardee Summer Fellow, Arianna Fogelman, has been honored by the American Anthropological Association for the research she conducted as a 2009 Pardee Center Summer Fellow. Arianna, who focussed on issues of nutrition in Africa and wrote a paper titled "Weighing In: The Future of Malnutrition in Sub-Saharan Africa" while a Summer Research Fellow at the Pardee House has been awarded an honorable mention for the 2009 Christine Wilson Graduate Student Paper Award.
Fogelman's paper was judged to be amongst the top three papers submitted for the award. A version of the paper will soon be available in the Pardee Center Issues in Brief publication series. The award will be made later this month at the American Anthropological Association meeting.
Arianna Fogelman is a doctoral candidate in the Anthropology Department at Boston University. She earned an undergraduate degree in anthroplogy and political science at the University of California, Berkeley, and a master's degree in museum studies at George Washington University. She has done field work and additional course work in Panama and Africa.
During her summer fellowship at the Pardee Center, Fogelman looked at the increasing rate of obesity in sub-Saharan Africa, and how it is influenced by international and national food policies as well as cultural beliefs and practices.