John Kerry and Bill Delahunt to speak on U.S.-Cuba Policy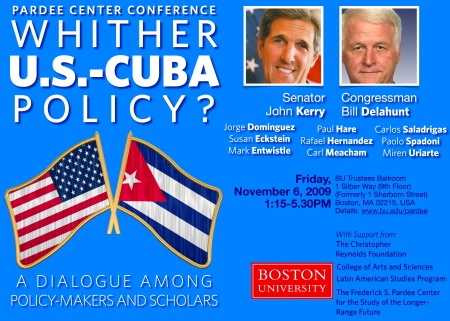 U.S. Senator John Kerry and U.S. Congressman Bill Delahunt will be amongst the speakers at a Boston University conference on "Whither U.S Cuba Policy?  A Dialogue Among Policy Makers and Scholars" to be held on Friday, November 6, 2009, at 1.30pm.
The conference is co-sponsored by the Frederick S. Pardee Center for the Study of the Longer-Range Future, the Office of the Dean of the BU College of Arts and Sciences and BU Latin America Studies Program. The conference is supported by a grant from the Christopher Reynolds Foundation.
The conference will begin with opening speeches from Senator Kerry and Congressman Delahunt, which will be followed by a set of panel discussions on the future of U.S – Cuba relations.
1.15pm Keynote Address (Senator John Kerry)
2.15pm Cuba Today
3.00pm U.S. Business and the Cuban Economy
3.45pm The Cuban Diaspora and Cuba
4.30pm Whither U.S Cuba Policy
Guests are requested to be seated by 1.15pm.
The Conference will be held at the Boston University Trustees Ballroom (9th Floor), 1 Silber Way (formerly 1 Sherborn Street), Boston, MA 02215 (directions here).
The panel discussions will be moderated by Professor Susan Eckstein and Ambassador Paul Hare.
Participants of the panels include: Jorge Dominquez, Mark Entwistle, Rafael Hernandez, Carl Meacham, Carlos Saladrigas, Paolo Spadoni and Miren Uriarte.