Faculty Workshop on Role of Sustainability in University Education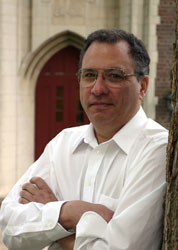 A small group of faculty and administrators from Boston University and other Boston-area universities participated in a workshop on March 19 about how the concept of sustainability might be incorporated into the curriculum, research programs and daily operations at universities. Sustainability is a challenge that is already a defining concern of our times and is likely to become even more important in the future. It is also a challenge that is interdisciplinary at its core.
Sponsored by the Pardee Center for the Study of the Longer-Range Future, the meeting was led by Simon Levin, the Moffett Professor of Biology at Princeton University and Director of Princeton's Center for BioComplexity. Prof. Levin is the Pardee Visiting Professor at Boston University for the current academic year and he was on campus this week meeting with faculty and senior administrators. Last fall, he delivered two Distinguished Lectures on the topics of "Cooperation and Collective Behavior" and  "Adaptive Complex Systems".
While there is widespread agreement that the term "sustainability" incorporates economic, social and environmental aspects, discussion at the workshop ranged from  the different interpretations of the term when it is applied in different contexts to whether and how universities might develop courses in sustainablility, perhaps even as part of general education requirements. A major issue to be resolved is how sustainability, which is a highly interdisciplinary concept, can be incorporated into the traditionally discipline-oriented research programs of faculty and graduate students.
There was much discussion about the role of traditional disciplinary curricula in combination with sustainability programs, and the participants agreed that many significant issues will need to be resolved before sustainability becomes a standard component of university education and research.
Workshop participants included:
Cynthia Barakatt, Communications Specialist, Pardee Center, BU
C.B. Bhattacharia, Professor, School of Management, BU
Michael Caramanis, Professor, Department of Mechanical Engineering, BU
Dick Clapp, Professor, Deparment of Environmental Health, School of Public Health, BU
Cutler Cleveland, Professor, Department of Geography and Environment, BU
Antje Danielson, Executive Director, Tufts Insititute for the Environment
Michael Gevelber, Professor, Manufacturing Engineering, BU
David Goldston, Guest Lecturer, Center for the Environment, Harvard University
Linda Grosser, Associate Director, Center for Information and Systems Engineering, BU
Robert Kaufmann, Professor, Deparment of Geography and Envrionment, BU
Thomas Kunz, Professor of Biology, and Director, Center for Ecology & Conservation Biology,BU
Simon Levin, Professor, Department of Biology, Princeton University
Ken Lutchen, Professor, Biomedial Engineering and Dean, College of Engineering, BU
Miquel Munoz, Post-Doctoral Fellow, Pardee Center, BU
Adil Najam, Director, Pardee Center, BU
Laura Orlando, Adjunct Assistant Professor, Department of Environmental Health, School of Public Health, BU
Andrei Ruckenstein, Vice President and Associate Provost for Research, BU
Richard Stack, Director, Office of Purchasing Services, BU
Gene Stanley, Professor and Director, Center for Polymer Studies, Physics Department, BU
Fred Wasserman, Associate Professor, Department of Biology, BU