Meet our BEST Noyce Scholars
2015–16
-
Warren Asfazadour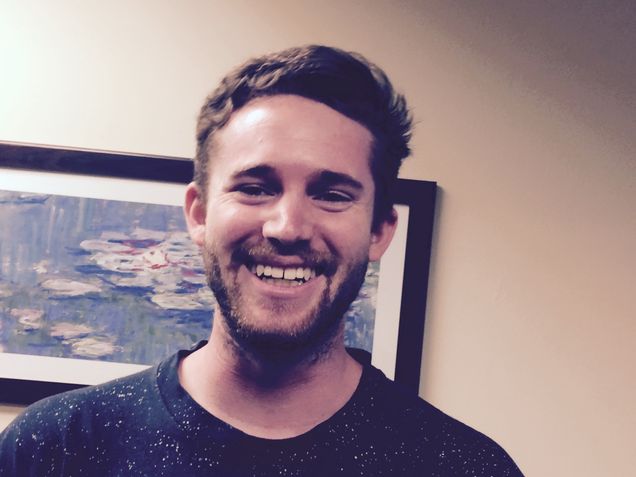 I grew up in San Diego, California. I went to school at the University of Puget Sound in Tacoma, Washington, where I majored in Mathematics. After I graduated I moved back to San Diego and started working at a Web Marketing Company. After working there for a few months I realized that I did not enjoy sitting behind a desk for eight hours a day. I remember feeling fulfilled when I was a peer tutor in college, so I decided that I would apply to grad school for education, and now here I am at Boston University.
-
Melody Jaros
Melody Jaros grew up living in Iowa and Hong Kong. She became 'hooked' on mathematics after joining the mathematical problem solving team at her high school. Throughout high school and college, Melody's favorite math courses have been discrete mathematics, combinatorics, and problem solving. She received her bachelor's degree in Mathematics and American Sign Language at the University of Rochester in Rochester, NY. Even after graduation, Melody continues to strive to incorporate her talents in sign language and mathematics for its accessibility and form of visual expression. Her interests outside of school include learning languages, baking, crocheting, and rock-climbing.
.
.
-
Chris Munson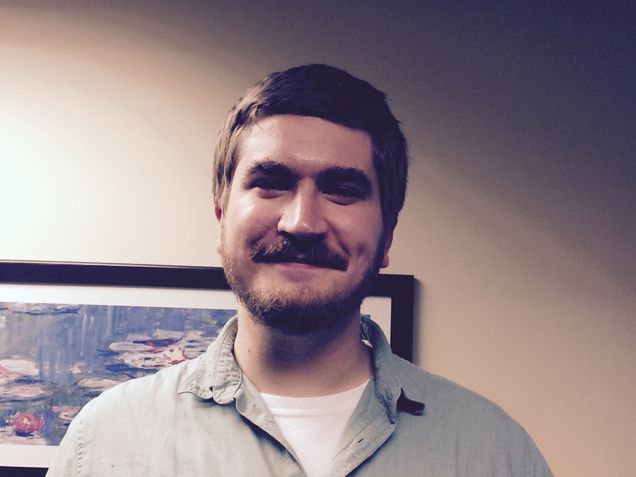 Chris grew up right here in Massachusetts, just south of Boston in Scituate. When he was younger, he really enjoyed his math classes, enough to study mathematics at the University of Massachusetts Amherst where he received his BS. However, it was not until his senior year working as a teacher's assistant for a calculus course did he decide he wanted to go into mathematics education. This led to working as an instructor for two years at a Mathnasium Learning Center on the South Shore right after graduating UMass. After working with K-12 and college students, he is excited to bring his love of learning and mathematics to the high school classroom setting. Chris was also involved in music and theater growing up and studied film at UMass. He hopes to support the arts in the future in school communities.
-
Elise Shattuck
Elise was born in California and raised in southern New Hampshire. She graduated form Kenyon College in 2014 with a major in studio art and a minor in mathematics. In her time at Kenyon, she worked as a peer tutor at the writing center and graded for math classes. After graduating, she spent a year working at an advertising company, but quickly realized that she wanted to teach. She is excited to begin her career as a high school math teacher! Outside of the classroom, Elise loves reading, oil painting, and playing any and all trivia games.
.
..
.
.
-
Alison Tammaro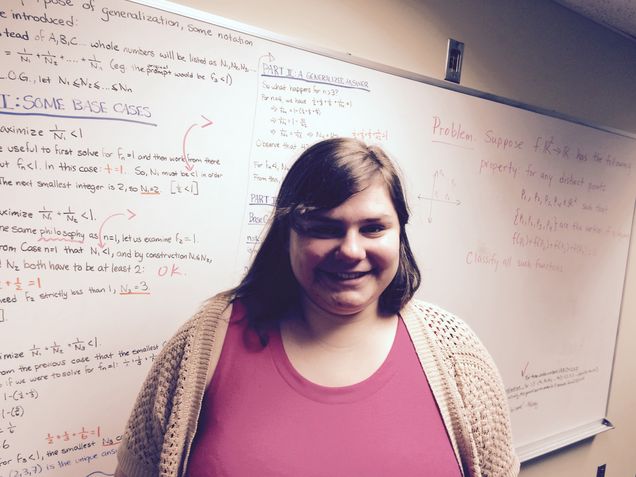 Alison Tammaro grew up in central MA and went to a Quaker high school which influences her teaching and learning practices to this day. She graduated from Smith College with a math major and education minor in May and went straight into BU classes over the summer. She has aspired to be a teacher for nearly her whole life and has jumped at any experience that involves working with children. She was a camp counselor at a Girl Scout camp for many summers and also worked at Smith College Campus School (a K-6 school on Smith Campus). Outside of academic pursuits, Alison loves all kinds of musical theater and overanalyzing musicals. She also enjoys camping with her family and attending nerdy book clubs.
2014–15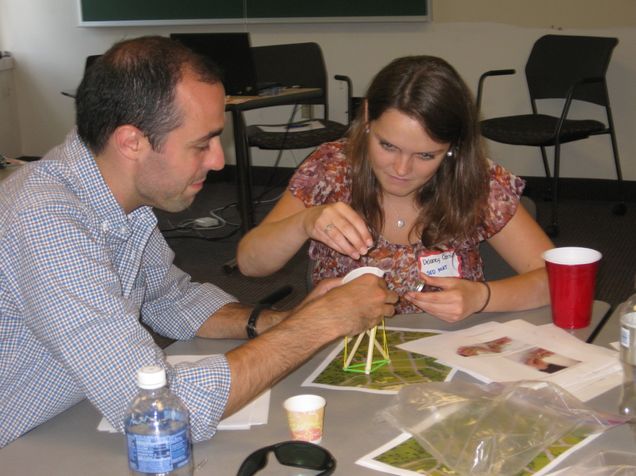 Kevin and Delaney engineer models of cellphone towers.
-
Delaney Carr
I grew up in Tewksbury, Massachusetts, about a half hour north of Boston, a born and raised Red Sox fan. My favorite part about New England is the fall season, and I stayed in the region for college, receiving a dual degree from Bryant University in Applied Statistics and Applied Psychology. Although I explored different majors and career paths in college, I always knew deep down that I wanted to be a teacher. Throughout high school and college, I pursued any jobs working with kids that I could including: coaching cheerleading, working at a day care, and nannying. I also tutored underclassmen college students at Bryant and worked as a Resident Assistant with them as well. I'm hoping these diverse experiences helped build some of the skills that will be necessary in the classroom!
-
Rob Moray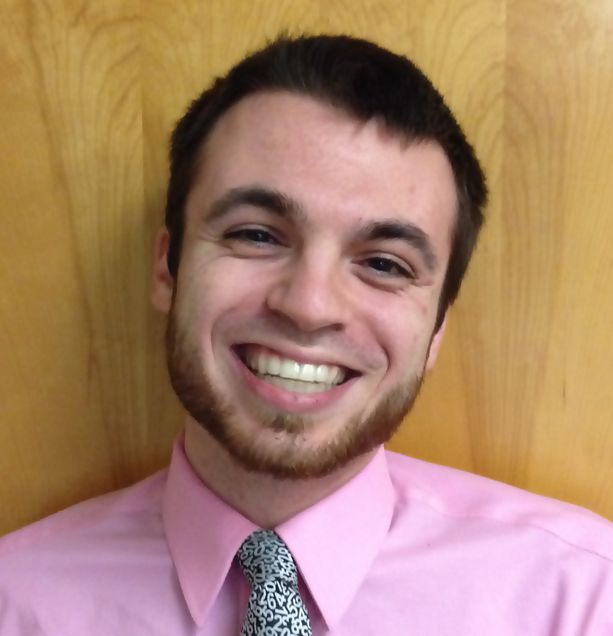 Rob Moray grew up in Newton, Massachusetts. He graduated from the University of Massachusetts Boston, majoring in mathematics. As an undergraduate, Rob became interested in helping others learn after assisting a doctoral candidate on their dissertation research in mathematics education. This passion was enhanced by opportunities to conduct research on technology-based mathematics discourse as well as tutoring students in subjects ranging from basic math skills to Calculus. Rob also volunteered at a local hospital and engaged in research studying a regulatory network believed to be involved in cancer. Following his graduation from UMass Boston in 2014, he began his master's degree in mathematics education at Boston University. He hopes to channel his love for mathematics and passion for helping others learn into effective pedagogy that will lead to successful students in urban, high-needs school districts.
"When it came time to choose which graduate program I wanted to enroll in, I chose Boston University not only because I recognize its status as a world-class university, but also because I had conducted my own independent research about the program, and was impressed by a strong emphasis developing effective teaching practices not only in general but also specific to the classes I will actually be teaching."
"What I like about the Noyce program is its emphasis not only on serving those most in need but also on a strong professional support community that I have come to realize is essential for all teachers. Through extra information sessions offered exclusively to Noyce scholars, I have learned about amazing new ways that ongoing research is being infused into classroom learning. I believe that the Noyce program has a lot of potential to take individuals who are passionate about their subject and turn them into individuals who are also passionate about their pedagogy."
-
Kevin Potterton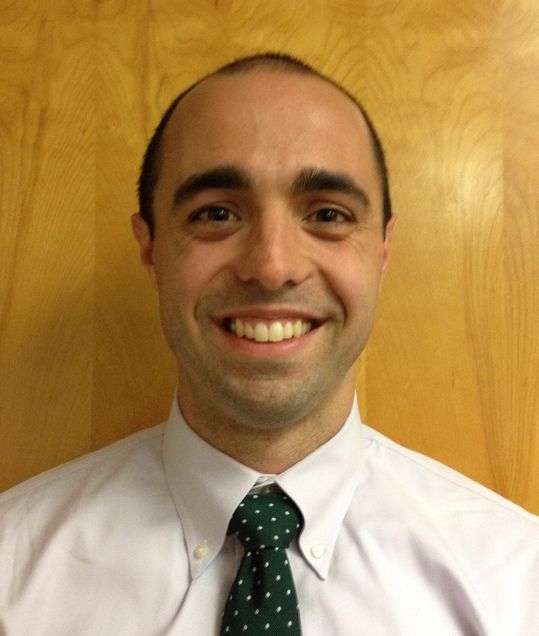 Kevin's lifelong love of learning and desire to make a difference in his community inspired him to pursue a career in education. Originally hailing from Needham, MA, he is returning to the Boston area after a two-tear stint at an investment bank in San Francisco. During his brief career in finance, Kevin developed financial models for publicly-traded Internet businesses such as Google, Facebook, and Twitter. Kevin graduated summa cum laude from Claremont McKenna College with a Bachelor's degree in Economics and Mathematics. He has served in a variety of tutoring roles since high school, including as a peer tutor in both the Mathematics and Economics departments at Claremont McKenna. Kevin's other lifelong passion is running, which he pursued as a four-year member of the Cross-Country and Track & Field teams at CMC. He hopes to inspire both a love of learning and a passion for athletics as a teacher and coach.
"I decided to apply to the Noyce program after coming to the realization that I was not passionate about my career in finance. I have benefitted so much in my life from my education, especially in math, and I wanted to share those opportunities with the youth of Boston, which I have always considered home. The Noyce program offered a way for me to break into the teaching field with superb preparation and minimal upfront financial commitment."
"For me the Noyce program is a launching pad for a career teaching math in high-needs, urban high schools. I hope to use all the guidance and mentoring that the Noyce program provides in order to become the best teacher that I can possibly be."
2013–14
-
Jillian Cohen
Jillian Cohen is from Topsfield, MA.  Her family now lives on Cape Cod so she has a great place to visit on weekends for beach outings, puppy play-dates, and yard sale-ing. She graduated from Worcester Polytechnic Institute in 2010 with her Bachelors in Management Engineering with a Biomedical Engineering concentration. Right out of college, Jillian fell into an adjunct teaching opportunity at Quinsigamond Community College in Worcester. She spent two years teaching developmental mathematics to students who either failed math in high school or students who were returning back to school later in life to get their degree. The courses Jillian taught included Basic Mathematics Skills, Beginning Algebra, Intermediate Algebra, College Algebra, and Math Skills for Allied Health Careers, a course for nursing majors. Although she loved teaching, she wanted to make sure she was not missing out on opportunities in corporate America. She worked for a technology company as an engineer for two years. It quickly became apparent that Jillian's destiny was in a mathematics classroom!
"Even though my job at the technology company was interesting and competitive, I constantly found myself seeking opportunities to teach. I would take the complex engineering and technology concepts and host mini-workshops for the inside sales representatives so that they would be able to better understand the devices that they were trying to sell. I quickly realized that I belong in the classroom!"
"I knew that I wanted to complete my Master's before I became a full time teacher. I didn't think it would be fair to my students if I was taking classes, trying to get my own work done, while at the same time focusing on the needs of the students. I want my focus to remain on them. The program at Boston University was a no-brainer. I would be able to complete my Master's degree and student teaching all in one year. While I knew it would be a great deal of work, the pace was the right move for me. Plus, I had a really good feeling that I would be with an amazing group of people that would make my journey much more memorable and exciting!"
-
Linda Nguyen
Linda grew up in Boston, Massachusetts and received a B.S. in Biomedical Engineering from Boston University. As a biomedical engineer, Linda worked with stroke patients to retrain their visual and cognitive impairments. She has also spent many years mentoring and teaching urban students through the Upward Bound program and currently works with a non-profit to help students and their families prepare for higher education. Throughout her experiences, Linda has found her background in BME to be an essential part of her teaching in making content more engaging and applicable to students' interests.
"In high school, I had a chemistry teacher who not only was a great teacher but a wonderful mentor. He helped me through countless struggles. He changed what I believed a teacher is and should be. As I teacher, I want to help my students through their academic and personal growth as my high school teacher had done for me."
"I decided to attend Boston University for my MAT in math education because of their curriculum and their commitment to urban, high-need schools. Unlike other MAT programs, BU provided a curriculum that not only taught various pedagogies but also mathematics content. Providing content courses was important to me because it was where I learned from fellow teachers how students learn and what their common misconceptions are. As a student who has attended BPS from elementary to high school, BU shares my commitment and passion of helping students in urban, high-need schools. I hope to take my experiences and what I have learned to help my community."
-
Matthew Dirks
Matthew has wanted to teach since he was in high school himself, back home in Seattle, Washington. During his undergraduate days in Chicago, he worked with students at a local K-12 school in reading, writing, and math; created an after-school Latin class for sixth- and seventh-graders; and enjoyed a stint as the school's de facto librarian. During the summers, he tutored at Kumon Math and Reading centers in the Seattle area, wrote an expository paper on Boolean algebras, volunteered in a library, and worked as a teacher's assistant in math and language classes for an Upward Bound program at South Seattle Community College. In 2013 he graduated with a bachelor's degree in mathematics and a minor in classical studies from the University of Chicago, whence he continued his eastward journey to Boston University to work on his master's degree in teaching.
"I find pleasure in solving math problems, in trying to refine some given information into a powerful, surprising result. In many ways, the process of teaching is quite similar. A teacher needs to discover what confusions or misconceptions a student has and figure out how to guide the student to a deeper understanding without giving too much away. It's a difficult process, replete 'aha!' moments and constant surprises. The problem of how to best help young people understand mathematics is itself a fascinating problem.
The thing about challenging problems is that, before a satisfying solution can be found, many people have to look at it from many different perspectives. As a teacher, I want to bring students from as many different cultural backgrounds as possible into STEM fields, so that there are lots of brains with lots of different perspectives working on lots of problems. I chose Boston University for its commitment to urban education. I know that my professors and peers here share my passion for bringing quality STEM education to a wide variety of students, and am grateful for the education and support I have received so far."