S. Hamid Nawab, Ph.D.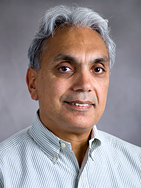 Professor
PhD, Massachusetts Institute of Technology, 1982
Information Systems and Sciences Laboratory
(617) 353-4461
webpage
office: PHO 433
office hours: Monday, 12:00–1:00 PM
Honors, Awards, and Editorships
2005 College of Engineering Service Award
1998 College of Engineering Award for Excellence in Teaching
1993 Metcalf Award for Excellence in Teaching
Fellow, American Institute for Medical & Biological Engineering
Classes Taught
EK130 Introduction to Engineering
EC401 Signals and Systems
EC416 Introduction to Digital Signal Processing
EC512 Enterprise Client-Server Software Systems Design
EC516 Digital Signal Processing
EC716 Advanced Digital Signal Processing
EC760 Advanced Topics in Photonics
EC850 Graduate Teaching Seminar
Research Interests
computational signal processing
applied artificial intelligence
analysis algorithms for EMG signals
analysis algorithms for patient activity signals
analysis algorithms for auditory signals
Current Research
Dr. Nawab's current research is concerned with the exploration of novel algorithms, architectures and design environments for the processing and understanding of biosignals. This includes projects in auditory scene analysis, decomposition of indwelling and surface EMG signals, and wearable sensors for patient monitoring.
Selected Recent Publications
S.H. Nawab, R.P. Wotiz, C.J. De Luca "Decomposition of Indwelling EMG Signals" Journal of Applied Physiology Vol. 105: 700-710 (August 2008)
C.J. De Luca, A. Adam, R. Wotiz, L.D. Gilmore, S.H. Nawab "Decomposition of Surface EMG Signals" Journal of Neurophysiology 96: 1646-1657 (2006)
C.J. De Luca, J.J. Buccafusco, S.H. Roy, G. De Luca, S.H. Nawab "The Electromyographic signal as a Presymptomatic Indicator of Organophosphates in the Body" Muscle & Nerve Vol. 33, No. 3: 369-376 (2006)
Z. He, M. Bystrom, S.H. Nawab "Bi-Directional Conversion Between DCT Coefficients of Blocks and Their Sub-blocks" IEEE Transactions on Signal Processing Vol. 33, No. 8: 2835-2841 (2005)
Brynmor Davis, S.H. Nawab "The Relationship of Transform Coefficients for Differing Transforms and/or Differing Sub-block Sizes" IEEE Transactions on Signal Processing Vol. 52, No. 5: 1458-1461 (2004) abstract