The Undergraduate Program in Neuroscience
Undergraduate Program in Neuroscience
The Undergraduate Program in Neuroscience is an interdisciplinary major leading to a Bachelor of Arts in Neuroscience that takes advantage of the rich neuroscience mission of multiple departments and campuses of Boston University. As a field, neuroscience has grown considerably over the last few decades through its integration of multiple disciplines; and, a current understanding of the field requires knowledge that spans traditional approaches while moving into the intersection between far-reaching technologies and new computational methods. This program combines breadth of exposure to the field as a whole with the opportunity for depth of experience in one of three central domains of neuroscience: Cellular and Systems, Cognition and Behavior, and Computational Neuroscience
Our program goals include:
Demonstrate mastery of the fundamentals of neuroscience spanning the breadth of the field, from the theoretical to the experimental, and across multiple levels of analysis;
Demonstrate competency in quantitative reasoning (relating physical and mathematical principles to fundamental concepts in neuroscience);
Demonstrate competency in evidence-based reasoning and experimental design (identify manipulated and measured variables, measurement metrics, experimental controls, power, validity, and reliability).
Neuroscience students will have access to the extensive resources and expertise of affiliated faculty across multiple departments and colleges throughout the university. A wide array of courses are offered through the departments of Biology, Chemistry, Computer Science, Mathematics & Statistics, Physics, Psychology, and Health Sciences in Sargent College. Together more than 50 upper level neuroscience electives are offered, including laboratory courses and seminars.
Opportunities for independent laboratory research are available through multiple departments in the Colleges of Arts and Sciences and Engineering, and at Boston University School of Medicine, including Anatomy and Neurobiology, Biochemistry, Neurology, Pathology, Pharmacology & Experimental Therapeutics, Physiology and Biophysics, and Psychiatry. Undergraduate research opportunities in neuroscience laboratories expand throughout the university across both the Charles River and Medical campuses.
The following contain information about course requirements, sample course sequences, research opportunities here at Boston University and beyond, our student organization (Mind and Brain Society), The Nerve, information about applying to graduate school, and important forms.
In addition to the interdepartmental Bachelor of Arts in Neuroscience degree, students also have the option for neuroscience training in the Biology Department whose Concentration in Neurobiology strongly emphasizes cellular  and molecular neuroscience.
B.R.A.I.N. Day 2016
On April 10th, the Mind and Brain Society held their third annual Bringing Recognition And Interest to Neuroscience Day. 60 undergraduate volunteers spent the day leading interactive activities that demonstrated some of the abilities of the brain and nervous system and some techniques that used in neuroscience. Over 100 guests, including K-12 students, parents, teachers, and members of the BU community, attended B.R.A.I.N. Day. Thank you to all of our volunteers!
Read more about the Mind and Brain Society and BRAIN Day!
Neuroscience Undergraduates Featured in
arts & sciences Magazine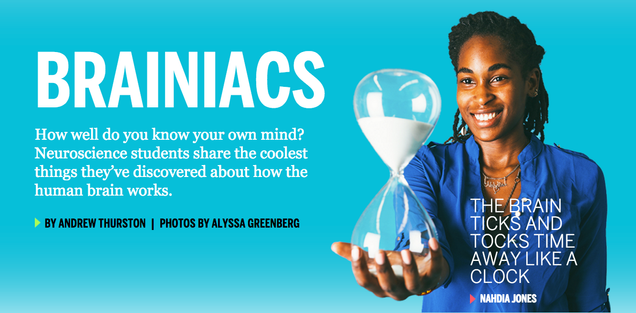 Five seniors in the Undergraduate Program in Neuroscience were featured in the Fall 2015 issue of Arts & Sciences, the College of Arts and Sciences' bi-annual alumni magazine. Each student shared their favorite neuroscience fact and described the research project that they are involved in on campus. Congratulations to Samantha Calderazzo, Benjamin Coleman, Veena Dali, Nahdia Jones, and Kyle Mitchell! Thank you for sharing your hard work and passion with the BU community and representing our program so well. Check out our Student Spotlight for more awesome accomplishments!