About Us
Data & Network Science in K-20 Education aims to bring data, network, complexity and systems science literacy to a sustainable "K-20" STEM+Art education pipeline of innovators in research and education.
Led by the Center for Polymer Studies (CPS) Science Education Group at Boston University, we accelerate the integration of science education and interdisciplinary science research. Our research is devoted to interdisciplinary study of aspects of polymer, random, fractal and complex systems. In the CPS Science Education Group, we have  been dedicated, for 26 years,  to enhancing undergraduate and K-12 science education by adapting research-based models and visualization tools, developing new curricula, hosting workshops and summer internships, and involving undergraduate and graduate university students in K-12 classrooms.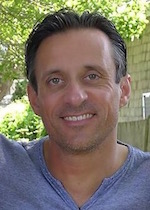 Paul A. Trunfio
Sr. Research Scientist
Director, Science Education Group @ Center for Polymer Studies
Department of Physics
Paul has developed and led education hands-on, curriculum and outreach efforts on a broad range of research topics including fractals, molecular dynamics computer modeling, neuroscience computer modeling, and complex systems and networks.
H. Eugene Stanley
Professor of Physics
Director, Center for Polymer Studies
Department of Physics
Gene's research spans many fields and are studied from the perspective of statistical physics; these efforts have long served as an incubator for translating science research into science education, thereby creating sparks of enthusiasm amongst students and teachers.
NetSci High Program Team

NetSci High immerses high school students and teachers in the burgeoning field of network science, a core pathway to making sense of many kinds of Big Data, a partnership between Center for Polymer Studies (CPS) Science Education Group at Boston University, New York Hall of Science and Binghamton University at SUNY's Collective Dynamics of Complex Systems Research Group.
At Boston University, Paul Trunfio and Gene Stanley lead the program.
At New York Hall of Science (NYSCI), our collaborators on network science are Steve Uzzo and Catherine Cramer.  Since 1986, NYSCI has served over seven million children, parents and teachers. NYSCI's mission is to convey the excitement and understanding of science and technology to children, families, teachers and others by galvanizing their curiosity and offering them creative, participatory ways to learn. NYSCI features the largest collection of hands-on science exhibits in New York City. Visitors of all ages can explore over 450 interactive exhibits, including Connections, an exhibit on networks.
At Binghamton University (SUNY), Hiroki Sayama is a principal collaborator and leads the Collective Dynamics of Complex Systems (CoCo) Research Group. Together, Uzzo and Sayama co-founded a pilot version of the NetSci High Program.

Advisors & Visiting Workshop Instructors
Albert-László Barabási, Northeastern University – foundations of network science
Katy Börner, Indiana University – networks and visualization
Brooke Foucault-Welles, Northeastern University – social capital especially among young people
Cesar Hidalgo, MIT – economic development, systems biology, and social systems
Brian Keegan, Northeastern University – political influence in networks
David Lazer, Harvard University – computational social science, political networks
Sune Lehmann, Technical University of Denmark – social networks and citation networks
Isabelle Meirelles, OACD Toronto – information design and communication
Alex "Sandy" Pentland, MIT – computational social science
Mason Porter, University of Oxford – applied mathematics and education
Erzsébet Ravasz-Regan, Beth Israel Deaconess Medical Center – biological networks
Marshall Van Alstyne, Boston University – financial networks
Alessandro Vespignani, Northeastern University -disease spread
Uri Wilensky, Northwestern University – learning sciences and complex systems
Robin Wilkins, UNC-Greensboro – networks in neuroscience
Student Research Team Mentors
Amit Bansil, Boston University – 2012-2014
Erzsébet Ravasz-Regan, Beth Israel Deaconess Medical Center – 2012-2015
Lori Sheetz, US Military Academy at West Point – 2012-present
Kristie Shirreffs, Binghamton University – 2012-2014
Paul Trunfio, Boston University – 2012-present
Huaye (Tina) Li, Stevens Institute of Technology – 2013-2014
Sakellarios Zairis, Columbia University – 2013-2015
Hollie Hans, Stevens Institute of Technology – 2014
Jeffrey Schmidt, Binghamton University – 2014-2015
For more information, please contact Paul Trunfio at trunfio@bu.edu