John R. Murphy, PhD
Professor, Medicine and Microbiology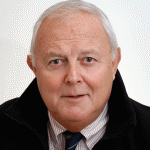 Education/Training
BS, University of Connecticut
PhD, University of Connecticut School of Medicine
Research Interests
Dr. Murphy obtained the PhD in the fields of microbiology and molecular biology at the University of Connecticut School of Medicine. He then did post-doctoral work at Harvard University before joining the faculty at Harvard Medical School, as an Assistant Professor and then an Associate Professor in the Department of Microbiology and Molecular Genetics.
In 1984, Dr. Murphy moved to the Boston University School of Medicine where he was appointed as Professor of Medicine, and Chief of Section of Molecular Medicine in the Department of Medicine. He was then later appointed as a Professor of Microbiology in the Department of Microbiology.
Dr. Murphy's research interests were focused on the molecular biology and molecular genetics of bacterial protein toxins. He and his research group pioneered the field of fusion protein toxins. This work led to the clinical introduction of a diphtheria toxin-related interleukin 2 fusion protein which was approved by the FDA for the treatment of refractory cutaneous T cell lymphoma.
Dr. Murphy has served on a number of review panels and study sections at the National Institutes of Health, as a member of the Scientific Board for several pharmaceutical companies, and as member of the U.S. Cholera Panel in the United States-Japan Cooperative Medical Sciences Program.
Selected Publications
White, A., X. Ding, J.R. Murphy & D. Ringe. 1998. Structure of metal ion-activated diphtheria toxin repressor / tox operator complex. Nature 394:502-506.
Sun, L., vanderSpek, J., Murphy J.R. 1998. Isolation and characterization of positive dominant mutants of the diphtheria toxin repressor, DtxR. Proc Natl Acad. Sci. USA 95: 14985-14990.