Phases of Construction
Phase I: Site Work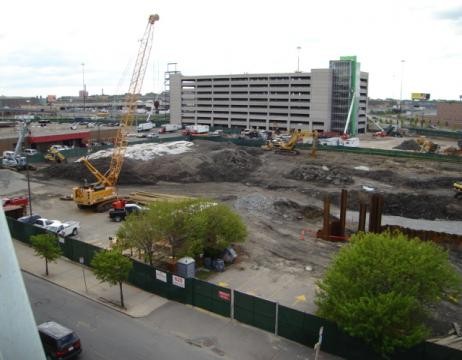 Site Work is the commencement of construction when existing structures, not part of permanent construction, are cleared from the site. Initial Site Work allows for soils to be excavated to facilitate installation of building foundations and underground utilities services for the building.
Phase II: Foundations
After soils have been removed to the required depth, Foundations are formed and reinforcement steel is placed in position. When this is complete, concrete is placed to create the Foundations.
Phase III: Superstructure
During this phase steel columns beams and bracing are erected on top of the foundations to form the structural "skeleton" for the entire building and the concrete floors are put in place.
Phase IV: Façade
As each section of Superstructure is completed, the building facade components are added to form what is considered the "envelope" of the building. These include the glass and finished materials and glass that make up the exterior walls and roof. It is at this point, before the building is completely enclosed, that large pieces of equipment necessary to operate the building are put in place while there are still exterior openings large enough to fit them through.
Phase V: Interior Construction
As the façade is completed, the interior "fit out" begins with the construction of the interior walls and ceiling framework. Concurrently, the initial "rough" mechanical piping, ductwork, and electrical wiring is put in place before the finished materials are applied to the rough.
Phase VI: Commissioning
During the Commissioning phase all the equipment systems needed to operate the entire building are put through a series of rigorous testing procedures before the building can be occupied. The planning for this process begins during the design phase, and the actual testing begins as the equipment is installed and connected and continues through the early stages of the initial operation of the building. Commissioning is the final step to confirm that all the systems are designed and installed properly and function as they were intended.
Phase VII: Grading, Improvements, and Landscaping
When building is in the final stages of completion, the site is given its final grade, topcoats of roadways, drives, pedestrian walkways/spaces, site furniture, lighting, and landscaping are put in place and the doors are ready to be opened!