Student Awards

Albert Mondragon Awarded NIH NRSA
Molecular Biology, Cell Biology & Biochemistry (MCBB) PhD student Albert Mondragon of the McCall Lab has been awarded a 3 year Ruth L. Kirschstein Predoctoral Individual Research Service Award from the NIH. The grant is entitled "Investigation of non-autonomous cell death and corpse clearance" and Albert will use the award to study the role of lysosomes in a novel form of cell death in Drosophila.
MCBB alum Daniel Starczynowski to speak at Systems Biology Seminar Series
MCBB graduate program alum Dr. Daniel Starczynowski, Associate Professor at Cincinnati Children's Hospital Medical Center and Affiliate Associate Professor, University of Cincinnati returns to Boston University to give a talk as part of the Systems Biology seminar series. During his time in the MCBB Program, Starczynowski worked in the laboratory of Dr. Tom Gilmore and studied the NF-kB family of transcription factors and their role in B-cell lymphomas.
The talk will be on Thursday, October 1 in the Life Sciences and Engineering Building, 24 Cummington Mall in LSE 103. The talk will begin at 12:45 PM with refreshments being served prior to the talk at 12:15 PM.
Dr. Starcyznowski's talk is being hosted by Dr. Trevor Siggers.
Rama Simhadri's Research Highlighted
Rama Simhadri of the Dr. Horacio Frydman lab  was one of 4 graduate students selected from a field of 110 to be highlighted at the Gordon Research Conference on Animal-Microbe Symbioses in Waterville Valley, New Hampshire from June 21-26. Rama's poster was titled  "Wolbachia modulate Drosophila microbiome".
MCBB Student Receives NSF GRFP
Paula Ortet of the Aaron Beeler and Adrian Whitty labs received a National Science Foundation (NSF) Graduate Research Fellowship. Congratulations, Paula!
Michelle Toomey and Rama Simhadri, both of the Frydman Lab, received awards for their talks at the 8th International Wolbachia Conference in Austria
Toomey received 2nd best oral presentation with "Mechanisms of Wolbachia tropism to the stem cell niche in the Drosophila testis."
Simhadri received 3rd best oral presentation with "Modulation of microbiome of Drosophila melanogaster by Wolbachia"
Piacentino of Bradham Lab Studies at Marine Biological Laboratory
Michael Piacentino of the Dr. Cynthia Bradham lab was accepted into the competitive Embryology Course at the Marine Biological Laboratory (MBL) in Woods Hole, Massachusetts
Stoiber of Hansen Lab receives BU-XTNC Fellowship
Patrick Stoiber of the Dr. Ulla Hansen lab has obtained a ​one-year ​Boston ​University Cross-Disciplinary Training in Nanotechnology for Cancer Fellowship – read more about the XTNC program in Science
MCBB Students receive NSF GRFP Honorable Mentions
The 2014 National Science Foundation (NSF) Graduate Research Fellowships were announced and the MCBB program  is proud to acknowledge three graduate students for their honorable mentions:
Sarah Yunes of the Dr. Ulla Hansen lab
Sandy Serizier of the Dr. Kim McCall lab
and first year student Andressa Mota.
Congratulations students!
Banerjee of Densmore Lab receives NSF GK-12
Swati Banerjee of the Douglas Densmore lab as received the NSF GK-12 for the 2014-2015 academic year. Congratulations, Swati!
Cotter of Callard Lab Wins Macchi Award
Kellie Cotter of the Gloria V. Callard lab was honored with the Macchi Award for excellence in endocrinology and regulatory biology.
Cotter's research centers around endocrine disruption and adaptive strategy in Killifish from an estrogenic environment.
Michael Piacentino of the Bradham Lab Wins Year-Long Warren-McLeod Fellowship
The 12-month Warren-McLeod Fellowship was award Michael Piacentino of the Bradham Lab. Piaceninto's research concerns "Anterior Skeletal Patterning in Sea Urchin Development." As skeletogenesis in many marine organisms is threatened by ocean acidification, and the sea urchin is the leading laboratory model system to mechanistically investigate skeletogenesis, this work bears on an issue of urgent and worldwide marine conservation concern.
Recognition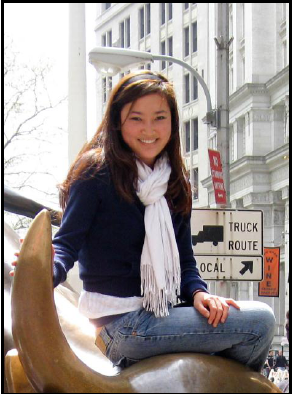 Congratulations to Shasha Ji of the Professor Karen Allen lab!
The work of third-year MCBB student, Tianyang (Shasha) Ji, who is a member of the laboratory of Professor Karen Allen of the Chemistry Department was recently highlighted by the Brookhaven National Laboratory.  The work took place at an April 2012 course held there in Long Island New York.  The course is an intensive practical hands-on training in X-ray crystal diffraction measurements entitled "Rapid Data Collection and Structure Solving," and offers students in-depth experience with the powerful synchrotron radiation beam.
During this course Shasha solved the structure of a hot-dog thioesterase, which was an important part of a collaborative project between the Allen laboratory and the of Dr. Debra Dunaway-Mariano at the University of New Mexico.  Her structure was so well done (resolution of 1.73 Å) that it was selected for use as the Banner Structure for advertising the 2013 course (see structure in banner at the top of the page).
Shasha is writing the paper based on her structure that will be submitted to the American Chemcial Society journal Biochemistry this year.  Her image of the thioesterase will also be on all the T-shirts the students will receive this year at Rapidata 2013.  For more information on Shasha's contribution and information about her experience, click here.
Congratulations to Szilvia Kiriakov of the Khalil lab for receiving the first Boehringer Ingelheim Fonds PhD Fellowship at Boston University.
Congratulations to Kellie Cotter of the Gloria V. Callard lab for her EPA Star Fellowship.
Congratulations to Jeremy Hearn of the Meller lab for his GK-12 Fellowship.
Congratulations to Robert Shaffer for his Engineering Dean's Fellowship.
Congratulations to Agnieszka Grzegorzewska for her Dean's Fellowship.
Congratulations to Sarah Yunes for her Dean's Fellowship.