Faculty News
Dr Talbot receives Peter Paul Career Development Professorship
Dr. Jennifer Talbot is a recipient of the 3 year Peter Paul Career Development Professorship.
Each year, Boston University recognizes a handful of talented junior educators emerging as future leaders within their respective fields through the award of Career Development Professorships.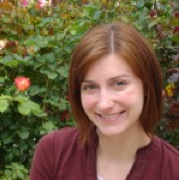 Dr. Jennifer Talbot, a microbial biologist in the Department of Biology, utilizes biochemical analysis and advanced sequencing technologies to help uncover the unique mechanisms microbes use to process carbon and nutrients through ecosystems. She is a graduate of Boston University, received her doctorate in Biological Sciences from the University of California, Irvine, and completed her postdoctoral research at Stanford University.
Congratulations, Dr. Talbot!
BU Biology Honors Professor Gloria Callard
Professor Gloria Callard was honored for her 30+ years of service to Boston University at a Faculty Luncheon on May 28, 2015.

Professor of Biology Gloria Callard is retiring after 33 years at BU. Callard earned her PhD in Physiology at Rutgers University in 1964, after which she spent time in research and teaching positions at Johnson & Johnson, the College of William and Mary, the University of Leeds in England and Harvard Medical School, where she was an Assistant Professor of Obstetrics and Gynecology. She moved to BU as an Associate Professor in 1982.
The author of some 160 scientific papers, Callard is a AAAS Fellow and has developed an international reputation as an expert in the field of estrogen synthesis and the effects of estrogen on the brain. Working primarily with fish models, Callard has been at the forefront of molecular research on estrogen-like substances (known as xenoestrogens) and their effects on the brain and neurodevelopment.
The mentor to dozens of students and post-doctoral researchers at BU, Callard is a past recipient of Boston University's United Methodist Scholar/Teacher Award. As her swan song, Callard will travel to Stockholm this fall to present her research at a Wenner-Gren Symposium.
Gloria served as an active member of the MCBB Graduate program as a faculty advisor, a program committee member and as a member of the MCBB admissions committee. We thank her for her service to the program.
Gloria and her husband Ian, a Professor Emeritus of Biology, are retiring to coastal Rhode Island where they anticipate lots of time for R and R with their 3 children and 7 grandchildren.
Thank you Gloria for your MCBB involvement, we will miss you!
Gut Reactions
Professor Daniel Segre uses mathematical modeling to understand the biology behind the human microbiome.
In summer 2014, Segrè received a $1.4 million grant from the Department of Energy to model the ways communities of microbes could transform plant matter into a kind of oily biodiesel fuel.
Read more at the BU Research article, "Gut Reactions."
Dr. John Finnerty wins Metcalf Award for Excellence in Teaching
Dr. John Caradonna and his group receives NSF Research Award
Dr. Xue Han attends White House Announcement of Brain Mapping Initiative
Dr. Douglas Densmore and colleagues win NSF Career Awards
Dr. Muhammad Zaman receives prestigious Biomedical Engineering Early Career Award
Dr. Scott Schaus and Dr. Ulla Hansen win Ignition Award
Dr. Ulla Hansen's work Featured on BU Today
Dr. Adrian Whitty Receives College's Highest Advising Award
Dr. Tom Gilmore  Leads Renewal of Beckman Scholars Program
Drs. John Finnerty & Tom Gilmore's research featured in MCB journal
Dr. Geof Cooper appointed Associate Dean
Dr. Karen Allen's group research highlighted by Faculty of 1000
Dr. Sean Elliot receives 2nd Scialog Award