Things to do in Boston
Boston has a multitude of things to do during every season of the year.  Below you'll find a selection of the main attractions.  For a comprehensive listing, you may go to Boston USA.com.
Boston Freedom Trail
http://www.thefreedomtrail.org/
A fantastic way to see Boston in just a couple hours! For those interested in history, landmarks and cultural attractions, contact Boston Adventures for more details, the fun is all here! See Quincy Market , Faneuil Hall, Boston Common , The North End , Paul Revere's House , USS Constitution and a lot more. Offering Boston Common or Faneuil Hall starting locations. Park in Faneuil Hall or under the Boston Common or take public transportation to meet Boston Adventures.
Map
Boston's oldest, largest and best-known art institution, the MFA houses one of the world's most comprehensive art collections and is renowned for its Impressionist paintings, Asian and Egyptian collections and early American art.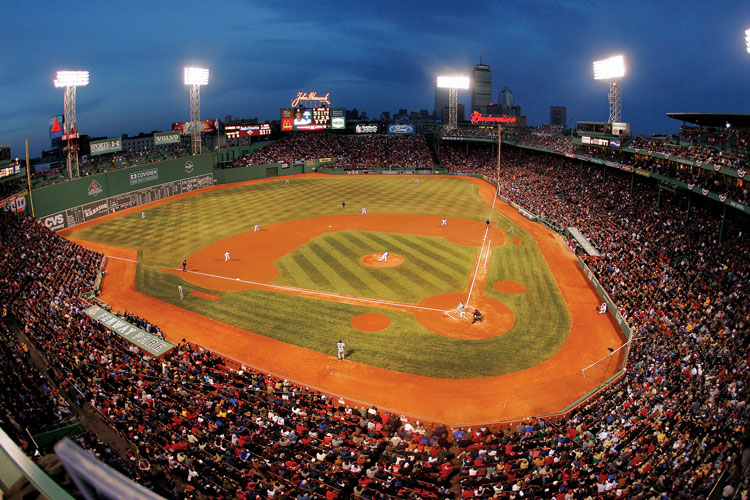 Fenway Park
http://boston.redsox.mlb.com/bos/ballpark/index.jsp
Fenway Park is the oldest Major League baseball park in the United States. Its small, intimate atmosphere really allows you to feel like you are "in the game." On a warm summer night there is nothing better than going to the park, sipping a beer and watching the game. The park is situated rightin downtown Boston – so it is very accessible if you are visiting the area. Tickets to the game can be difficult to get, so check with your hotel concierge about getting tickets before heading over to the park.
Tip: Tickets sometimes open up 24-36 hours before game time, so you may want to try the Red Sox website once you are in town, or contact the box office directly.  In addition, the Red Sox permit lines to form for game day tickets – a limited number which are available – five hours prior to game time (though, some fans do camp out overnight for tickets to the most popular games, which is permitted).
Map
Museum of Science
The Boston Museum of Science is a long-standing tradition for families in Boston, but that doesn't mean adults won't enjoy themselves too! Their exhibits range from dinosaurs to space travel to wildlife to physics to human biology to an in-depth look at Boston's "Big Dig" project. A newer section especially for younger kids involves water play and fun sensory experiences.Many of the exhibits feature hands-on sections, where you can lift a solid ton of marble, place your hand in a dino's footprint, or generate enough electricity to power a lightbulb. The biology & evolution section on the upper floor also features live tamarin monkeys!
The Museum of Science is easy to reach by either car or train.  Driving directions are available on the museum's website. There is a parking garage onsite. For people taking the"T" (subway), the museum is located at its very own stop on the Green Line- "Science Park." For people coming  in via the Communter Rail or Amtrak's Downeaster line to North Station, exit the station to the left, go down the stairs to "T," and take the first outbound E train (Lechmere) to Science Park.
Map
John F. Kennedy Presidential Museum and Library
http://www.jfklibrary.org/
Relive the Kennedy era in this dynamic combination museum and library, where your visit starts with a short film and then leaves you on your own to explore a series of fascinating exhibits, including the Kennedy-Nixon debate, the Cuban Missile Crisis, the space program, 1960s campaign paraphernalia and displays about Jacqueline and other Kennedy family members. The striking, I.M. Pei-designed building overlooks the water and the Boston skyline
Map
USS Constitution Museum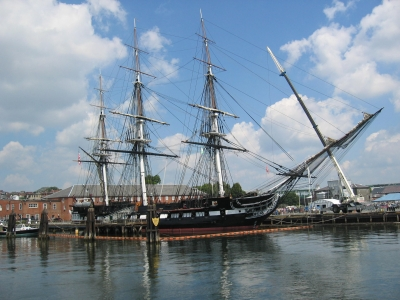 http://www.ussconstitutionmuseum.org/
The oldest commissioned ship in the U.S. Navy and undefeated in battle, Old Ironsides earned its famous nickname with its legendary ability to repel any shot fired. Active-duty sailors guide visitors around the ship
Map
Isabella Stewart Gardner Museum
The Isabella Stewart Gardner Museum in the Fenway area of Boston features a fine art collection housed in a building that is a work of art in itself.  The Venetian-style palace is probably best known for images of its luscious interior courtyard.  The Gardners opened the museum to the public in 1903, sharing their impressive collection that includes works from Degas, Rembrandt, Micaelangelo, Botticelli, and Sargent.
The museum is easily accessible by taking the E-line of Green Line to Museum of Fine Arts or the 39 bus that leaves from Back Bay station and runs up Huntington Avenue.  It is about two blocks from where the bus and train let you off.   Just cross Huntington from the T-station and walk up Louis Prang.
Tickets are $10 for adults ($11 on weekends) and $7 for seniors.  College students with current ID pay $5 and children under 18 are admitted for free with a parent or guardian.  Those who are named "Isabella" always get in free (as do members).
The museum is open Tuesday-Sunday from 11am-5pm.  It is also open most holidays except for July 4, Thanksgiving, and Christmas.
Map
Boston Harbor Islands National Park
http://www.bostonharborislands.org/
This National Park consists of 34 small islands just off shore in Boston Harbor. The most popular, George's Island, is home to Fort Warren, a Civil War Landmark that housed Confederate prisoners.Map
The North End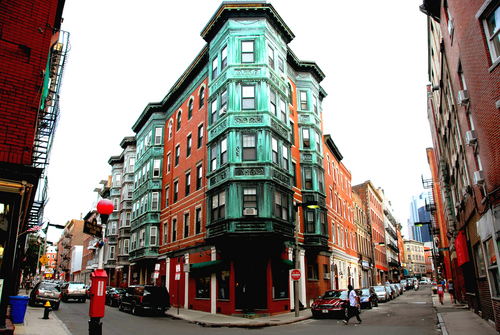 http://www.tripadvisor.com/Attraction_Review-g60745-d103113-Reviews-North_End-Boston_Massachusetts.html
This Italian neighborhood, Boston's oldest, is known for its wonderful restaurants and historic sights.
Boston Public Garden
http://www.tripadvisor.com/Attraction_Review-g60745-d103648-Reviews-Boston_Public_Garden-Boston_Massachusetts.html
This Frederick Law Olmsted-designed park, famous for its Swan Boats, has over 600 varieties of trees and an ever-changing array of flowers. It is America's first public garden.
Map
Harpoon Brewery/Mass Bay Brewery Co.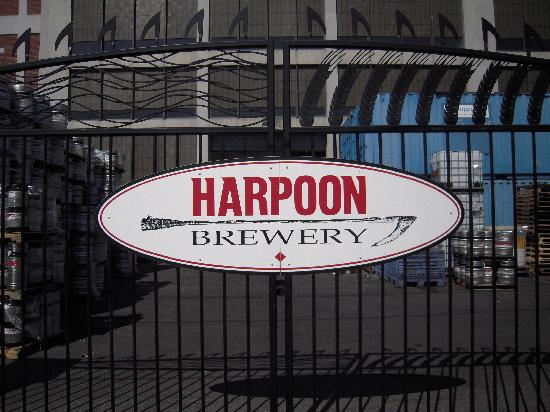 http://www.harpoonbrewery.com/
If you've enjoyed the Harpoon Ale products you will want to tour the brewery or join the fun at one of Harpoon's annual beer festivals.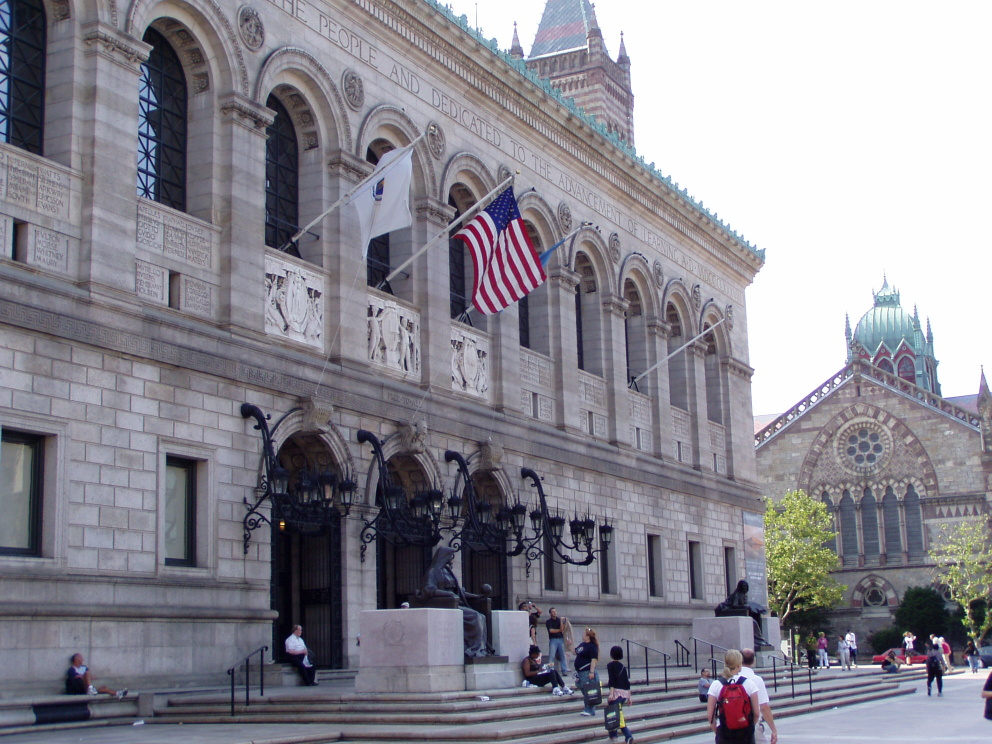 Boston Public Library
The Boston Public Library was the first large municipally-funded public library in America.  It has a central location right in the heart of Copley Square, facing the Trinity Church, easily accessible by taking the Green Line to Copley station (or also near to Orange Line Back Bay stop).  The library has two buildings: the original building known as the McKim building (for its architect, Charles Follen McKim) houses the research library as well as a map collection and the new building  known as the Johnson building (for Philip Johnson) offers circulating books and internet connection.
The library is open Monday–Thursday 9am–9pm; Fridays and Saturdays 9am–5pm; there are also Sunday (1–5 pm) hours when school is in session (October–May).
New England Holocaust Memorial
http://www.nehm.org/intro.html
The six glass towers of this striking memorial serve to represent the six million Jews who perished in the Holocaust, six main Nazi death camps and the candles on a menorah.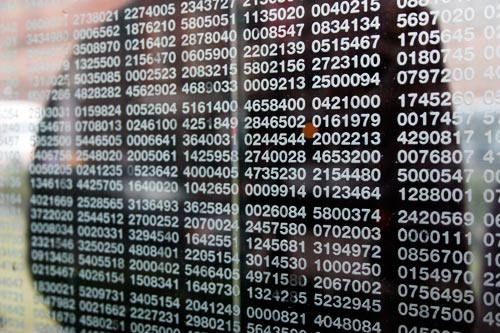 Map
Boston Common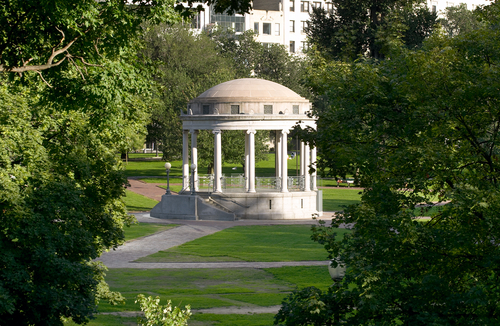 http://www.tripadvisor.com/Attraction_Review-g60745-d104795-Reviews-Boston_Common-Boston_Massachusetts.html
Whether it's a summer picnic in the grass or winter ice-skating on Frog Pond, Boston's oldest public park is the perfect escape from the bustle of the city
Map
Beacon Hill
http://www.tripadvisor.com/Attraction_Review-g60745-d142762-Reviews-Beacon_Hill-Boston_Massachusetts.html
The famous Boston Brahmin neighborhood of red brick sidewalks, cobblestoned streets, elegant townhouses and gas street lamps.

Map
Castle Island
http://www.tripadvisor.com/Attraction_Review-g60745-d103642-Reviews-Castle_Island-Boston_Massachusetts.html

The site of a fort erected in 1634, Castle Island is a great place to walk, jog or just unwind and enjoy the view.
Map
Charles River Esplanade
http://www.tripadvisor.com/Attraction_Review-g60745-d142572-Reviews-Charles_River_Esplanade-Boston_Massachusetts.html
A popular path for walkers, joggers, bladers and bicyclists, the Esplanade is also home to the Hatch Shell, where the Boston Pops holds its annual summer concerts.
Map
Shopping
Newbury Street
http://www.newbury-st.com/
Boston's chic shopping address mixes elegant boutiques with funky salons and trendy galleries.
Map
Faneuil Hall Marketplace
http://www.faneuilhallmarketplace.com/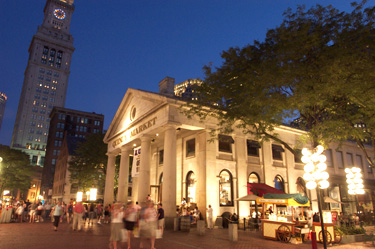 Most major cities have something like it now, but this was one of the first urban historic shopping districts and its success inspired many imitators.
Now it features a similar assortment of shops as you'll find everywhere, although some of the restaurants have a definite Boston flavor.
Map
Prudential Center
http://www.prudentialcenter.com/

The Shops at Prudential Center, is anchored by Saks Fifth Avenue and Lord & Taylor and consists of 75 stores and restaurants. Major retailers include Ann Taylor, Barnes & Noble (Boston's largest bookstore), The Cheesecake Factory, Club Monaco, Lacoste, and Sephora.  The Prudential Center is home to Boston Duck Tours, the Skywalk Observatory (which is Boston's only observatory), and a wide assortment of amenities including a Fitcorp fitness center, a full-service U.S. Post Office, a Catholic chapel, and Enterprise car rental. The Prudential Center features New England's largest enclosed parking garage with over 3,800 spaces and direct access to all office buildings as well as The Shops at Prudential Center.
The Prudential Center's South Garden, a 1.3 acre open-air park located in the middle of the retail arcades and office buildings, provides a relaxing urban oasis complete with water features, a built-in stage for musical performances, and ample seating areas.
Conveniently located in the heart of Boston's Back Bay at 800 Boylston Street between Gloucester and Exeter Streets.  Easy access to the MBTA's Green Line, Orange Line, and Commuter Rail.
Map
Copley Square
http://www.tripadvisor.com/Attraction_Review-g60745-d104793-Reviews-Copley_Square-Boston_Massachusetts.html
Anchored by the modern John Hancock building and the stately Trinity Church, this area is known for its upscale restaurants and stores
Map
Boston Duck Tours
http://www.bostonducktours.com/
The "DUCK" is an authentic, renovated World War II amphibious landing vehicle playing a crucial role in the allied invasions in Sicily, the Pacific, and the biggest invasion of all, D-Day. In fact, more than 40% of all over-beach supplies in Normandy were transported by these boats during the first four months.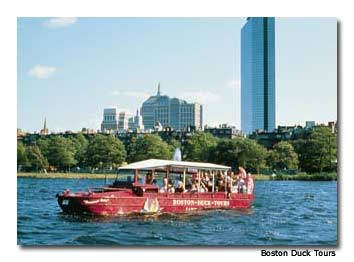 Your tour begins with a greeting by your ConDUCKtors, who will narrate your tour, and is part of the attraction.
You will see landmarks such as the State House  and Bunker Hill, Boston Common, and then your DUCK goes right into the Charles River for a breathtaking view of the Boston and Cambridge skylines, the kind of view you just won't get anywhere else.
Although the Ducks are heated and may be enclosed, you should dress appropriately for the weather on the day of the tour. It is often breezy on the Charles River.  The tour lasts approximately 80 minutes, and the vehicles are wheelchair accessible.  Even though the tour splashes into the water, you will not get wet.  Roughly 20 minutes of your tour is spent in the water.
Improv Asylum
http://www.improvasylum.com/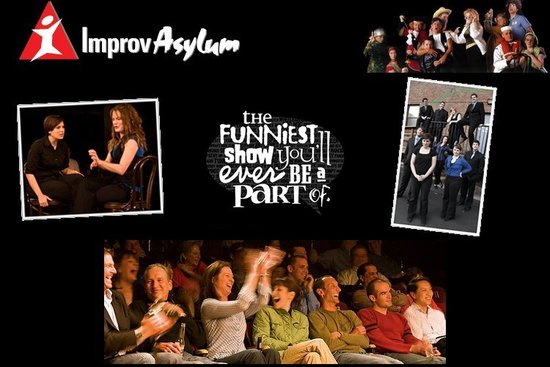 Improv Asylum has main stage shows Wednesday through Saturday nights in Boston's historic North End.
We also offer unique corporate training, customized corporate shows and a fun adult training center
Map
Boston Opera House
http://www.bostonoperahouse.com/
Map
Wang Center for the Performing Arts
http://www.citicenter.org/theatres/wang/
This ornate, seven-story theater, listed on the National Register of Historic Places, is home to the Boston Ballet.
Map
*All attraction blurbs were obtained from the Trip Advisor Website.
http://www.tripadvisor.com/Attractions-g60745-Activities-Boston_Massachusetts.html