Worlds of Community in Choral Music, in 20 (unbound) Linear Feet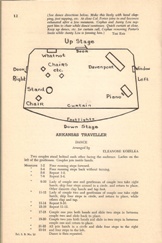 Music Library's Choral collection received fresh scrutiny and a new organization summer of 2012 thanks to the efforts of  former historical musicology master's candidate and Music Library student staff member Genithia Hogges. Hogges, a choir director and teacher, brought both her practical and historical perspective to this diverse repertoire, which remains organized for easiest browsing and accessibility.
Above all, this is a community music collection in every respect. Coming primarily from the estate of Boston area music teacher and church musician Dr. Doshia Clara Mae Dockett (Ed. D, Boston University, 1982), its scope encompasses everything from classical oratorios and madrigals to show chorus, children's sacred musical theatre, and gospel pieces. Many of the works are out of print and offer a historical glimpse into community music-making of generations past.
Notable examples include "Thirty Minutes in the Southland: A Musical Romance of the Ante-Bellum Period ," a short and charming musical production published in 1940 and intended for community performers, and "It's a Highway to Heaven," a gospel song by Thomas A. Dorsey, considered to be the father of American gospel music. Today's current a cappella stylists, alone, will find ample inspiration from all this that has gone before.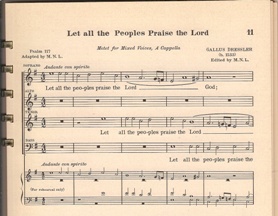 Many of the "classical" pieces are significant for having been arranged from the original to allow for greater accessibility for the everyday church congregation or community choir. A collection printed in 1947 entitled "Later Renaissance Motets," for example, consists of pieces arranged simply and translated from the original German, and serves as an example of the historical effort to bring high art and music to society as a whole.
The collection is currently available for both browsing and circulation on tables—picnic style and by wonderful armloads—in the Music Library's Listening Room, 2nd floor, Mugar Memorial Library.
–Lena Serpa, Genithia Hogges, Holly Mockovak (2012; rev. 2018)