Mugar Library: Extended Exam Hours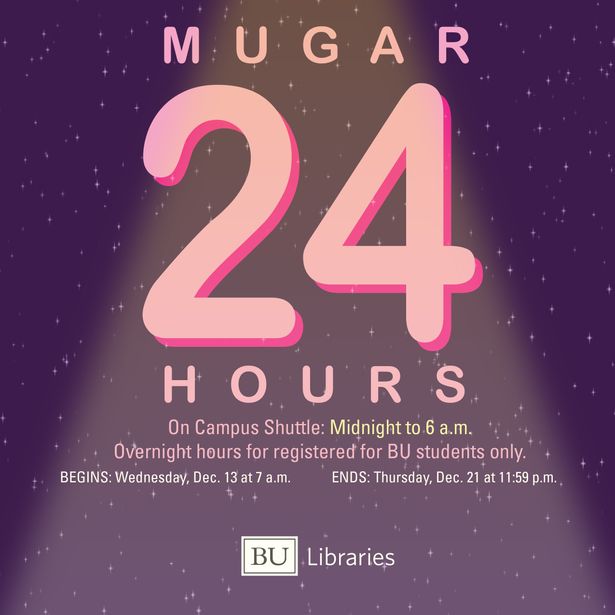 Beginning Wednesday, December 13, 2017 at 7:00 am, through Thursday, December 21 at midnight, Mugar Memorial Library will be open 24 hours.
During late night/early morning hours (generally between 11:00 pm and 7:00 am) access to the library will be restricted to currently enrolled Boston University students with a BU ID (Terrier card). All six floors of the library will be available for study space. Please note that during the late night hours, regular library services, such as checking out books, will not be available. Also, the Music and African Studies Libraries and Howard Gotlieb Archival Research Center will be closed.
Mugar Library will provide a van service from midnight until 6:00 am for anyone that needs a ride home on campus. The van will make periodic pick-ups on Commonwealth Ave. in front of the GSU Plaza, with drop-offs at any on-campus location. If you have any questions, please call the Mugar Library Security Department at (617) 353-4015.
Other BU libraries may also have extended hours. Please check the full listing of BU libraries for more information and contact the individual library directly if you have any questions.
Good luck on your finals!