Labor Day (September 2) Library Hours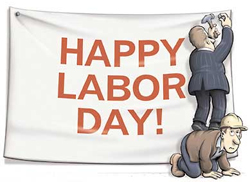 Many of the BU Libraries will be open Labor Day (Monday, September 2).  For information regarding a particular library schedule over Labor Day weekend, please consult the Hours page or phone the library directly.
Labor Day is a national holiday in the United States and Canada in honor of working people. The first Labor Day in the U.S. was celebrated on September 5, 1882 in New York City. Traditionally, Labor Day is celebrated by most Americans as the symbolic end of the summer.