Open Access Week: Events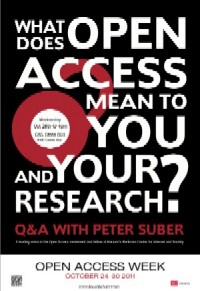 For the third year, BU is participating in Open Access Week, an international event sponsored by the Scholarly Publishing & Academic Resources Coalition.
Please consider attending the following events, which are sponsored by the BU Libraries' Digital Initiatives and Open Access .
*Monday, October 24 – Friday, October 28
George Sherman Union Link
Please visit our table in the GSU Link to learn about Open Access
*Wednesday, October 26:  4:00 p.m.
Stone B50 (basement of the CAS building, 675/685 Commonwealth Ave.)
Q&A with Peter Suber — "What Does Open Access Mean to You and Your Research?"
To learn more, please visit Open Access Week or review the library's Open Access Research Guide.  If you have any questions, please contact Vika Zafrin, Institutional Repository Librarian at vzafrin@bu.edu.