Planning to print in Mugar? Check out our printing services.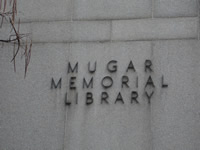 There are two types of computers in Mugar Library, and thus two different printing options.  One set of computers is for current students, staff and faculty (look for the pink labels); while another exists for the use of alumni and other guests (blue labels).
Log in to the pink-labelled computers with your Kerberos name and password; these are the ones set up with the print quota system from Information Technology (IT).  That means you can just click print and the job will come out at the printer located near the windows.  The IT department has given you a quota per semester, and each time you print you use some of it.  See the MyACS tool to see how much quota you have, and also see more info from IT on costs.
Occasionally the printer needs maintenance and often the printer is very busy with many jobs.  We strongly suggest you check the printer queue before sending jobs to the IT printer.  If it is busy in the library, consider going to another lab location.
On the blue-labelled computers, there is no capability to edit Word, Excel or similar documents, but printing is possible.  These computers use a pay-per-page system called Pharos:
Each page costs 10 cents.

A copy card is required

and may be purchased at the Photocopy office.
These copy cards can also be used for photocopy machines in the library.
To print, name the job at your computer when asked. Then go to the blue-labelled printer, put your copy card in the reader, and click on print again.