Japanese history
Book Collection
The  B.U. Libraries have an excellent collection of both print and electronic resources on the history of Japan.   The collection primarily covers the Meiji era (1868) to the present with an emphasis on World War II and more recent history.   Earlier Japanese history is also covered.    We also have a good collection on both Japanese-American history and the worldwide Japanese diaspora.    The collection is mostly in English but Japanese language books and journal articles are easily found by doing a BULS (Boston University Library Search) search in the box on the main library page.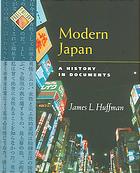 To narrow your search to our print or e-books,  please do an advanced search on the B.U. library web page, using the subject phrase "Japan–history."    This search will yield hundreds of titles but you can refine the search by adding terms, e.g., Japan — History — Tokugawa period, 1600-1868. You can also use keywords, e.g., Nanjing, Hirohito, etc.
Journal articles
Historical Abstracts (HA) is the pre-eminent index to historical literature (mostly journal articles).   Each entry contains an abstract, a citation source; many entries provide access to the  full-text; America: History and Life (AHL) will supply citations and some full-text  articles on Japanese-Americans.
JSTOR and Project Muse are full-text interdisciplinary databases which will  provide full-text articles on Japanese history, not found the HA and AHL databases.
Although this unique database covers scholarly literature from  the vast expanse of Asia,  the Bibliography of Asian Studies (BAS) is also an excellent source for finding articles on Japanese history and the Japanese diaspora.  The index provides access to many journals published in Japan but are not indexed elsewhere.    In addition, BAS indexes the contents of edited volumes, conference proceedings, anthologies, Festschriften and similar publications.    Please note: this database only cites materials written in English and European languages.
Internet Sources
A huge number of  websites cover Japanese history but we are only including a few authoritative sites compiled by scholars of Japan.
Compiled by Harvard librarians for use in Japanese history courses, this Research Guide for Modern Japanese History is a superb portal providing access to many freely-available digitized materials primarily published in English but also includes Japanese language materials and useful bibliographies.
This Fordham University website contains a subset of texts derived from the three major online sourcebooks;  the Japan as a World Power section has excellent links to primary English language  literature on Japanese history.
The Japanese American National Museum  posts  the International Nikkei Research Project website by providing a wide range of information on the Nikkei (people of Japanese ancestry)   including demographic information and chronologies on countries with significant Nikkei populations, a chronological overview of emigration from Japan, and directories of resources about the Nikkei.
H-Japan is an international electronic discussion group, providing scholars, graduate students and others, a daily forum to discuss Japanese history, culture, religion and society.