Japanese Diaspora Portal
The term diaspora is derived from the Greek word for "dispersion" or "scattering" and has traditionally referred to the Jewish colonies scattered outside Palestine after the Babylonian exile. In modern times, the term refers to a large number of communities dispersed from their original homelands. Armenians, Africans and Chinese are only a few of the better-known diaspora communities but there are large numbers of other ethnic diaspora groups.
The Japanese diaspora is less well-known but is populous and found in countries throughout the world. This website is a selective portal to these communities. It includes a few links to overseas communities which mostly comprise Japanese (business people, academics, etc.) who take temporary residence in other countries; Japanese diaspora communities, on the other hand, have long-time roots, sometimes going back more than a hundred years. The term "Nikkei" refers broadly to Japanese people who have relocated overseas on a permanent basis, as well as their second, third and fourth generation descendants, irrespective of current nationality and degree of Japanese ethnicity.
Organizations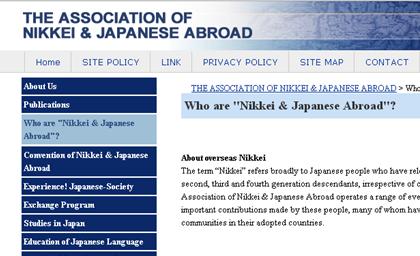 Association of Nikkei and Japanese Abroad
"The Association of Nikkei & Japanese Abroad (Kaigai Nikkeijin Kyokai) seeks to provide a bridge between overseas Japanese and Japan itself. The aim of the Association is to harness the efforts of Japanese people throughout the world in promoting a better understanding of Japan through a variety of exchange programs and joint cooperation initiatives."
General Print Books on the Diaspora
Japanese Diasporas: Unsung Pasts, Conflicting Presents and Uncertain Future
Adachi, Nobuko
Routledge, 2012
"Japanese Diasporas examines the relationship of overseas Japanese and their descendents (Nikkei) with their home and host nations, focusing on the political, social and economic struggles of Nikkei.  Frequently abandoned by their homeland, and experiencing alienation in their host nations, the diasporas have attempted to carve out lives between two worlds. Examining Nikkei communities and Japanese migration to Manchuria, China, Canada, the Philippines, Singapore and Latin America, the book compares Nikkei experiences with those of Japanese transnational migrants living abroad."
The Americas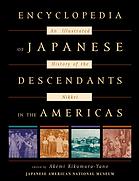 Encyclopedia of Japanese Descendants in the Americas
Kikumura-Yano, Akemi
AltaMira Press, 2002
This Encyclopedia is a comprehensive guide to the history of Japanese immigrants in the western hemisphere over the last two centuries from early immigration to the present as they settled in the countries of Argentina, Bolivia, Brazil, Canada, Chile, Mexico, Paraguay, Peru, and the United States. Each chapter provides four primary areas of information: An historical overview, a bibliographic essay, an annotated bibliography, and supplementary materials including demographic data, and rare historical photographs.
Brazil
Searching for Home Abroad: Japanese Brazilians and Transnationalism
Jeffrey Lesser, Editor
Duke University Press, 2003
The essays in this collection discuss the issues of ethnicity and identity among Japanese immigrants to Brazil during the past century.

This stamp commemorates the centennial anniversary of Japanese immigration to Brazil.

The Centro de Estudos Nipo-Brasileiros (CENB) is "an independent research institution dedicated to enhancing the understanding of the history of Japanese immigration to Brazil and the lives of those immigrants and their descendants in Brazil."
Canada
Encyclopedia of Canada's Peoples
Originally created and published by The Multicultural History Society of Ontario, the Simon Fraser University Library has created an online database of the Encyclopedia entries.  Click on the above link for an informative overview of Japanese-Canadian history.
Cuba
Yokota, Ryan. "Transculturation and Adaptation: A Brief History of Japanese and Okinawan Cubans." Afro-Hispanic Review 27:1 (Spring 2008), 91-104.
This article considers the complex history of the Japanese and Okinawan immigrants to Cuba, beginning with their secondary migration to Cuba, often as an attempt to circumvent restrictive racially exclusionary immigration laws in the United States.   Though some of these immigrant families were able to succeed and build other businesses, the majority continued to work in agriculture-related industries until World War II."
Peru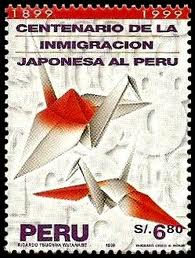 Museo Conmemorativo de la Iinmigración Japonesa en el Perú
This Portuguese-language site provides information on the history of the Japanese community in Peru and the museum which documents their immigration.   The museum houses permanent exhibits written in both Japanese and Spanish languages on Japanese immigration to Peru, Japanese-Peruvian relations and also on different aspects of Nikkei community current life.   This museum promotes and produces research about Japanese immigration and related themes, and also organizes educational activities.
This site serves as a portal for other Japanese-Peruvian websites and information.
United States
Densho ,a Japanese word meaning to pass on to future generations, is a nonprofit organization based in Seattle, Washington, which collects video oral histories and documents regarding Japanese American internment in the United States during World War II.
Japanese American Civil Rights League " is the oldest and largest Asian American civil rights organization in the United States.  The JACL monitors and responds to issues that enhance or threaten the civil and human rights of all Americans and implements strategies to effect positive social change, particularly to the Asian Pacific American community."
This site features selected highlights from the Japanese American National Museum's permanent collection of over 60,000 unique artifacts, documents, and photographs, including Buddhist religious materials, 19th and early 20th century textiles and especially, accounts of Japanese-American incarceration during World War II.
Please send suggestions and/or comments to donaltsc at bu dot edu