Mergent Tutorial
Company Search
Mergent Online compares company against company using ratios and financial metrics, allows access to company SEC filings like 10-k's as well as annual reports and allows you to export financials into Excel.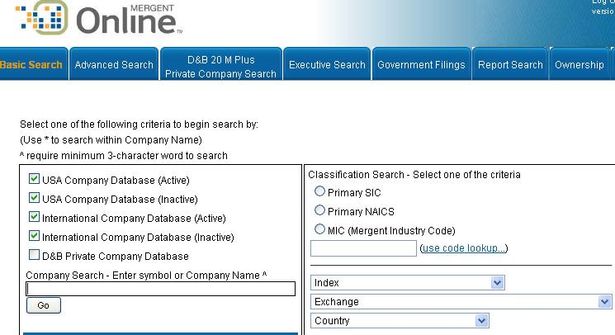 1. Enter the company name or ticker

2. Below is the profile page for Starbucks. It is portal to other aspects of the company. Such as executives, competitors, company filings and company reports.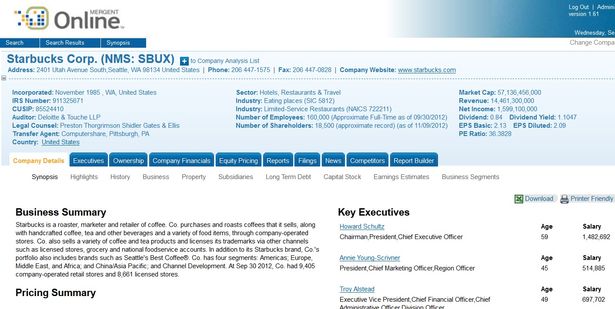 Report Builder
The Report Builder gives you a choice of 3 types of reports: custom reports, report wizard and comparison reports.
Custom Report
1. Expand the data items
2. Select data items
3. Select format
4. Create report

Report Wizard
Select a predefined report and drag it into into the report review.
Comparison Report
A comparison report allows you to compare your company against an industry such as: world wide vs. United states or all companies vs. top ranking companies or bottom ranking companies.
Compare Company Against Industry
1. Select Peer Group

2. Select Peer Group Ranking

3. Select Data Items:
(a) Expand data item
(b) Use arrow key to select data item
(c) Include average (optional)
(d) Select format
(e) Click on "Create Report"

Compare Company Against Custom Group
1. Select company by clicking the plus (+) sign to add company to the company analysis list

2. (a) Use the search box (to right)to find comparison companies. Sample search: Dunkin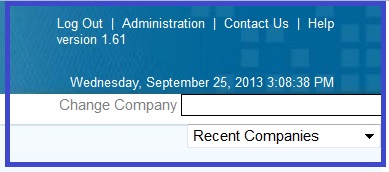 (b) From the DNKN page, add Dunkin' to the company analysis list. You may select multiple companies.
(c) Click on  My Mergent Tools to access your Company list.
(d) From company the analysis page use the arrow keys to select your companies
(e)Expand data items. Use the arrow keys to select data items. Choose appropriate years. Select report format and click "Create Report".
Create Company Lists
1. From home page insert SIC or NAICs code, Example primary NAICs 722211 and Country United States.
2. You will be given a list of companies that match your criteria. You can view selected companies or download the results to Excel.
3. To add companies to your company analysis list click the drop down menu at the top of the screen. You can add all companies or select individual companies from your result list.
4. Use My Mergent Tools to view selected list.