Latin American and Latino Art
Use Guide Index above to find databases, documents, histories, biographies, museums.  Click book jacket images for contents.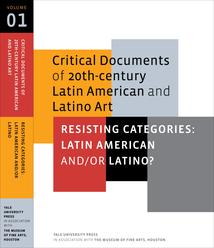 This discovery tool is a one-stop search for print and electronic books and articles that are available full text in online collections such as JSTOR. BULS does not search within the online indexes (databases) listed below. These indexes provide citations and frequently abstracts of articles on a topic whether or not the articles are available online; for the latter look for the "Find@BU" button or a pdf or html link. Graduate-level and scholarly research benefits from searches in these subject-specific databases.
Article Databases and Dissertations
Database Indexes to Articles in Journals and Dissertations
(For a complete list of databases, see Databases A-Z.)
Note:
Covers publications from 1964 to the present. Subject index to articles, book reviews, and dissertations on the history and culture of the United States, Canada, and Latin America from prehistory to the present.
Note:
Covers articles published from 1929 to 1984. Periodical coverage includes English-language periodicals, yearbooks, and museum bulletins, as well as periodicals published in French, Italian, German, Japanese, Spanish, Dutch, and Swedish. In addition to articles, Art Abstracts indexes reproductions of works of art that appear in indexed periodicals. Subjects covered include archaeology, architecture, art history, city planning, crafts, motion pictures, graphic arts, industrial design, interior design, landscape architecture, museology, and photography
Note:
Covers articles published from 1969 to the present. Indexes articles, books, exhibition catalogs, and theses on modern art, photography, and design from late 19th century to the present.
Note:
A database of information about artists, including names, birth and death dates, state or local affiliation, fields in which artist worked, book and periodical references to artist, dealers and museums where works may be viewed, auction prices of works, some biographical details, etc. Aims at being an unbiased source of information about the commercial value of each artist's work through a comprehensive system of comparables. Database began construction in 1983 as a database of American artists. It is now international in scope.
Description:
Avery Index to Architectural Periodicals indexes American state and regional periodicals, professional association publications, and the major journals on architecture and design of Europe, Asia, Latin America, and Australia. Subject areas are architecture and design, archaeology, city planning, interior design, and historic preservation. Includes obituary citations. Date coverage: 1934 - present
Note:
Covers publications from 1973 to 2009. Getty Information Institute. Indexes books, journals, dissertations, and exhibition catalogs. Covers Western art, all media, from late antiquity to the present. Includes RILA (International Repertory of the Literature of Art, 1975-1989 , and RAA (Repertoire d'Art et d'Archeologie, 1973-1989. RAA covers late antiquity to the present; excludes Islamic, Far Eastern, and primitive art and archaeology.
Note:
Covers articles published from 1984 to the present. Institut de l'Information Scientifique et Technique du Centre National de la Recherche Scientifique. Multidisciplinary, multilingual database with emphasis on humanities and social sciences.
Hispanic American Periodicals Index: "bibliographic citations to the contents of scholarly journals published around the world on Latin America and the Caribbean since 1970″

Note:
Covers publications from 1969 to the present. Indexes articles, book reviews, and dissertations on the history and culture of the world including Latin America but largely excluding the United States and Canada from 1450 to the present.
Note:
Covers dissertations from 1861 to the present. Citations to dissertations accepted for doctoral degrees at accredited North American institutions and more than 200 institutions elsewhere; abstracts are available from 1980 to date. Of the more than 2.3 million dissertations and theses cited in the database, over 925,000 dissertations are available for download. Citations to masters' theses from 1962 to date; abstracts available from 1988 to date. For a subject list of Dissertations in Progress, see the June issue of Art Bulletin.
Newspapers
3,000 newspapers from 100 countries in 60 languages.  Current.  Display in original newspaper format.
Documents and Archives
Documents and Archives
ICAA: International Center for the Arts of  Latin America and MFAH: Museum of Fine Arts, Houston.  This digital archive "provides access to primary sources and critical documents tracing the development of twentieth-century art in Latin America and among Latino populations in the United States…Countries featured include Argentina, Brazil, Colombia, Chile, Mexico, Peru, Puerto Rico, Venezuela, and Latino USA."
This thirteen-volume anthology series provides access to "published documents that have been culled from the ICAA Digital Archive and include manifestoes, essays, lectures, correspondence, manuscripts, interviews, testimonies, and other textual materials written or dictated by authoritative sources–including artists, critics, and in some recent case, curators–from Latin America and the United States…"  These documents are translated into English from Portuguese, Spanish, and, in some cases, French.  Mugar Library will provide these volumes in electronic format.  The first three volumes are:
Resisting Categories: Latin American and/or Latino? Edited by Mari Carmen Ramirez, Tomas Ybarra-Frausto, and Hector Olea.  (ebook)
National Imaginaries/Cosmopolitan Identities.  Edited by Natalia Majluf, Karen Cordero Reiman, and Victory A. Snell.  expected 2015.
New World Geometric and Constructive Utopias.  Edited by Tahia Rivero Ponte, Beverly Adams, and Ana Maaria Belluzzo.  expected 2015.
Museum of Modern (MoMA) Art Library.  The survey "aims to document the archives of New York Latino institutions and establish a network of repositories…The team documented the archival and bibliographic holdings of thirty institutions that have showcased or promoted Latino and Latin American art, including community centers, galleries, museums, and academic research centers."
Archives of American Art, Smithsonian Institution.  The collection to date consists of the papers and other materials of 36 artists.
"Toward the Preservation of a Heritage: Latin American and Latino Art in the Midwestern United States," by Olga U. Herrera, Institute for Latino Studies, University of Notre Dame, 2008. "Research from the first year of the Midwest Latino Arts Documentary Heritage Project with a Chronological Overview, Selected Bibliography, and Exhibition Lists." Contents:  
Latin American art at US midwestern world expositions, 1893-1904 — Immigration and settlement : establishing communities in the Midwest, 1900s-1910s onwards — The 1920s : mexicanidad and the Midwest — The 1930s : Mexican artists in the United States — The early 1940s : looking at the Western Hemisphere anew — The mid-1940s to early 1960s : artists joining academia and establishing first commercial galleries — The 1940s and 1960s : a new demographic shift, Puerto Rico and Cuba — The mid-1960s : the foundations of a Midwest Latino art — The late 1960s and early 1970s : the contemporary mural movement — The mid- to late 1970s : towards the creation of a Latino art infrastructure — The 1980s : new art organizations, new art spaces, blockbuster exhibitions, and multiculturalism — The 1990s : asserting a Pan-Latino identity — Globalization and the new millenium.
Overviews
Histories and Surveys
"Art and architecture in Latin America," by Valerie Fraser in ed., John King, Cambridge Companion to Modern Latin American Culture, Chapter 9, 2004/2006,  pp. 202-235.
Artists from Latin American Cultures: A Biographical Dictionary, by Kristin G. Congdon, ABC-Clio, 2002.
Art in Latin America: the Modern Era, 1820-1980, by Dawn Ades Hayward Gallery, 1989.
Mugar Library Stacks N6502.A3 1989
Drawing the line : art and cultural identity in contemporary Latin America, by Oriana Baddeley and Valerie Fraser, 1989.
Mugar Library Stacks N6502.4.B3
Latin American Art in the Twentieth Century, by Edward J. Sullivan, 1996.  Mugar Library Stacks N6502.5.L375 1996
Latin American Art of the Twentieth Century; 2nd ed,  by Edward Lucie-Smith, 2004.
Mugar Library Stacks N6502.5.L83 2004
Latin American Artists of the Twentieth Century, by Waldo Rasmussen, etal, 1993.
Mugar Library Stacks N6502.5.L38 1993
"Latin American artists of the USA"  by Shifra M. Goldman, et al. in Grove Art Online. Oxford Art Online.  Highlights Chicanos (or Mexican Americans), Cubans, and Puerto Ricans.
Twentieth-century Art of Latin America, by Jacqueline Barnitz, 2001.
Mugar Folio N6502.5.B36 2001
Museum Collections: Selected
Museums
The Smithsonian Latino Center website provides a list of museums grouped by state.  The museum list below includes only a very few selected sites.  Museum websites often are good sources for images.
Organization of American States.  "The origin of AMA | Art Museum of the Americas of the Organization of American States (OAS) dates back to 1917 with the establishment of the Visual Arts Unit of the then Pan American Union.  The OAS is the region's premier forum for multilateral dialogue and joint action.  The OAS mission is an unequivocal commitment to democracy, good governance, human rights, peace, security, and development…AMA's work advances the inter-American agenda, drawing on the arts to showcase a constructive vision of the future of the Americas via local and hemispheric cultural exchange.  This is achieved by showcasing cutting-edge exhibits of artists whose output creatively combine aesthetics with topical social and political issues and by establishing a dialogue of these works with AMA's Permanent Collection."
"a non-profit organization established in 2002 by Ella Fontanals-Cisneros and her family to support artists who are exploring new directions in contemporary art. CIFO fosters cultural understanding and educational exchange through three primary initiatives: a Grants and Commissions Program for emerging and mid-career visual artists from Latin America; an exhibitions program showcasing work by Latin American artists and international contemporary art from the Ella Fontanals-Cisneros Collection at the CIFO Art Space; and foundation-initiated support for other arts and culture projects."
"El Museo del Barrio, New York's leading Latino cultural institution, welcomes visitors of all backgrounds to discover the artistic landscape of Latino, Caribbean, and Latin American cultures…El Museo del Barrio's purpose is to collect, preserve, exhibit and interpret the art and artifacts of Caribbean and Latin American cultures for posterity."
"In 1997, the collectors Edith and Bernard Lewin added more than two thousand works by Mexican modernists to the collection, making LACMA one of the main U.S. repositories of Latin American art. The museum has since expanded its collection with works from throughout Latin America, ranging from the colonial to the contemporary periods. The modern collection includes works by Diego Rivera, Roberto Matta, and Rufino Tamayo. Postwar and contemporary artists represented include Francis Alÿs, Hélio Oiticica, and Jesús Rafael Soto."
"The Museum of Latin American Art (MOLAA) was founded in 1996 in Long Beach, California and serves the greater Los Angeles area. MOLAA is the only museum in the United States dedicated to modern and contemporary Latin American art. Since its inception, MOLAA has doubled its size, added a 15,000 sq. ft. sculpture garden and expanded its permanent collection, ranging from works by Tamayo and Matta to Cruz-Diez, Los Carpinteros and Tunga."
Search their online catalog Latin American Collection.  Find books, then check Boston University Libraries Search to see if they are available at BU.
This is an important website for researching Latin American and Latino art in the United States.  Here you can search the Center's collections, and explore other resources.
Image Collections on the Web
Images
In addition to museum collections above, these websites and databases provide images of Latin American and Latino art.
Description:
ARTstor is a database of images from museums, artists, libraries, colleges and universities, scholars, private collections, and photo archives available for teaching, education, and scholarship, with all images cleared for educational use.
Description:
AskART Academic is a database of information about American artists, including names, birth and death dates, state or local affiliation, fields in which artist worked, book and periodical references to artist, dealers and museums where works may be viewed, auction prices of works, and some biographical details.
Latin American Collection of the Jack S. Blanton Museum of Art (formerly the Archer M. Huntington Gallery)
"This magazine provides online resources, including news, reviews, articles, information and works from leading galleries throughout the Americas."  Articles in the Archives seem to be free.  The link above goes to Art Index. On the website, see especially Galleries and Artists.
Artists
Biographical Sources
Artists from Latin American Cultures: A Biographical Dictionary. by Kristin G. Congdon and Kristin G. Hallmark, Kara Kelley, 2002.
Latin American and Caribbean Artists of the Modern Era: A Biographical Dictionary of More Than 12,700 Persons. By Steve Shipp, 2003.
Mugar Stacks N6502.4.S45 2003.
Latin American Artists of the Twentieth Century, by Waldo Rasmussen, etal, 1993.
Mugar Library Stacks N6502.5.L38 1993
List of Latin American artists from Wikipedia Arranged by Nationality.
***************************************
Ruth Thomas, Art History Bibliographer
Mugar Memorial Library
617-353-3770
rthomas@bu.edu