Human Rights in Africa: Introduction
Africa, with its dictators, one-party states, revolutions and frequent coups lends itself to the pursuit of human rights and refugee research.
Advocacy groups both outside of and within Africa have been sprouting up recently in great numbers. In fact it is the very growth of democracy that has brought them out.
The purpose of this guide is to offer you some research tips and to suggest some resources to help you in your study.
A complicated area of study…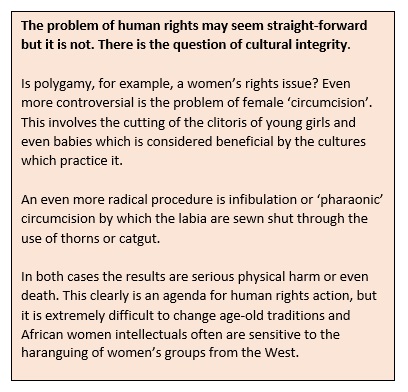 It is critical to look at the history and broader context of any human rights issue. Very rarely are things as simple as they may appear on the surface.
You can research background information in a variety of ways. Bibliographies and reference materials can help provide an overview of the country/region/culture/situation.
Historical and ethnographic accounts can give deeper insight into events, circumstances and cultural practices that might inform the issue.
For example, to research the topic above, you could consult a bibliography on the subject, David M. Westley's "Female Circumcision and Infibulation in Africa"  Traditionally bibliographies have been very helpful. Be sure to consult the bibliographies at the backs of the books you find of interest. For example, Bettina Shell-Duncan and Ylva Hernlund's Female Circumcision in Africa: Culture, Controversy and Change (Boulder CO: Lynn Rienner, 2000). GN484 F443 2000 contains a useful bibliography at the back of their book.  (Note that this is also one of the best books on the subject.)
A current area of study…
Some human rights issues are long-standing, but many are very recent. You may see reports in newspapers and on social media, but very little in the scholarly/academic world. This is another reason to do more background research – so that you can make an informed assessment of the situation.
Journals
Journals often address current human rights issues before books can be published on the topic. Some useful journals on Human Rights are:
Selected Online Databases
Resource Guides
Human rights resources on the Web
Many NGO's and other organizations on the front-lines publish news updates and reports on their websites. In some cases these are the best sources for the most up-to-date information. It is important that you learn all you can about the organization or entity publishing this material.

Stanford University's Africana Librarian has compiled a useful guide to selected online resources:  Africa South of the Sahara: "Human Rights Guide"  Take a moment to scroll through the guide. It includes some of the resources listed below:
Searching for broken links
Broken links are a regular frustration when researching Africa on the internet. This is especially true for controversial topics such as those you might encounter researching human rights. They could disappear due to censorship, lack of funding, etc.There IS a tool that can help. Paste the broken URL into the Internet Archive's WayBack Machine and click search. WayBack Machine has crawled and archived over 400 billion websites. It is worth checking to see if your site was archived at one time. 



For example: Here is a broken link:
http://www.oneworld.org/afronet/afronet.htm

Paste the URL into WayBack Machine


This site was crawled by the WayBack
Machine.
   
Note: the years 2013 back to 2004 yield
broken links, but 2003 further back yields
the actual website. 
In this particular case, not only can you see the
top page,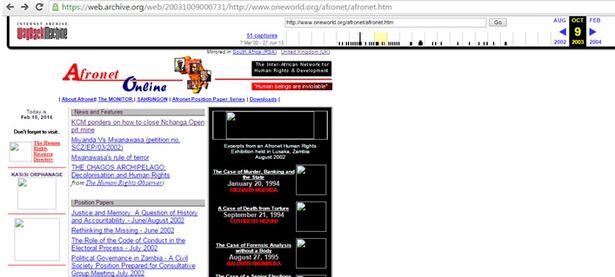 but you can actually get to the article        level, see here:Mwanawasa's rule of terror (Fri. Oct. 11, 2002)Not ALL websites are accessible in this way, or         accessible down to the article level, but it is
certainly worth a try.