Financial Databases Overview
Bloomberg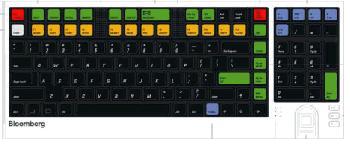 Provides news and analytics from over 129 countries and 250 exchanges for Government, Corporate Mortgage, Money, Municipal, Preferred, Equity, Commodity, Indices and Currency markets
Stand Alone terminal in Pardee
Contains downloading capability through the Bloomberg Excel Add-in (Bloomberg API) functionality
Pardee Library Bloomberg Tutorials
Logging on to Bloomberg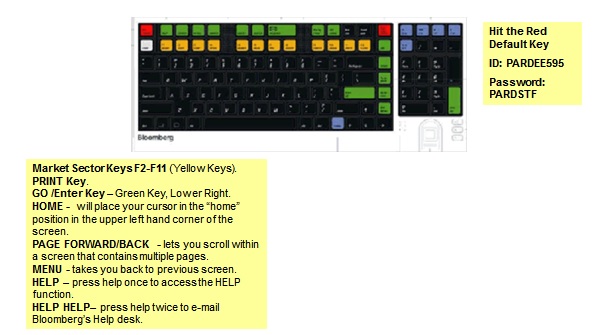 Bloomberg Tips
Finding a Security Identifier/Ticker
To retrieve the information for your security you must have the security identifier. For equities the ticker is the most common identifier.
To find the identifier/ticker choose the market sector <F8 Equity> key
Type in the shortcut TK<GO>
Enter your security name and choose the ticker matching your security
Finding Information for your security once you have the Ticker
Type in your ticker, press the <F8 Equity> market key and then the green <GO> key. For example, IBM <F8 Equity><GO>
Once within a security's universe you can use shortcuts to move within the universe of information. For example, DES <GO> for the securities description page.
You can also go directly to the information you are looking for, like Corporate Actions, from anywhere in the system using the following convention, Ticker <Market Sector> Shortcut code <GO>
Fore example, IBM <F8 Equity>CACS<GO> for IBM's corporate actions page
*Note the notation <GO> indicates to hit the green GO or ENTER Key.
Downloading Data using the Bloomberg API
DAPI<GO> Bloomberg Excel Add-In Menu – Provides information on Bloomberg formulas and functions.
Bloomberg Formula Syntax:
BDH (Bloomberg Data History) downloads the historical data for a selected security and time frame.
BDP (Bloomberg Data Point) downloads data to a single cell in the Excel spreadsheet. This formula is used for only one security and one field.
BDS (Bloomberg Data Set) downloads descriptive data to the Excel spreadsheet and uses multiple cells.
Downloading Data using the Bloomberg Importing Data Wizard
Step1: Click on Historical End of Day

Step2:
Step 3: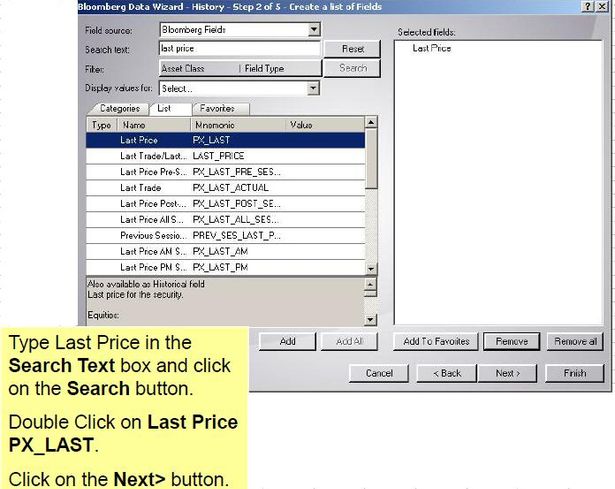 Step 4: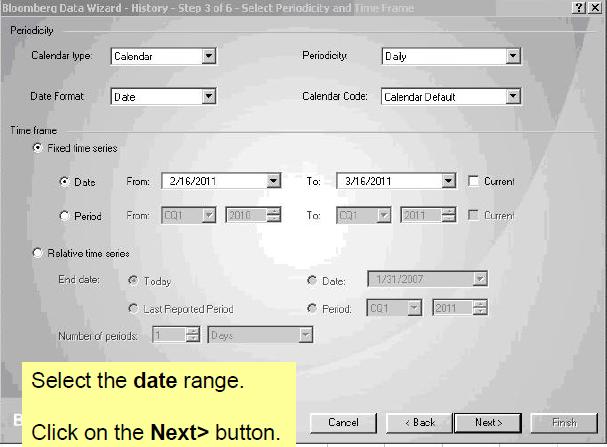 Step 5: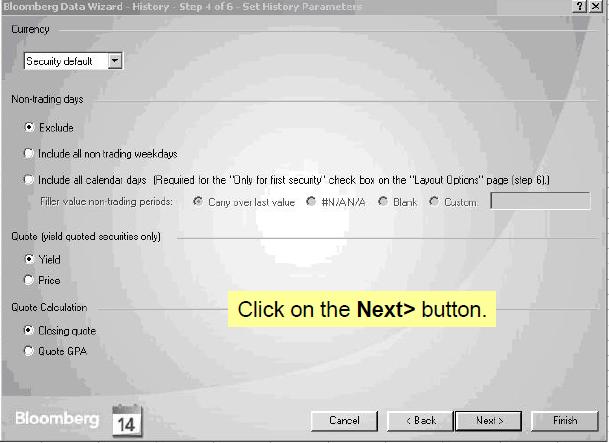 Step 6:
Step 7:
Step 8: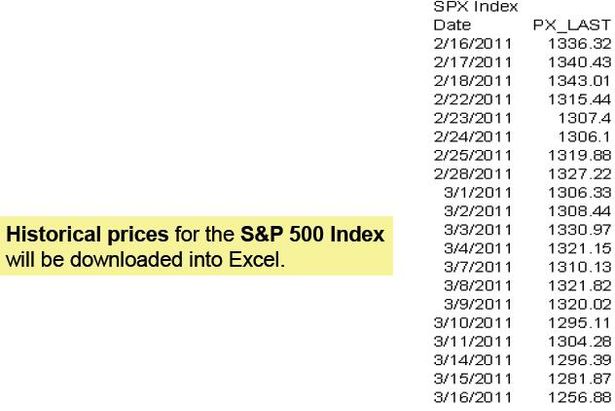 Lexis Nexis Academic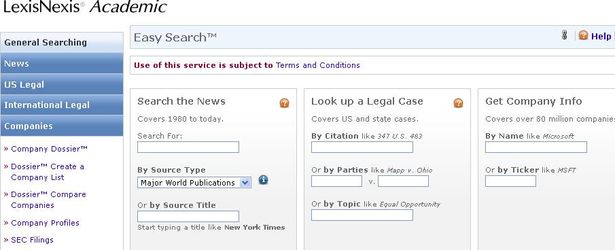 Click on "Companies" tab to access the Company Dossier options. The Company Dossier allows users to:
Find a Company: financial information, corporate hierarchy, legal information and intellectual property.
Create a Company List: search by industry code (SIC or NAICS), employee size, sales/revenue, geographic locations etc.
Compare Companies: create a report with balance sheet, income statement and ratio information.
The SEC Filings link provides the option of searching for various SEC filings such as the Form 10K
The Company Profiles link provides the options of searching for company reports such as Hoover's Company Records.
Factiva
Company Information
Allows users to search for companies by company name or ticker.
Provides company snapshot and financial information.
Provides company reports such as ratio comparison report and detailed company profile reports.
Allows users to create custom reports
News and Articles
Allows users to search for articles by source, company, subject, industry or region.
Mergent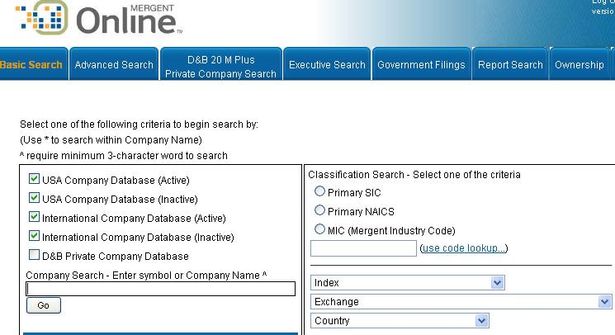 Company Financials Tab: This will provide you with financial statement information as well as ratios. Provide an options to download financial data into Excel.
Filings Tab: Results are the first 25 filings from the last 90 days. To search for 10K filings, click on "Click here for EDGAR Search," click on the Ticker, type in the Ticker Symbol, select filing type 10K and click on Last 12 months.
Report Builder Tab: Custom reports and comparison reports.
Wharton Research Data Services (WRDS)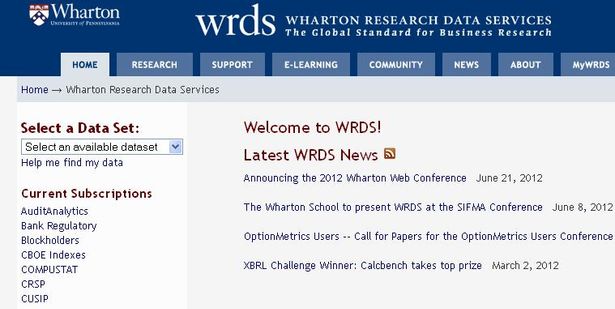 Provides comprehensive source of financial, accounting, economic, management, marketing, banking, and insurance data. Boston University subscribes to several datasets.
WRDS has a support tab that provides links to overviews, manuals, FAQs and ELearning materials.
Fee Based Databases: Audit Analytics, Compustat Global, Compustat North America, Center for Research in Security Prices (CRSP), CUSIP Master File, EVENTUS, IBES, KLD, Thomson Reuters (Mutual Fund Holdings, Institutional 13f, Insider Data)
"Free" Databases (Part of the Subscription): Bank Regulatory, Blockholders, CBOE Indexes, DMEF, Dow Jones, Fama French Portfolios and Factors, FDIC, Federal Reserve Bank Reports, Penn World Tables, PHLX, SEC Disclosure of Order Execution, TRACE
Please see the WRDS Tutorial for log-in instructions as well as a list of commonly asked questions.
WRDS – Audit Analytics
Coverage period: 2000-present
Includes: Current Auditors, Audit Fees with Restatements, Audit Opinions, Benefit Plan Opinions, Auditor During, Auditor Non Reliance Restatements, Audit SOX 302 Disclosure Controls, Audit SOX 404 Internal Changes, Non Timely Filer Information and Analysis
WRDS – Compustat Global
Financial & market data focusing on the non U.S. and non Canadian marketplace, covering over 28,500  companies.
Covering over 90% of the world's market capitalization, including 90% of the Asian market cap, 90% of the Indian market cap, 95% of the Taiwanese market cap and 95% of the European market cap.
We subscribe to Other Products: Executive Compensation.
We do not subscribe to Emerging Markets.
WRDS – Compustat North America
Covers U.S. and Canadian fundamental and market information on more than 24,000 active and inactive publicly held companies.
Provides more than 300 annual and 100 quarterly Income Statement, Balance Sheet, Statement of Cash Flows, and supplemental data items.
For most companies, annual and quarterly data is available for a maximum of 20 years and 48 quarters.
We do not subscribe to OTHER PRODUCTS: Audit fees, Emerging Markets, Preliminary History, Unrestated Quarterly and Point In Time.
WRDS – CRSP
Center for Research in Security Prices (CRSP)
Collection of security price, return, and volume data for the NYSE, AMEX and NASDAQ stock markets.
We do not subscribe to the CRSP/Compustat merged database.
We do not subscribe to the Quarterly updates.
WRDS – Eventus
Eventus performs event studies using data read directly from CRSP stock database or pre-extracted from any source. The Eventus system includes utility programs to convert calendar dates to CRSP trading day numbers, convert CUSIP identifiers to CRSP permanent identification numbers, and extract event studey cumulative or compounded abnormal returns for cross sectional analysis.
WRDS – KLD
Social Ratings (full) and Social Ratings (2007)
Includes: Company Information, Community, Corporate Governance, Diversity, Employee Relations and Environment.
WRDS – Thomson Reuters
Mutual Fund Holdings
Institutional (13f) Holdings
Insider Data
WRDS – "Free" Access Data sets
Bank Regulatory
Contains five databases for regulated depository financial institutions. These databases provide accounting data for bank holding companies, commercial banks, saving banks, and savings and loans institutions.
Blockholders
A separate database containing blockholders used for the study entitled: "Large Blocks of Stock: Prevalence, Size and Measurement" by Jennifer Dlugosz, et al.
CBOE Indexes: Chicago Board Options Exchange Volatility Index (VIX)
Direct Marketing Educational Foundation (DMEF): Four individual data sets, each containing customer buying history for about 100,000 customers of nationally known catalog and nonprofit database marketing businesses.
Dow Jones: Dow Jones Total Return Indexes for the Composite, Industrial, Transportation & Utilities, Dow 10 and Dow 5.
Fama/French Portfolios and Factors: The Fama/French Portfolios are constructed from the intersection of two portfolios formed on size, as measured by market equality (ME), and three portfolios using the ratio of books equity to market equity (BE/ME) as a proxy for value. Returns from these porfolios are used to construct the Fama/French Factors.
FDIC: Contains historical financial data for all entities filing the Report of Condition and Income (Call Report) and some savings institutions filing the OTS Thrift Financial Report (TFR). These entities include commercial banks, savings banks, or savings and loans.
Federal Reserve Bank Reports: Contain Foreign Exchange Rates (FRB Report H. 10) for over 30 world  currencies and tradeweighted indices, Interest Rates (FRB H.15) for US Treasuries and private money market and capital market instruments and FRB-Philadelphia State Indexes.
Penn World Tables: Provides national income accounts-type of variables converted to international prices.
PHLX – Philadelphia Stock Exchange: Currency options, implied volatility. Trades stock, equity options, index options and currency options. Semiconductor Sector (SOX) Index Option, Oil Service Sector (OSX), Gold/Silver Sector (XAU), KBW Bank Sector (BKK) and Utility Sector (UTY).
SEC Disclosure of Order Execution: Sec Rule 11Ac15 requires market centers to disclosure on a monthly basis information including how market orders are executed, effective spread, etc.
TRACE: TRACE Trade Reporting and Compliance Engine is FINRA's over-the counter (OTC) corporate bond market real-time price dissemination service. Provides access to 100% of the OTC corporate bond market activity in over 30,000 securities.
For additional information, see the Financial Databases Overview tutorial.