FE449/820: Corporate Financial Management
Overview
Screening for companies
Bloomberg has a very robust screening engine. Data can be downloaded into Excel using the Bloomberg Excel Add-In (Bloomberg API) functionality.
Mergent has a less robust screening/search engine. Data can be downloaded into Excel.
Mergers & Acquisitions Data
Bloomberg allows exporting of results into Excel and provides deal multiples, deal descriptive data and financials at time of merger/acquisition.
Beta
See Pardee's Beta Tutorial
WRDS
Valueline
Bloomberg
Risk Free Rate
Ibbotson's Stocks, Bonds, Bills and Inflation
Bloomberg
Federal Reserve Board Release: H.15 Selected Interest Rates at
http://www.federalreserve.gov/Releases/H15/data.htm
Industry & Company Information
Company Information Sources
Company Annual & Financial Reports
Industry Information Sources
Bloomberg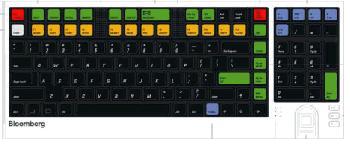 Provides news and analytics from over 129 countries and 250 exchanges for Government, Corporate, Mortgage, Money, Municipal, Preferred, Equity, Commodity, Indices and Currency markets.
Stand alone terminal in Pardee
Contains downloading capability through the Bloomberg Excel Add-In (Bloomberg API) functionality.
Pardee Library Bloomberg Tutorials:
http://www.bu.edu/library/guide/bloombergtutorial/
Logging on to Bloomberg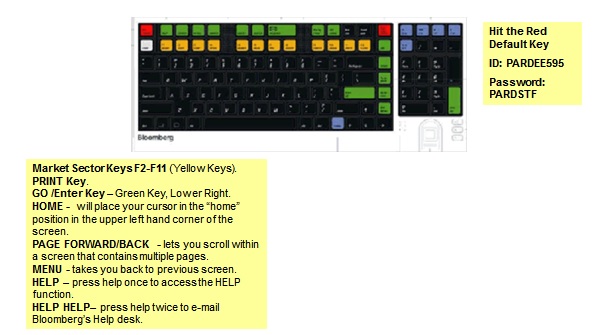 Bloomberg Tips
Finding a Security Identifier/Ticker
To retrieve the information for your security you must have the security identifier. For equities the ticker is the most common identifier.
To find the identifier/ticker choose the market sector <F8 Equity> key.
Type the shortcut TK <GO>
Enter your securities name and choose the ticker matching your security.
Finding information for your Security once you have the Ticker
Type in your ticker, press the <F8 Equity> market key and then the green <GO> key. For example: IBM<F8 Equity><GO>
Once within a security's universe you can use shortcuts to move within the universe of information. For example:
DES<GO> for the security's description page
FA<GO> for the financial analysis page
BETA<GO> for the current BETA
Or go directly to the information you are looking for, like Corporate Actions, from anywhere in the system by using the following convention.
Ticker<Market Sector>Shortcut code<GO>
For example: IBM<F8 Equity>CACS<GO>
*Note the notation <GO> indicates to hit the green GO or ENTER Key.
Downloading Data using the Bloomberg API
DAPI<GO> Bloomberg Excel Add-In Menu - provides information on Bloomberg formulas and functions.
Bloomberg Formula Syntax:
BDH (Bloomberg Data History) downloads the historical data for a selected security and time frame.
BDP (Bloomberg Data Point) downloads data to a single cell in the Excel spreadsheet. This formula is used for only one security security and one field.
BDS (Bloomberg Data Set) downloads descriptive data to the Excel spreadsheet and uses multiple cells.
Bloomberg Mergers & Acquisitions Data
MA<GO> is the shortcut code for Bloomberg mergers & acquisitions data. You will use this function within Bloomberg to screen for M&A deals.
You can use up to 20 variables to screen for deals.
M&A deal information includes deal multiples, financials, (at time merger) and deal descriptive information.
Shortcut for M&A Search
Shortcut: MA<GO>
Click on 91) Advanced Search.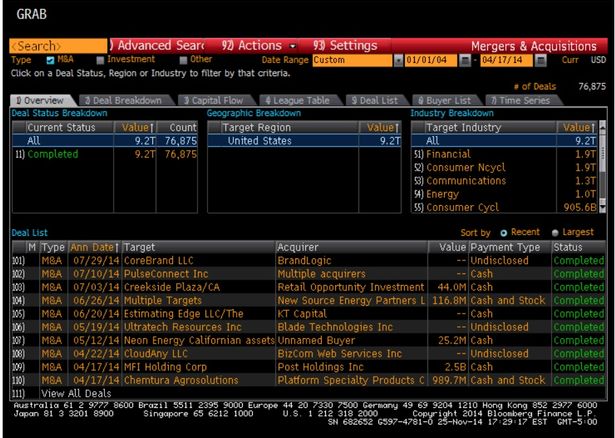 Date Range
Click on 11) Date Range under the Deal Criteria category.
Select 10) Custom from the drop-down menu. Enter the date range. Click on Completion Date.
Click on 1)Update.
Deal Status
Click on 13) Deal Status under the Deal Criteria category.
Click on Completed.
Click on 1) Update.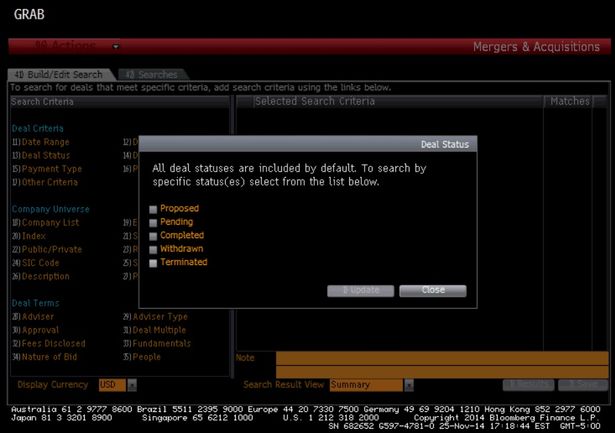 Public or Private
Click on 22) Public/Private under the Company Universe category.
Click on Public or Private.
Click on 1) Update.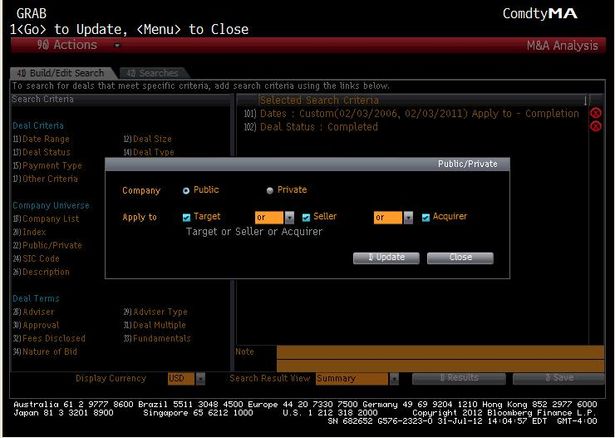 M&A Search: Country & SIC Code Selection
Click on 23) Region/Country under the Company Universe category. First choose a region from the left hand side by clicking on the + sign next  to the region name.  Next choose the country by clicking on it.  (Example: Click on the + sign next to North America. Click on United States).
Click on 1) Update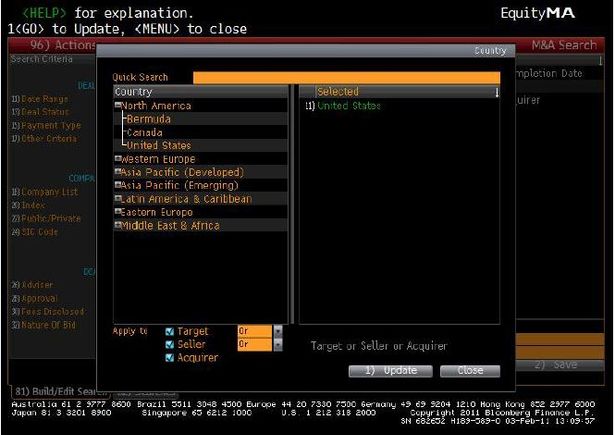 SIC Code
Click on 24) SIC Code under the Company Universe category. Select the Industry Division from the Major Divisions drop down menu. Type the SIC code range in the Min box and the Max box (Example: SIC Code: 2834: Pharmaceutical Preparations and Major Division: Manufacturing). Click on the GO button. Click on 1) Update.

Click on either 1)Results at the bottom of the page or click on 1<GO> for "results" at the top of the screen. If you need to change any criteria of your search, click on 91)Edit Search to go back to the main search screen.
M&A Search Results
Deal List
Click on 5) Deal List at the top of the screen for a list of search results.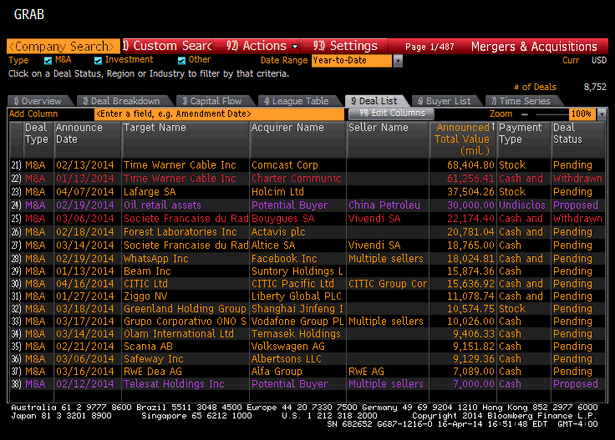 Click on 99) Edit Columns to select additional fields for financial data.  Browse the data items by clicking on the + sign next to the data type or enter the data type into the search box.  Click on the data type to select it and click on 1) Update to add the data field to the results list.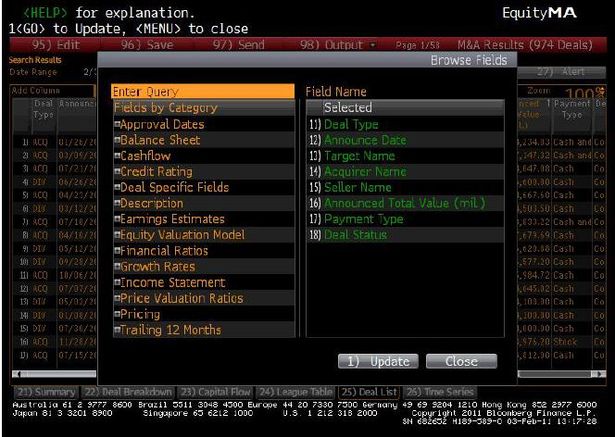 Click on 92) Actions at the top of the screen.  Select Output amd Excel to download the M&A data.

Bloomberg M&A Company Search
To search for an individual company, enter the company name or ticker symbol in the "Company Search" box  on the M&A main page.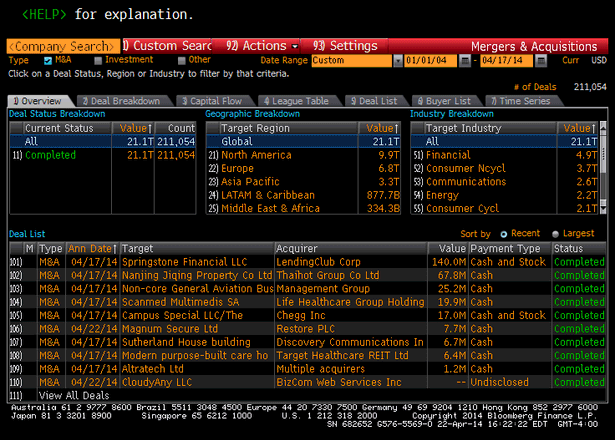 Mergent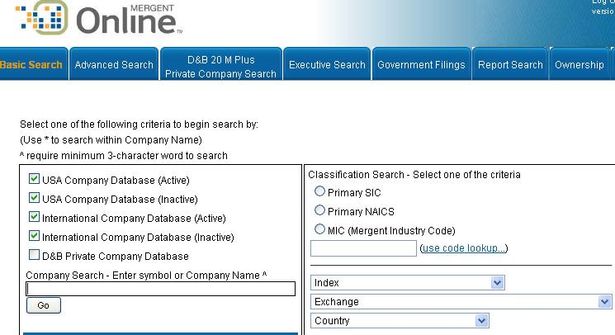 Access via Pardee's Home Page under Business Databases : A-Z
Compare company against company using ratios and financial metrics (use Report Builder tab).
Export financials (use Company Financials tab).
Access company SEC filngs (use Filings tab).
Mergent Main Search Screen
SIC Code 2834 Search
Analyst Reports
Analyst reports are available in the Investext Plus Database.


Note: Investext Plus provides research reports written by analysts at leading investment banks, brokerage houses and consulting firms. Includes both current and historical reports.
Only compatible with Internet Explorer. In order to access Investext with IE 11, please follow the steps below.
1. Log into Investext.
2. Click on Gear icon in upper right next to house and star icon and then click on Compatibility View Settings.
3. Under Add this website, click or tap Add and the URL of the site (i.e. thomsonone) should be added automatically. Then close the box and refresh the database.
Please remember to log out after each use.
If you receive this message: "Error Authenticating User" when logging into Investext, please contact the Pardee Library Services Desk.


Analyst reports are also available in the General Business File database. General Business File is available through the Business Databases: A-Z list on the Pardee Library page.
Analyst reports are also available through the BRC function on the Bloomberg terminal in the Pardee Library.
Tutorial on Resources for Analyst Reports:
http://www.bu.edu/library/guide/analystreports/
Beta
Historical Beta
Wharton Research Data Services (WRDS):
See Pardee's Beta Tutorial at:
http://www.bu.edu/library/guide/beta-tutorial/
See WRDS Tutorial for access instructions
http://www.bu.edu/library/guide/wrds/
Valueline
Current Beta
Valueline: available on Business databases A-Z list
Bloomberg: See Beta Tutorial or once logged into Bloomberg use the shortcut Ticker <Equity>Beta <GO>
Risk Free Rate
Ibbotson's Stocks, Bonds, Bill and Inflation Yearbook
Pardee Reference Desk HG4501.S7949
10 Year Treasury
Bloomberg
Federal Reserve Board
http://www.federalreserve.gov/Releases/H15/data.htm