Child Development and Early Childhood Education
About This Guide
This guide presents academic sources available at BU. You may want to begin by finding background information first, such as this 'Child Development' Wikipedia entry, but note when and how to use background material.
Discover articles and more

Use these databases to discover articles, books, and other literature on your topic. Note that if you come across a citation without full text, do not assume the library has no access. Learn how to Get Full Text.
BU Libraries Search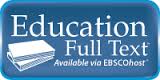 Child development & adolescent studies
EdITLib education & information technology digital library
Education full text
ERIC
Google Scholar
ProQuest dissertations & theses


PsycARTICLES
PsycINFO
Social sciences full text
Journals
The best way to discover articles is to search databases (try Search) – you will be searching millions of records at once. Following journal literature is an effective means of scholarship.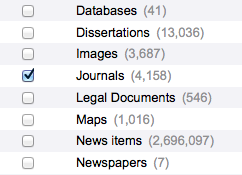 Australian Journal of Early Childhood
Brown University Child and Adolescent Behavior Letter
Child Care Health and Development
Child Development
Child Psychiatry and Human Development
Child Study Journal
Children and Schools
Childhood Education
Early Childhood Education Journal
Early Childhood Folio
Early Childhood Report
Early Childhood Research and Practice
Early Childhood Research Quarterly
Infant and Child Development
Journal of Research in Childhood Education
Monographs of the Society for Research in Child Development
New Directions for Child and Adolescent Development
Topics in Early Childhood Special Education
Websites
American RadioWorks: Early Lessons
Child Trends
Early Childhood
Early Childhood Care & Development
Early Childhood Education Links
Early Connections: Technology in Early Childhood Education
Economics of Early Childhood Policy
Montessori
National Association for Child Development
National Association for the Education of Young Children
National Early Childhood Technical Assistance Center
UNICEF
Books
Discovering our print books and eBooks can be done through Search. Current members of the BU community can borrow books that we don't own through our interlibrary borrowing services.
Select eBooks
Common Characteristics and Unique Qualities in Preschool Programs Global Perspectives in Early Childhood Education
Child development and social policy knowledge for action
Child development for child care and protection workers
Young Children's Play and Environmental Education in Early Childhood Education
Early childhood education for a new era : leading for our profession
Seen and heard : children's rights in early childhood education
Child development at the intersection of emotion and cognition
Select Print Books
Child Development in Practice : Responsive Teaching and Learning from Birth to Five
Mugar LB1140.23 .M37 2011
Children's Drawing and Writing : The Remarkable in the Unremarkable
Education LB1139 .D7 M27 2011
Defending Childhood : Keeping the Promise of Early Education
Education LB1139.25 .D44 2012
Developing Emotional Intelligence in the Primary School
Education LB1060.2 .C65 2011
Freud in Oz : At the Intersections of Psychoanalysis and Children's Literature
Mugar PR830. P74 K53 2011
Handbook of Early Childhood Education
Education LB1139.25 .H33 2012
Knowledge Development in Early Childhood Sources of Learning and Classroom Implications
Education LB1139.23 .K64 2012
Motives in Children's Development : Cultural-Historical Approaches
Mugar HQ772 .M68 2012
Nature and Nurture in Early Child Development
Mugar BF341 .N377 2011
Participation, Citizenship, and Trust in Children's Lives
Mugar BF723 .T78 P37 2013
Play in Clinical Practice : Evidence-Based Approaches
Mugar RJ505.P6 P526 2011
Rethinking Play and Pedagogy in Early Childhood Education: Concepts, Contexts and Cultures
Mugar LB1139.35 .P55 R47 2011
School Rampage Shootings and other Youth Disturbances : Early Preventative Interventions
Mugar BF721 .S43 2012
Schooling, Childhood, and Bureaucracy : Bureaucratizing the Child
Mugar LC191.4 .W38 2012
Seen and Heard : Children's Rights in Early Childhood Education
Education LB1029.R35 H35 2011
Social Development : Relationships in Infancy, Childhood, and Adolescence
Mugar BF723 .S62 S577 2011
Teaching Assistant's Guide to Child Development and Psychology in the Classroom
Education LB1117 .B465 2011
The Truth about Girls and Boys : Challenging Toxic Stereotypes about our Children
Mugar BF723 .S42 R58  2011