CGS Rhetoric: Library Basics
CGS Rhetoric Prof. Kramer 02/03/2016

LIBRARY WEBSITE and BU LIBRARY SEARCH
SEARCH by keywords e.g.
"Animal welfare and ethics" "Animals and ethics" "ethics and capital punishment"
Refine your results by format, date, language and more.

FIND ARTICLES using DATABASES
EVALUATING YOUR SOURCES
What are scholarly sources?

What are peer reviewed journals? A peer reviewed journal consists of articles that have been reviewed by a panel of subject experts before they are approved for publication.
What are Primary sources? Primary sources are materials that provide direct evidence or firsthand testimony concerning the period or subject under investigation.
What are Secondary sources? Secondary sources interpret or analyze an event or subject.
DOCUMENTING YOUR SOURCES
RefWorks research management, writing and collaboration software helps you to:
Organize your research
Build a bibliography in a variety of formats
Import references from many data sources
Create bibliographies in different document formats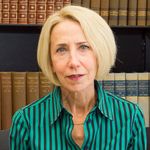 Please contact me with ANY library or research questions
pac@bu.edu
http://www.bu.edu/library/guide/cgsrhetoric-librarybasics/