Boston and Its Neighborhoods
Silver plaque inscribed with the names of Paul Revere and Sam Adams commemorating the 20th anniversary of American independence in 1795. Found in the time capsule unearthed Dec. 11, 2014 in the cornerstone of the Massachusetts State House and opened on January 6, 2015 at the Museum of Fine Arts Boston.
The official website of the city of Boston provides comprehensive information for residents, businesses, students, and visitors.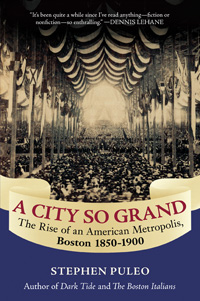 Purpose of the Guide
Several years ago, we compiled this guide to provide quick answers to frequently-asked research questions about Boston.  Since then we have continued to update and revise the guide to keep apace with the burgeoning increase in both online and print resources about the city and its environs.   We have been delighted to receive much positive feedback from  the B.U. community and even from web users around the world.
Although no online Boston guide can claim comprehensiveness, this wide-ranging resource provides access to eclectic information on the "Athens of America" including: statistics, population, history, libraries, photographs and images, maps (current and historic), movies, plays, literature and television shows set in Boston, in addition to numerous other topics.
Click on Guide Index to find topics on this page and select additional pages from the menu on the right. Please feel free to contact us with any suggestions or comments.
Big Dig–Central Artery/Tunnel
Massachusetts Department of Transportation (MassDOT).  This website provides information on the project background, tunnels and bridges, facts and figures, publications and other resources, and a documentary video.
The documents listed here pertain to  costs incurred during and after the  big dig construction project.  The document web pages have been moved to the sites of the various state agencies involved.  To access an individual report, copy/paste the document title into the site's search box or Google it.  For example, Office of  Inspector General documents under the title "Central Artery/Ted Williams Tunnel Project Highlights Need for Effective Federal Oversight" are found here.
Boston Speech/Accent

Wicked Good Guide to Boston English
Census
Boston Redevelopment Authority. News and Updates, March 2011.  Researching Boston in 2011 provides links to a number of reports on the economy, education, and demographics.   Boston University is the third largest private sector employer in the city.
Brookings Institution, November 2003.
Boston Redevelopment Authority.  These reports cover socio-economic and demographic information and  are arranged  by planning district, neighborhood, and council districts and wards.   Census 2000 reports are also available here.
Census Data by Neighborhood and by Zip Code, 1930-2000.
For the documents,  search the Internet Archive
Compiled by Prof. William A. Bowen, a California State University geography professor, these maps based on the 1990 census provide statistical information on population and race: ancestry and nationality; income and poverty; and adult educational attainment.
Statistics
Boston Municipal Register, 1890, p. 216.
Boston University Libraries' holdings; also check subject headings in each entry to find further information.
Boston Police Department. Daily and weekly reports and also comparative statistics for the past few years.
Massachusetts State Police, Crime Reporting Unit.
100 Years of U.S. Consumer Spending: Data for the Nation, New York City, and Boston, 1901-2003. BLS Report 991: Bureau of Labor Statistics
Historic Preservation
"Boston Main Streets is devoted to the continued revitalization of Boston's neighborhood commercial districts through design, technical, and financial support. Today, the nationally recognized program boasts 19 districts across Boston."
National Trust for Historic Preservation booklet with remarkable photographs of modern buildings  including Boston University School of Law Tower, Boston; Sert, Jackson & Gourley, 1961, and some spectacular aerial views of the city.
The mission of this  nonprofit organization is to protect and improve  "the quality of Boston's distinct architectural heritage. Through advocacy and education, we bring people and organizations together to influence the future of Boston's historic buildings, landscapes and communities."
This organization is "is a community group in the historic Fort Point District of South Boston, voicing a public vision for the long-term planning of Fort Point and the greater South Boston Waterfront as a mixed-use, urban neighborhood with a distinctive character and sense of place."
Many of  its members are part of an advocacy group "on matters relating to legislative and regulatory advocacy:"
"The Boston Street Railway Association is a non-profit, 501(c)-3 educational organization, dedicated to exploring the history of all forms of public transportation in the greater Boston area, and preserving present-day activities for future generations. Our central objectives—history, preservation, and publications—are achieved through monthly meetings; a streetcar restoration program; a bi-monthly transit news magazine; a series of respected publications; and more. "
This organization is a "nonprofit collaboration of citizens working to protect, restore, and beautify the Charles River Esplanade, a designated Boston Landmark."
"a non profit organization that works with local partners to identify and invest in the redevelopment of historically significant buildings and cultural resources in order to catalyze neighborhood renewal."
This  organization was formerly SPNEA, Society for the Preservation of New England Antiquities.  It describes itself as "a museum of cultural history that collects and preserves buildings, landscapes, and objects dating from the seventeenth century to the present and uses them to keep history alive and to help people develop a deeper understanding and enjoyment of New England life and appreciation for its preservation."  Its photographic and print collections include many views of Boston buildings and street scenes.
City of Boston.gov.  "The Environment Department oversees the City of Boston's historic preservation and archaeology activities through the Boston Landmarks Commission, the Historic District Commissions, and the City Archaeologist.
The Boston Landmarks Commission functions as the City's steward of historic buildings, places, and neighborhoods.
The Historic District Commissions review proposed exterior design changes to properties located within the boundaries of each of the City's nine Historic Districts to ensure that the unique historic and architectural character of these neighborhoods is protected and preserved.
The City Archaeologist manages the City of Boston's growing archaeological collections, strives to make the city's archaeology publicly accessible, and works to protect and preserve Boston's archaeological heritage."
"In the late 1970s, the MHC published a groundbreaking, statewide preservation plan:Cultural Resources in Massachusetts: A Model for Management. The plan advocated an interdisciplinary approach to the assessment and management of the Commonwealth's cultural resources that measured the significance of properties and sites in terms of the broad, anthropological patterns of historical development of the regions and communities of the state. The Model for Management called for a cultural landscape approach to preservation planning that considered representative and outstanding cultural resources as expressions of the successive patterns of social, cultural and economic activity that shaped and defined communities. To establish both local and regional contexts, the Commission undertook in the 1980s a statewide reconnaissance level survey."  The Boston-related reports are:
Chartered by Congress in 1949, the National Trust for Historic Preservation… take[s] "direct, on-the-ground action when historic buildings and sites are threatened…and advocate[s] with governments to save America's heritage. We strive to create a cultural legacy that is as diverse as the nation itself so that all of us can take pride in our part of the American story."  Each year since 1987 it has published a list of America's 11 Most Endangered Historic Places. In 1995 Historic Boston Theatres were listed among the country's most endangered historic places. The 2012 list includes the Malcolm X–Ella Little-Collins House. The Trust's  National Treasures database lists over 2,300 Boston-related news articles and reports.
"The mission of the North End Historical Society is to collect and preserve the historical record and material culture of Boston's North End, to preserve, catalog, and present these resources in service of the wider community through publications, lectures, educational programs, and exhibits.  The mission includes ongoing efforts to bring together scholars and individuals knowledgeable and interested in all aspects of the North End's history."  See the documentary, Boston's North End: America's Italian Neighborhood.
National Conference of State Legislatures.  Select state and topics such as archaeological activities, building standards, demolition of designated historic properties, etc. to find  laws enacted by the Massachusetts legislature.
This organization is engaged in the "restoration and preservation of the tugboat Luna, a National Historic Landmark moored in Boston, MA. The Luna was the first commercial diesel-electric ship-docking tug of its kind and played an important role in the development of Boston Harbor."
History
The Boston Public Library has digitized many records of  Boston city departments from the 1600′s to the present and made them available in the Internet Archive.  For a partial listing of these reports, click on BPL Government Information Online Collections Regional – Boston and Massachusetts to find them by department — election, fire, public works, parks, police, etc.  Please note: most, but not all, of these documents are in the Internet Archive.  Please consult the Guide to the Records in the the City Archives for exact titles and years of coverage of these records and copy/paste the title you want in the Internet Archive search box.
The collection consists of forty-thousand documents including correspondence, documents, and other original material relating to the abolitionist cause from 1832 until after the Civil War.
…Volume 1 (1876). Registry Department, Boston, MA. Available via the Internet Archive. Additional volumes: 2 (1877)-39 (1909). The earliest records date from 1632 and the latest date to 1822. They record births, marriages, selectmen's minutes, etc.
State Library of Massachusetts. Scroll down to Boston. Historical; holdings only, no online text.
Harvard University Libraries Open Collections Program.
This well-designed site includes information on Boston's 19th century history, including Boston city directories online. The main focus is the great fire of 1872.
iBoston byDavid Wieneke. A feature of this website is the daily history fact, "This Day in Boston History," on the front page. Information on Boston's public places, art, historic people and events can be found here as well as a research section showing how Boston developed physically and in population.
Also known as the Great Molasses Flood, the disaster occurred on January 15, 1919 in Boston's North End.
"The purpose of Boston's Edgar Allan Poe public art project is to honor Edgar Allan Poe in the city where he was born on January 19, 1809, by installing a permanent memorial near his birthplace before the middle of 2014."
Suffolk University.  "Boston's busing crisis was sparked in 1974 with the ruling of Judge Arthur Garrity in the case of Tallulah Morgan et al. v. James Hennigan et al, known as the Garrity Decision…This guide provides context about the busing crisis and outlines the resources available at the Moakley Archive and Institute at Suffolk University for researchers." This comprehensive guide to primary and secondary sources is also available in pdf.
Among its collections are Boston Abolitionists 1831-1865/ and Object of the Month (December 2014): "The triumphal arch erected in Boston in honor of the visit of President George Washington on 24 October 1789 was architect Charles Bulfinch's first public architectural commission."
Libraries and Archives
Compiled by librarians at Harvard,  this guide serves as an outstanding guide to Boston-area libraries and repositories.    The annotated descriptions of some institutions are especially useful.   Please note:  the guide does include many annotations of Harvard library holdings which are not accessible to the B.U. community.    Nevertheless,  the guide provides an important gateway to the rich library resources in the Boston area.
"The Boston Library Society records include information on early members, and catalogs and reading lists from this early Boston institution. The Anthology Society records chronicle the evolution of a small group of scholars who became the founders of the Boston Athenæum.  As the founders and proprietors of the Athenæum were also the dynamic builders of Federal Boston, the Athenæum archive preserve crucial records relative to 18th- and early 19th-century literary and cultural development in the city.  Taken all together, this archive provides a complete and unbroken record of Boston cultural development from 1792 until the present day."  See Images for the Boston African Americana Project.
19 libraries, many in the greater Boston area, share resources through borrowing privileges.
For a list of materials in the library's Special Collections, search by subject  "Boston." More information on their digital collections can be found on this page under "History" and on the "Images" page of the Guide.  The 3,510 books in the  John Adams Library at  the  BPL are available online via the Internet Archive which provides  Subject/Keyword browsing.  The Library recently introduced  Sound Archives containing to date these collections: Children's Book International, Ford Hall Form, BPL Lecture Series, and Koussevitsky.
"The Boston Symphony Orchestra Archive primarily consists of scores. There are over two hundred bound volumes of nineteenth-century manuscript copies of mainly Italian opera scores with full orchestration, and a few printed editions."
"Highlights of our library collection include sources on Boston history, colonial history and the American Revolution, city directories from 1789 onward, and Massachusetts Revolutionary War military records. The archival collection comprises a wide selection of historical documents, including manuscript collections, financial records, broadsides, maps and plans, newspapers, and proclamations."  See the "Images" page for information on their photographic collection.
16 Boston-area libraries share resources through borrowing privileges.
Staff of the City of Boston Archives.  "The Guide is organized by departmental record groups and provides brief historical information and descriptions of record series under each department."
Check their Digital Collections and Archives for Boston-related material.
Collection includes Sanborn fire insurance maps, historical insurance journals, and books. Underwriters proceedings from as far back as 1866 and Massachusetts Insurance Commissioner Reports starting from the mid-1800′s. Journals include Rough Notes, National Underwriter, and Best publications going back to the mid 1900′s.
"The Massachusetts Historical Society collects manuscripts—the letters, diaries, and other personal papers of individuals and families. While the Society holds many famous documents—Paul Revere's own account of his famous ride and manuscript copies of the Declaration of Independence by both Thomas Jefferson and John Adams, for example —the true strength of the collection lies in how millions of pages of manuscript documents and diaries "weave together" as primary sources for the study of the entire course of American history right up to the present."
Among the collections are Freedom House Photographs of Roxbury Places, People, and Events, 1950-1975,   andBoston History Collections.
See especially its guide to researching Boston buildings.
Its Archival Collections and  Digital Collections include many Boston-related items.
Databases: Periodical Indexes and Abstracts
The B.U. libraries subscribe to the following subject and interdisciplinary databases, which provide citations and sometimes access to full-text journal articles on  many subjects,  including Boston-area topics.   If, for example, you are doing research on the architecture of  "Faneuil Hall",  you could type in that name in the Avery index.
Note:
Covers publications from 1964 to the present. Subject index to articles, book reviews, and dissertations on the history and culture of the United States and Canada from prehistory to the present.
Note:
Covers articles published from 1984 to the present. Periodical coverage includes English-language periodicals, yearbooks, and museum bulletins, as well as periodicals published in French, Italian, German, Japanese, Spanish, Dutch, and Swedish. In addition to articles, Art Index indexes reproductions of works of art that appear in indexed periodicals. Subjects covered include archaeology, architecture, art history, city planning, crafts, motion pictures, graphic arts, industrial design, interior design, landscape architecture, museology, and photography.
Note:
Covers articles published from 1929-1983. Periodical coverage includes English-language periodicals, yearbooks, and museum bulletins, as well as periodicals published in French, Italian, German, Japanese, Spanish, Dutch, and Swedish. In addition to articles, Art Index indexes reproductions of works of art that appear in indexed periodicals. Subjects covered include archaeology, architecture, art history, city planning, crafts, motion pictures, graphic arts, industrial design, interior design, landscape architecture, museology, and photography.
Note:
Covers publications from 1969 to the present. Indexes articles, books, exhibition catalogs, and theses on modern art, photography, and design from late 19th century to the present.
Avery Index to Architectural Periodicals
"…a comprehensive listing of journal articles on architecture since 1934, covering the history and practice of architecture, landscape architecture, city planning, historic preservation and interior design and decoration."
Note:
Covers publications from 1973 to 2009. Getty Information Institute. Indexes books, journals, dissertations, and exhibition catalogs. Covers Western art, all media, from late antiquity to the present. Includes RILA (International Repertory of the Literature of Art, 1975-1989 ), and RAA (Repertoire d'Art et d'Archeologie, 1973-1989. RAA covers late antiquity to the present; excludes Islamic, Far Eastern, and primitive art and archaeology.
Note:
Covers nearly all American art journals from the 19th century. Over 1,200 citations refer to the arts in Boston: auctions, Boston Art Club, exhibitions, galleries, museum news and collections, publications, etc.
IngentaConnect
Indexes many journals.  Some full text readily available, some full text in remote journals, and some full text can only be accessed by entering journal name in Boston University Libraries Search.
Note:
Covers articles published from 1980 to the present.
Note:
Covers dissertations published from 1861 to the present. Citations to and full text (except where restrictions apply) of dissertations accepted for doctoral degrees at accredited North American institutions and more than 200 institutions elsewhere.
Bibliographies of New England History: Massachusetts.
Mugar Reference X Z1295 .C65 1976.
Religion
Pluralism Project, Harvard University.
Selected Reports.
National Bureau of Economic Research (NBER) Working Paper no.10166. "The three largest cities in colonial America remain at the core of three of America's largest metropolitan areas today. This paper asks how Boston has been able to survive despite repeated periods of crisis and decline. Boston has reinvented itself three times: in the early 19th century as the provider of seafaring human capital for a far flung maritime trading and fishing empire, in the late 19th century as a factory town built on immigrant labor and Brahmin capital, and finally in the late 20th century as a center of the information economy. In all three instances, human capital admittedly of radically different forms provided the secret to Boston's rebirth. The history of Boston suggests that a strong base of skilled workers is a more reliable source of long-run urban health." December 2003.
City of Boston.gov.  "The reports on this site are tools for city officials and residents alike to know what city agencies are doing, how well they are doing it, and where they can improve." Performance Management System.
"…a detailed report on the economic and social impact in 2000 and 2002 of Boston College, Boston University, Brandeis University, Harvard University, Massachusetts Institute of Technology, Northeastern University, Tufts University and University of Massachusetts Boston." Report prepared by Appleseed, a New York economic research firm.
Reports issued annually from Winter 1989/1990 to Winter 2008/2009.  Currently unavailable online.
Wards and precincts. Scroll to Boston.
This code contains local legislation current through Ord. 2011, c.17, passed 12-28-11. American Legal Documentation Corporation.
Weather
National Weather Service.