Transportation
Boston is a walking city, but most efficient alternative is using the T. Tickets or passes may be purchased using cash or credit/debit cards at machines located inside or outside all airport terminals as well as inside the Airport Station lobby for customers desiring Blue Line service.

One-way CharlieTicket costs $2.50  ($2.50 for the train; $2.00 for bus)
One-day LinkPass is $11.00*
One-week LinkPass is $18.00**Note that  one-day and one-week LinkPasses will allow you to unlimited travel on all subway lines and local buses, for the number of days printed on your pass. Click here for more information about fares.
Blue Line: Take the free Massport shuttle to the Airport Station (Blue Line Subway). This is your best connection to and from the Green Line at Government Center Station. This route is the best option for getting to Boston University.
Silver Line (SL1): not as direct as the Blue line, but it is free and allows for drop-off and pick-up directly in front of each Logan Terminal. There are no shuttle transfers and there is room to store your luggage. Keep in mind however that you would need to change to the Red Line at South Station and very likely to the Green Line at Park Street depending on where you are staying. Transfers are free.

The George Sherman Student Union (GSU) is located at 775 Commonwealth Avenue. Mugar Memorial Library's entrance is within the GSU.
From Downtown Boston, or Kenmore Square:

By train: Take the Green Line, Boston College (B) Train to BU Central. Cross Commonwealth Ave. and take a left, passing Marsh Chapel & Plaza. Just past the School of Theology and Metropolitan College (all one building), you will come to the courtyard in front of the Student Union and you should see a sign for Mugar Memorial Library to your immediate right.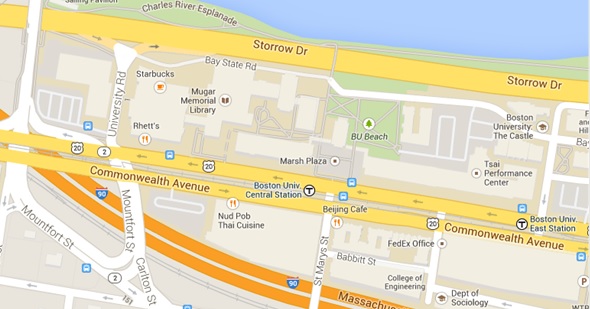 By bus:  The 57 Bus Kenmore Station to Watertown operates on Commonwealth Ave. and may be a good alternative to the T.  There are two stops closest to the Student Union and Library. The first is "Comm. Ave & St. Mary's" which stops at Marsh Plaza, you will see the Chapel on your right. The next stop is just beyond the George Sherman Student Union.
 Driving to BU:  Parking at Boston University is extremely limited at the moment due to ongoing campus improvements and the normal challenges of parking in Boston. Public transportation is by far cheaper and easier. If you choose to drive to campus, there is metered parking along both Commonwealth Ave. and Bay State Rd. Do be aware that the meters vary between 2 and 4 hours duration. Quarters are accepted (1 quarter/12 min = 5 quarters/hour = $1.25/hour).
 Meeting Venues:
(Welcome Reception, Thurs. 3PM) African Studies Library: enter Mugar Library and walk towards the circulation desk, take the north elevator (left of the circulation desk) to the 6th floor. We will have signs out.
(Concert, Thurs. 7PM) Tsai Performance Center, 685 Commonwealth Ave (Directly across from the "Boston University East" T stop.)
Look for the doors under the large red banner.
(ALC Meetings, Fri. & Sat.) Terrace Lounge, George Sherman Union: take the stairs or elevator to the 2nd level. There will be signs to direct you to the Terrace Lounge.
(Dinner & Keynote, Fri. PM)  To be determined.