Library Assessment
The Assessment Committee
The purpose of the Assessment Committee is to coordinate library assessment activities across BU libraries. The Committee conducts both qualitative and quantitative research to understand faculty and student scholarly needs and to support data driven decision making in the libraries.
In the spring of 2013 the Committee surveyed all BU undergraduate students to determine their use of and satisfaction with current library services and resources. The quantitative and qualitative data were analyzed and the results from the survey are now available in our Undergraduate Student Survey Report. The chart below from the report shows undergraduate students ratings of the BU libraries' contribution to their quality of life and academic success.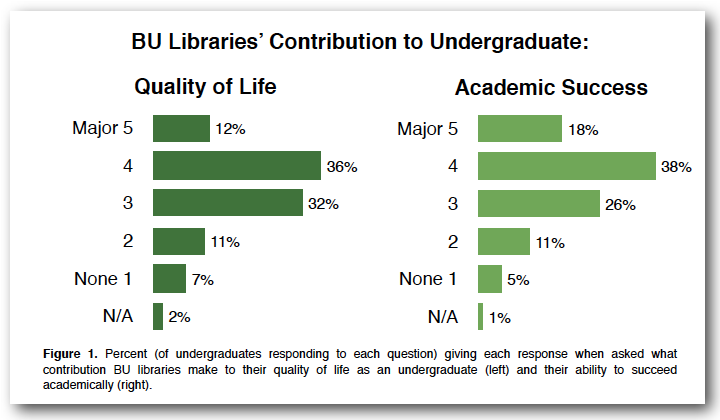 The Committee has now completed a planned cycle of three surveys. Reports on the results of two other school-wide surveys, the Faculty Survey in 2010 and the Graduate Student Survey in 2012, are also available.
The Committee wishes to thank to all of the students and faculty who have taken our surveys. The response rates were terrific and the data and comments help drive real improvements to the BU libraries system.
Listen to three BU Libraries staff members share their appreciation for your help in these videos from Debra, Shirley and Roland.