The project team for Codebreakers 2017 are:
Cynthia Brossman
Cynthia Brossman is Director of the Learning Resource Network (LERNet) a center at Boston University dedicated to promoting science, technology, engineering, and mathematics. LERNet offers programs to K-12 teachers and students that encourage their interest in STEM disciplines and promote awareness both of careers and research in these fields. In addition to Codebreakers, LERNet programs include Artemis, BIOBUGS, Summer Pathways, and GROW, several of which focus on encouraging young women to pursue STEM.
LERNet also administers GLACIER, an NSF GK-12 program focused on Global Change, and in the past, has administered an RET in Biophotonics, PROSTARS (an NSF STEP grant), and WIN (Women in Networks), an NSF PAID award.
LERNet also took a lead in forming the Boston Area Girls STEM Collaborative, a coalition of local universities and non-profits that advocates for girls in science and implements programming to increase their participation in STEM activities. LERNet has helped organize their two annual flagship programs, S.E.T. in the City and Tech Savvy, for the past eight years.
Manuel Egele
Manuel Egele is an Assistant Professor at Boston University's Department of Electrical and Computer Engineering. His research interests cover most aspects of security, in particular software security, security in embedded systems (IoT), and mobile systems security and privacy. He received his Ph.D. in Computer Science in 2011 from Vienna University of Technology, and his M.Sc. in Computer Science in 2007 Vienna University of Technology. He leads Boston University's Secure Systems Lab and is a proud member of the International Secure Systems Lab.
Sharon Goldberg
Sharon Goldberg is an associate professor in the Computer Science Department at Boston University. Her research uses tools from theory (cryptography, game-theory, algorithms), and networking (measurement, modeling, and simulation) to solve practical problems in network security. She received her Ph.D. from Princeton University in 2009, her B.A.Sc. from the University of Toronto in 2003, has worked as a researcher at IBM, Cisco, and Microsoft, as an engineer at Bell Canada and Hydro One Networks, and has served on working groups of the Federal Communications Commission (FCC) and the Internet Engineering Task Force (IETF). In 2014 she received two IETF/IRTF Applied Networking Research Prizes, an NSF CAREER Award, and a Sloan Research Fellowship.
Mayank Varia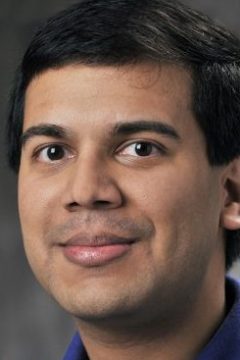 Mayank Varia is the Director for the MACS project. His research interests span theoretical and applied cryptography and their application to problems throughout computer science. Previously, he worked for four years at MIT Lincoln Laboratory, where he designed and evaluated high performance privacy-enhancing data search technology, created information theoretic metrics to quantify privacy, and developed algorithms to capture linguistic provenance automatically. He received a Ph.D. in mathematics from MIT for his work on program obfuscation.