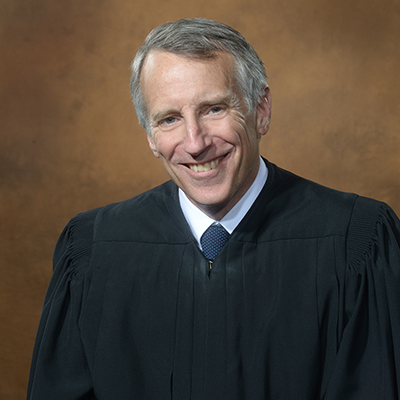 The Honorable F. Dennis Saylor, IV
Adjunct Professor
US District Court Judge, District of Massachusetts
BSJ, Medill School of Journalism at Northwestern University
JD, Harvard Law School
Biography
Hon. F. Dennis Saylor IV was appointed as United States District Judge for the District of Massachusetts in 2004. Before his appointment, he was a member of the Boston law firm of Goodwin Procter LLP. He served as an assistant US attorney in the District of Massachusetts from 1987 to 1990 and as special counsel and chief of staff to the Assistant Attorney General–Criminal Division of the US Department of Justice in Washington, DC from 1990 until 1993. He is a graduate of Northwestern University and Harvard Law School.
Judge Saylor presided over the Central Division in Worcester from 2004 to 2012, when he was reassigned to the Eastern Division in Boston. In 2011, he was appointed to a term on the Foreign Intelligence Surveillance Court. He served on the Committee on Defender Services of the Judicial Conference of the United States from 2009 to 2015.
Judge Saylor also co-authors a column on trial practice in Massachusetts Lawyers Weekly.
Courses
Trial Advocacy: LAW JD 894
This course introduces the student to the structure of the trial process and the skills used by trial lawyers. The topics covered range from opening statements to closing arguments, including conducting direct and cross-examination of witnesses, making and meeting objections, introducing documents and discovery into evidence, and using hypothetical questions with expert witnesses. Students must perform simulated exercises and will try one or more civil or criminal cases before a jury. Visit the web for more information on the instructors. PREREQUISITE: EVIDENCE. Students taking TRIAL ADVOCACY in the second semester of their third year may take EVIDENCE as a COREQUISITE. Students who have taken a trial advocacy course as part of a clinic may not subsequently enroll in Trial Advocacy. ENROLLMENT LIMIT: 12 students. GRADING NOTICE: This course does not offer the CR/NC/H option. NOTE: This course counts toward the 6 credit Experiential Learning requirement. ** A student who fails either to attend the initial meeting of a section of Trial Advocacy, or to obtain permission to be absent from either the instructor or the registrar, WILL BE administratively dropped from the section. Students who are on a wait list for a section are required to attend the first section meeting to be considered for enrollment.
FALL 2017: LAW JD 894 A1 , Sep 11th to Dec 4th 2017
SPRG 2018: LAW JD 894 A2 , Jan 17th to Apr 25th 2018
SPRG 2018: LAW JD 894 W1 , Jan 16th to Apr 24th 2018
SPRG 2019: LAW JD 894 A2 , Jan 16th to Apr 24th 2019
SPRG 2019: LAW JD 894 W1 , Jan 15th to Apr 23rd 2019