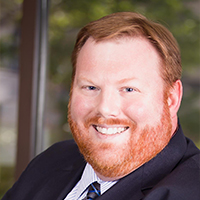 Craig W. Kaylor
Lecturer
Vice President, Compliance, PeoplesBank
BA, State University of New York at Albany
JD, Hofstra University School of Law
Biography
Craig W. Kaylor is the Vice President of Compliance of PeoplesBank in Holyoke, Massachusetts.  Prior to this position, Mr. Kaylor was the general counsel of Hampden Bank and its parent company, Hampden Bancorp, Inc., a publically traded company . Mr. Kaylor's areas of expertise include regulatory compliance, risk management, bank secrecy, internal controls and corporate governance.
Mr. Kaylor is also an adjunct professor of law at Western New England University School of Law. He is a co-chairman of the Audit and Finance Committee of the Hampden County Bar Association and was a board member and past President of the Western MA Compliance Association.  He belongs to and is active in numerous professional organizations in banking and the law.
Courses
Consumer Financial Services: LAW BK 995
This class presents an overview of the laws relating to traditional and innovative consumer financial products and services, including the impact of the new consumer protection provisions of the Dodd-Frank banking law on creditors and consumers. The course focuses on federal consumer financial laws governing installment, revolving, and real estate lending, credit and debit cards; and ATM networks, point of sale payment systems, home banking, stored value and prepaid cards; and other deposit and loan products and services. The course examines the design of retail financial products and considers operational issues, the regulatory framework, and consumer protection laws including The Consumer Financial Protection Act, Truth in Lending, Equal Credit Opportunity, Community Reinvestment Acts, and federal and state laws governing fair credit reporting, trade practices, usury, electronic funds transfers, and funds availability.
SPRG 2018: LAW BK 995 A1 , Jan 16th to Apr 24th 2018
| Days | Start | End | Credits | Instructors | Bldg |
| --- | --- | --- | --- | --- | --- |
| Tue | 4:20 pm | 6:20 pm | 2 | Craig W. Kaylor | LAW |
In the Media
January 27, 2016

Craig Kaylor quoted in Go Banking Rates. read more