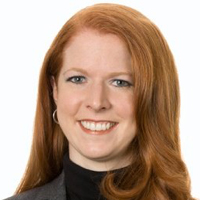 Christina Rice
Director, Graduate Tax Program
Lecturer
BA, Emerson College
JD cum laude, Boston University School of Law
LLM in Taxation, Boston University School of Law
Areas of Interest
Tax Law
Contact
Office

Room 1005B

Email

ricec@bu.edu

Phone

617-358-5193
Biography
Christina brings a unique perspective to her role as director of the Graduate Tax Program, having been a student of both the JD and LLM in Taxation programs at BU Law and an instructor in the GTP prior to assuming the director role. She also has a BA in Theater Education from Emerson College and formerly taught middle and high school drama classes.
She began her legal career in the business department of a large Boston-area law firm working primarily on venture capital financing transactions before returning to BU Law to pursue her LLM in Taxation. Christina joined the tax practice at EY's Boston office in 2011, where she served a wide variety of clients, including large multi-national retailers and small local biotechnology start-up corporations. While at EY, she focused primarily on corporate tax compliance and reporting, accounting methods, and research credit advisory services.
Courses
Tax Accounting for Financial Statements: LAW TX 978
TX978 is an introductory course in the reporting of income taxes on financial statements under US Generally Accepted Accounting Principles (US GAAP). This course covers financial reporting rules that every tax attorney needs to know to be conversant with business clients and other tax professionals. Subjects include deferred taxes, valuation allowance, uncertain tax positions, effective tax rate, and permanent reinvestment of subsidiary earnings.
SPRG 2018: LAW TX 978 A1 , Jan 16th to Apr 25th 2018
SPRG 2018: LAW TX 978 OL , Jan 16th to Apr 25th 2018
| Days | Start | End | Credits | Instructors | Bldg |
| --- | --- | --- | --- | --- | --- |
| ARR | TBD | TBD | 2 | Roshak | |
SPRG 2019: LAW TX 978 A1 , Jan 16th to Apr 24th 2019
SPRG 2019: LAW TX 978 OL , Jan 15th to Apr 24th 2019
Tax Law of Accounting Methods: LAW TX 913
Examination of a broad range of subjects related to accounting methods and periods. Topics include principles of income recognition, prepaid income, claim of right, cash equivalency, and constructive receipt, special methods involving long-term contracts, depreciation, timing of deductions, estimated expenses, prepaid expense, expense versus capitalization, and conformity between tax and financial accounting. Prerequisite or corequisite: Federal Income Taxation I.
FALL 2017: LAW TX 913 A1 , Sep 5th to Dec 12th 2017
FALL 2017: LAW TX 913 OL , Sep 5th to Dec 12th 2017
| Days | Start | End | Credits | Instructors | Bldg |
| --- | --- | --- | --- | --- | --- |
| ARR | TBD | TBD | 2 | RiceRoshak | |
FALL 2018: LAW TX 913 A1 , Sep 4th to Dec 12th 2018
FALL 2018: LAW TX 913 OL , Sep 4th to Dec 12th 2018
| Days | Start | End | Credits | Instructors | Bldg |
| --- | --- | --- | --- | --- | --- |
| ARR | TBD | TBD | 2 | RiceRoshak | |
In the Media
December 8, 2017

Christina Rice featured in TaxProf Blog read more

December 7, 2017

Christina Rice quoted in WBUR read more