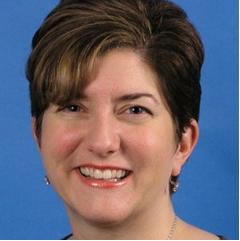 Carla Moynihan
Lecturer
Partner, Sherin and Lodgen LLP
BA, Connecticut College
JD, Boston University School of Law
Biography
Carla M. Moynihan is a partner in the Real Estate Department at Sherin and Lodgen's Boston office. Her practice focuses on the disposition, acquisition, leasing,
development, and financing of commercial real estate. Ms. Moynihan represents institutions, developers, retailers, individual investors, hospitals, medical professionals, hotels, state agencies, municipalities, and lenders in all aspects of commercial real estate transactions, including negotiating and drafting letters of intent; term sheets for financing; purchase and sale agreements; land disposition agreements; development agreements; leases for retail, office, medical office, or industrial landlords or tenants; and CMBS/CRE loan documents for lenders or borrowers.
A significant amount of her practice is also devoted to representing clients throughout the permitting and public approval process at the federal, state, and local levels on land use and zoning issues under the Massachusetts Environmental Protection Act, the Massachusetts Wetlands Act, Chapter 91, the Massachusetts Historical Commission, and numerous local boards, including the City of Boston Board of Appeal, the Boston Redevelopment Authority, and various architectural/landmark commissions.
Ms. Moynihan is a frequent author and lecturer on land use development and real estate transactional matters and is currently an adjunct faculty at Boston University School of Law, where she teaches contract drafting.
Professional Associations
American Bar Association, Acquisitions Editor for the Real Property, Trust and Estate Law Section
Boston Bar Association, Former Co-chair of the Real Estate Section
Citizens' Housing and Planning Association, Inc.
International Council of Shopping Centers
Massachusetts Interest on Lawyers Trust Accounts (IOLTA) Committee
NAIOP – Commercial Real Estate Development Association, Massachusetts Chapter
Community Involvement
Boston University School of Law, Immediate Past President of Executive Committee
United Way, Real Estate and Building Industry Leadership Committee
Massachusetts Appleseed Center for Law and Justice, Past President of Board of Directors
Town of Belmont, Planning Board and Belmont Housing Trust, 2007 to 2010
Honors and Awards
Ranked in Chambers USA: America's Leading Lawyers for Business in the Commonwealth of Massachusetts in the area of Real Estate for 2012 and 1013
AV® Preeminent™ Peer Review Rated in Martindale-Hubbell™ in the areas of Real Estate, Land Use, Environmental Law, Government, and Transportation (Martindale-Hubbell Peer Review Ratings is a trademark. AV Preeminent is a certification mark of Reed Elsevier Properties, Inc.)
Listed in The Best Lawyers in America® in the area of Real Estate Law for 2013 (Copyright 2012 by Woodward/White, Inc., Aiken, SC)
Listed in Massachusetts Super Lawyers® in the area of Real Estate Law since 2009 (Super Lawyers is a registered trademark of Key Professional Media, Inc.)
Boston University School of Law's Young Lawyer's Chair Award
Admissions
Commonwealth of Massachusetts
State of Connecticut
Courses
Contract Drafting: LAW JD 788
This course is the foundational skills course within the Transactional Law Program. It teaches students basic principles and skills of drafting and analyzing commercial and transaction agreements, with a focus on recognizing, and addressing through contractual provisions, key business issues in transactions. Although the course will be of particular interest to students interested in a corporate or transactional law practice, since most practicing attorneys will need to work with contracts at some point in their career, the concepts and skills which the course conveys are applicable to virtually all practice areas and specialties. While the course utilizes lectures to introduce various contract concepts and techniques essential for drafting and reviewing commercial and transaction agreements, it requires that students complete in-class exercises and extensive homework assignments as a means of building basic drafting skills and a solid understanding of the structure and operation of contractual provisions in a business transaction. Grades will be based on the graded assignments, good faith completion of ungraded assignments, and class participation. ENROLLMENT LIMIT: 12 students. NOTE: This class satisfies the upper-class Professional Skills requirement and counts toward the 6 credit Experiential Learning requirement. GRADING NOTICE: This class will not offer the CR/NC/H option. ATTENDANCE REQUIREMENT: A student who fails to attend the first class or to obtain permission to be absent from either the instructor or the Registrar, will be administratively dropped from the class. Students who are on the wait list for a section are required to attend the first meeting to be considered for enrollment.
FALL 2016: LAW JD 788 A1 , Sep 12th to Dec 5th 2016
FALL 2016: LAW JD 788 B1 , Sep 12th to Dec 5th 2016
FALL 2016: LAW JD 788 C1 , Sep 6th to Dec 6th 2016
FALL 2016: LAW JD 788 D1 , Sep 7th to Dec 7th 2016
FALL 2016: LAW JD 788 E1 , Sep 7th to Dec 7th 2016
FALL 2016: LAW JD 788 F1 , Sep 8th to Dec 8th 2016
SPRG 2017: LAW JD 788 A1 , Jan 23rd to Apr 24th 2017
SPRG 2017: LAW JD 788 B2 , Jan 17th to Apr 25th 2017
SPRG 2017: LAW JD 788 C2 , Jan 18th to Apr 26th 2017
SPRG 2017: LAW JD 788 D2 , Jan 19th to Apr 20th 2017
FALL 2017: LAW JD 788 A1 , Sep 11th to Dec 4th 2017
FALL 2017: LAW JD 788 B1 , Sep 11th to Dec 4th 2017
FALL 2017: LAW JD 788 C1 , Sep 6th to Dec 6th 2017
FALL 2017: LAW JD 788 D1 , Sep 6th to Dec 6th 2017
FALL 2017: LAW JD 788 E1 , Sep 7th to Dec 7th 2017
FALL 2017: LAW JD 788 F1 , Sep 7th to Dec 7th 2017
SPRG 2018: LAW JD 788 A2 , Jan 16th to Apr 24th 2018
SPRG 2018: LAW JD 788 B2 , Jan 16th to Apr 24th 2018
SPRG 2018: LAW JD 788 C2 , Jan 17th to Apr 25th 2018
SPRG 2018: LAW JD 788 D2 , Jan 18th to Apr 19th 2018