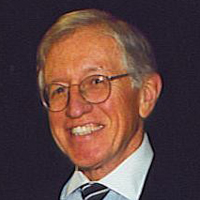 Brainard L. Patton
Adjunct Professor of Law
Practicing Attorney
B.S.B.A., University of Tennessee
J.D., Boston University School of Law
Areas of Interest
Tax Law
Biography
Mr. Patton is a practicing attorney, retired from the Boston office of PricewaterhouseCoopers LLP. He previously spent fifteen years with several Fortune 150 companies, including Asea Brown Boveri, in Stamford, CT, where he was International Tax Director. During an earlier part of his career, he and his family lived for twelve years in Belgium, France, and England.
Mr. Patton is a member of the Executive Committee and President Emeritus for the US Branch of the International Fiscal Association, having just completed a two-year term as President of the Branch. He previously was two-term president of the International Tax Association in New York. He has also been Adjunct Professor of Law at Pace University in White Plains, NY, and Adjunct Assistant Professor in the MST Program at Bentley College. Mr. Patton has lectured and published extensively on international tax topics. He has been a member of the adjunct faculty since 1999.
Courses
Outbound International Tax: LAW TX 939
This course will examine in some detail two fundamental but most important areas of the U.S. taxation of U.S. corporations' foreign operations. This course is designed for those students who are interested in practicing in the international tax area or who are interested in exploring in considerable detail two on the Internal Revenue Code's more complex statutory regimes. This course will include an in-depth analysis of the rules relating to the foreign tax credit, including basic sources of income and allocations of deductions (particularly, interest expense), with emphasis on the determination of the deemed paid credit, the overall and separate limitations and the look-through and foreign loss rules. The second part will address in detail the anti-deferral provisions under Subpart F of the IRC, including the definition of U.S. shareholder and controlled foreign corporation, the determination of the various types of subpart F inclusions, and the effect of partnership and disregarded entities on the application of these rules. Notes: Limited enrollment. Grade based on a mid-term examination, a final examination, and class participation. Pre or co-requisite: Tax Aspects of International Business.
FALL 2017: LAW TX 939 A1 , Sep 7th to Dec 7th 2017
FALL 2017: LAW TX 939 OL , Sep 5th to Dec 12th 2017
FALL 2018: LAW TX 939 A1 , Sep 5th to Dec 12th 2018
FALL 2018: LAW TX 939 OL , Sep 4th to Dec 12th 2018