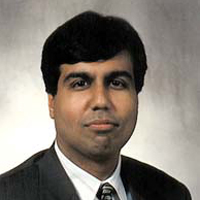 Ameek A. Ponda
Adjunct Professor of Law
Partner and Co-director, Tax Department, Sullivan & Worcester-Boston office
B.A. summa cum laude, Harvard University
J.D. magna cum laude, Harvard University
LL.M. in Taxation, valedictorian, Boston University School of Law
Biography
Ameek Ashok Ponda is a partner and co-director of the Tax Department in Sullivan & Worcester LLP's Boston office, and a member of the firm's management committee. He has extensive experience in structuring corporate mergers and acquisitions, designing REIT transactions and financial instruments, and working on cross border financings and acquisitions. In 2010, Mr. Ponda was appointed to the Internal Revenue Service Advisory Council.
Mr. Ponda is also an adjunct professor with the Boston University School of Law, where he has taught Graduate Tax Program seminars in Business Tax Planning, Corporate Mergers and Acquisitions, International Transactions, RICs & REITs, and Financial Products. He is a member of the American Law Institute, the International Fiscal Association, the South Asian Bar Association of Greater Boston, and the National Association of Real Estate Investment Trusts. Born in Bombay, Mr. Ponda is fluent in both Hindi and Urdu (written and spoken), and is a charter member of The Indus Entrepreneurs (TiE). In 2007 Mr. Ponda was named as one of Boston Business Journal's 40-under-40.
Courses
RICs, REITs,and REMICs: LAW TX 921
An overview of the federal income taxation of passthrough entities such as REITs, RICs, and REMICs. The taxation of partnerships and S corporations will also be examined to establish points of comparison. Topics include the integration of the federal corporate and individual income tax, and the various methods through which integration can be achieved. Prerequisites: Introduction to Corporate Tax and Partnership Tax I. Notes: Limited enrollment. Final paper.
SPRG 2017: LAW TX 921 A1 , Jan 23rd to May 1st 2017
| Days | Start | End | Credits | Instructors | Bldg | Room |
| --- | --- | --- | --- | --- | --- | --- |
| Mon | 4:20 pm | 6:20 pm | 2 | Ameek A. Ponda | | |
SPRG 2017: LAW TX 921 OL , Jan 19th to May 3rd 2017
Taxation of Financial Products: Policy and Theory: LAW TX 917
This course explores the financial characteristics and income taxation of financial instruments, with an emphasis on both policy and theory. We start with the building blocks of debt and equity, move on to the "derivatives" level of options and notional principal contracts (swaps), and conclude with exotica such as currency products. In each instance we will first look at the financial characteristics of the security (after the fashion of an MBA offering in corporate finance), and then study the tax rules governing each class of instrument. Because discounting (net present value) and "pay off" diagrams are so central to an understanding of financial instruments, the course incorporates a rigorous study of these mathematical tools. Also, when studying the tax rules applicable to financial products, we focus on the fundamental building blocks of taxation -- amount, timing, character, and source -- to reveal underlying policy and theory tensions that go to the very root of our income taxation system. The course is intended to complement TX 949 Taxation of Financial Products: Principles and Application, and may be taken either prior or subsequent to that class or on a stand alone basis. Pre or Co-requisite: Federal Income Taxation I and II.
SPRG 2016: LAW TX 917 A1 , Jan 11th to Apr 18th 2016
| Days | Start | End | Credits | Instructors | Bldg | Room |
| --- | --- | --- | --- | --- | --- | --- |
| Mon | 6:20 pm | 8:10 pm | 2 | Ameek A. Ponda | LAW | 413 |
SPRG 2017: LAW TX 917 A1 , Jan 23rd to May 1st 2017
| Days | Start | End | Credits | Instructors | Bldg | Room |
| --- | --- | --- | --- | --- | --- | --- |
| Mon | 6:30 pm | 8:30 pm | 2 | Ameek A. Ponda | | |
SPRG 2017: LAW TX 917 OL , Jan 19th to May 3rd 2017
| Days | Start | End | Credits | Instructors | Bldg | Room |
| --- | --- | --- | --- | --- | --- | --- |
| ARR | TBD | TBD | 2 | Ameek A. Ponda | | |