The Civil Rights Act of 1964 at Fifty: Past, Present, and Future
November 14 – November 15, 2014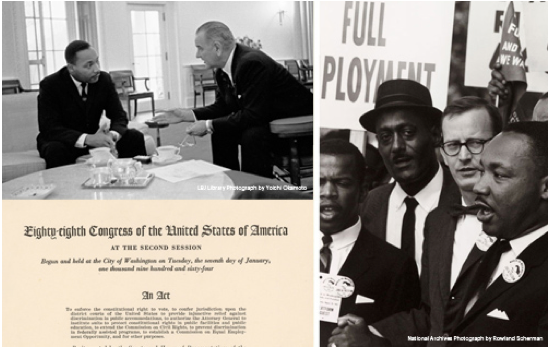 This conference marked the 50th anniversary of the Civil Rights Act of 1964 by bringing together a distinguished, interdisciplinary group of scholars to address fundamental questions about the past, present and future of this historic act. The conference invited historical consideration of the relationship among social movements, activism and law reform.
Because the 1964 Act served as a template for subsequent civil rights laws, the conference examined the evolution of prohibited classifications over time through amendments to the Act, judicial decisions, and additional civil rights legislation. Speakers addressed the problems that public agencies and private plaintiffs have confronted in proving discrimination under the 1964 Act and subsequent civil rights laws, and considered contemporary challenges in addressing inequality.
The papers and proceedings will be published in Boston University Law Review.
For more information on the conference, please contact Professor Linda McClain.
>> Event recap: Civil Rights Conference Keynote Speakers Wilson, Feldblum Urge Multifaceted, Forward-Looking Solutions
Click here to see recordings of the conference:
Killer Show: Litigation Strategies in the Aftermath of America's Deadliest Rock Concert
Max M. Shapiro Lecture Featuring John Barylick ('77)
Monday, November 3, 2014

On February 20, 2003 the deadliest rock concert in U.S. history occurred when a heavy-metal band, Great White, ignited pyrotechnics inside an overcrowded Rhode Island roadhouse called The Station. Within minutes, 100 persons were dead and hundreds more injured. Over the next seven years, criminal and civil actions arising from the fire would put Rhode Island's justice system to the test, as prosecutors and plaintiffs sought to hold responsible parties accountable.
BU Law alumnus John Barylick ('77) is one of the lead attorneys who represented victims in numerous wrongful death and personal injury cases arising from the Station nightclub fire. His work was instrumental in amassing 176 million dollars in settlements from persons and corporations responsible for the fire. During his lecture, he discussed his experiences litigating those groundbreaking cases.
The Max M. Shapiro Lecture, BU Law's principle endowed lectureship, serves as a tribute to the memory of Max Shapiro ('33), a lawyer who devoted his career to examining the place of legal ethics in trial advocacy.
>> Event recap: 'Killer Show' Author Barylick Shares Tale of 7-year Litigation Following America's Deadliest Rock Concert
BU Law Review Book Symposium On War Powers and the Constitution
A Symposium on Steve Griffin's Long Wars and the Constitution & Mariah Zeisberg's War Powers: The Politics of Constitutional Authority

Thursday, October 30, 2014

Symposium
Welcome: Dean Maureen O'Rourke, BU School of Law
Introduction: Associate Dean James Fleming, BU School of Law
Panel 1
Stephen Griffin, Tulane University Law School
Mariah Zeisberg, University of Michigan Department of Political Science

Panel 2
Douglas Kriner, BU Department of Political Science
Robert Sloane, BU School of Law

Panel 3
Pnina Lahav, BU School of Law
Gary Lawson, BU School of Law
Kaija Schilde, BU Pardee School of Global Studies
Boston University School of Law continued its series of symposia on significant recent books in law. The distinctive format is to pick two significant recent books that join issue on an important topic, to invite the author of each book to write an essay on the other book, and to invite several BU faculty to write an essay on one or both books. We then publish the pieces in Boston University Law Review.
The symposium paired Stephen M. Griffin's recent book, Long Wars and the Constitution (Harvard University Press, 2013) and Mariah Zeisberg's new book, War Powers: The Politics of Constitutional Authority (Princeton University Press, 2013).
Stephen M. Griffin is Rutledge C. Clement, Jr. Professor in Constitutional Law at Tulane University Law School. He is also the author of American Constitutionalism: From Theory to Politics (Princeton University Press, 1996) and the co-editor of Constitutional Theory: Arguments and Perspectives (4th edition, Lexis 2014).
Mariah Zeisberg is Associate Professor in the University of Michigan Department of Political Science. War Powers: The Politics of Constitutional Authority was awarded the American Political Science Association's Richard E. Neustadt Prize as the best book on executive politics published last year. She has written a number of articles in constitutional theory.
Submitted Papers:
>> Event recap: On War Powers and the Constitution
>> Audio recording: Part 1
>> Audio recording: Part 2
Fundamentals of Financial Services Compliance Keynote Address and Chief Compliance Officers Panel Discussion
October 21, 2014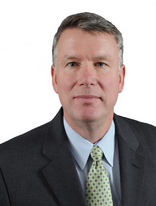 Martin Pfinsgraff, who serves as Senior Deputy Comptroller for Large Bank Supervision at the U.S. Treasury's Office of the Comptroller of the Currency, delivered the keynote address during the Fundamentals of Financial Services Compliance course, which was sponsored by BU Law's Graduate Program in Banking & Financial Law and The Clearing House Association. His talk was followed by a panel discussion featuring Carol Hunly, executive vice president and chief compliance officer at Santander Bank; John Morton, senior vice president and chief compliance officer at Captial One; and Gillian Van Schaick, executive vice president and chief compliance officer at HSBC USA.
>> Event recap: U.S. Treasury official discusses lessons learned from financial crisis
Abuse of Mentally Ill Patients at Bridgewater State Hospital: How the Media Can Help Medicine and the Law Protect Patients
The Eleventh Annual Pike Lecture, Featuring Michael Rezendes
Thursday, October 16, 2014
The eleventh annual Pike lecture featured Michael Rezendes, Boston Globe reporter. He reviewed a year of investigative reporting on the state's prison for the mentally ill and explained how his reporting led to revelations of major abuses – and significant reforms.
Rezendes is a Pulitzer Prize-winning investigative reporter who has played a key role in many of the Globe's most significant investigations, including those probing the September 11 attacks on the World Trade Center and the Pentagon, financial corruption in the nation's charitable foundations, and the plight of mentally ill state prisoners. As a member of the Globe's Spotlight Team he shared a 2003 Pulitzer Prize for investigating the cover-up of sexual abuse in the Catholic Church. Rezendes was the lead writer and lead reporter on the opening story in the Globe's 2002 series, revealing that top Catholic officials had veiled the abuses committed by the Rev. John J. Geoghan, a Boston priest who molested more than 100 children in six parishes over three decades. In addition, Rezendes broke the stories about similar cover-ups by Church officials in New York City and Tucson, Arizona. More recently, Rezendes has uncovered the widespread abuse of mental health patients at Bridgewater State Hospital, including the soaring use of isolation and restraints, and the death of a 23-year-old mental health patient who was killed while prison guards were placing him in four-point restraints.
To read Rezendes's articles about Bridgewater State Hospital, please click here and here.
The annual Pike Lecture on Health Law is held in honor of Boston University School of Law alumni Neal Pike ('37), a distinguished lawyer and lifelong advocate for individuals with disabilities.
>> Abuse of mentally ill patients at Bridgewater State Hospital: Q&A with Pike Lecturer Michael Rezendes
The Interlocking Gears of Rights and Structure: Why the Critics are Wrong About US v. Windsor
Annual Distinguished Lecture featuring Professor Heather K. Gerken
Thursday, October 2, 2014
BU Law welcomed Heather K. Gerken, J. Skelly Wright Professor of Law at Yale Law School, as our 2014 Annual Distinguished Lecturer.
While most academics have celebrated the result in United States v. Windsor, which struck down a key provision of the federal Defense of Marriage Act, they've disliked the reasoning. As soon as the opinion was released, commentators immediately condemned Justice Kennedy as a muddle-head and started squabbling over whether Windsor was "really" a rights opinion or a federalism opinion.
Professor Gerken argued that this rigid insistence on an either/or approach misses the crucial truth undergirding Windsor: the ends of equality are served by both rights and structure. In the marriage equality debate—as with so many others—federalism and rights have served as interlocking gears moving us forward. Kennedy's opinion might not have been a model of clarity, but at least it recognized that important fact. Windsor is neither an equality opinion nor a federalism opinion. It is both. And that is precisely as it should be. The lecture will be published in the Boston University Law Review.
Personalized Medicine and Intellectual Property Conference
Monday, August 25, 2014
Recently, the US Supreme Court ruled in Association for Molecular Pathology v. Myriad Genetics that a human gene implicated in breast and ovarian cancer was not patentable subject matter. In Mayo v. Prometheus, the Court also recently ruled that a method for optimizing certain drug therapies was not patentable subject matter.
BU Law hosted a conference to examine the potential impact of these rulings on medical research. The Kauffman Foundation funded the conference, which brought together legal, business, medical, and economic experts to discuss the impact of these cases, and generally the impact of patent and trade secret law on the incentives for innovation in the field of personalized medicine.
Speakers included:
Members of the BU community with Kerberos logins may view a recording of the conference here:
Please use the links below if you do not have a Kerberos login.
2014 Commencement
Sunday, May 18, 2014
The Boston University School of Law community convened at the Agganis Arena for the 141st Commencement ceremony. The Honorable Juan R. Torruella ('57), U.S. Court of Appeals for the First Circuit, delivered the Commencement speech, presented his nephew Jorge with his diploma, and joined the graduates and their families in the celebration.
Following Judge Toruella's address, LL.M. student Zainab Ali and J.D. student Chaloea Williams delivered two exceptional speeches. Having received their degrees, the 454 graduates mingled and rejoiced at a reception following the ceremony.
Zainab Ali (LL.M. in American Law) Delivers LL.M. Student Address

"It may seem that we are only taking the title of Masters in Law with us today, but in fact we are taking a lot more. We are also taking the guidance of the administration, the wisdom given to us by professors, new experiences and innumerable memories to cherish, and most importantly, friendships that span across the world and transcend all geographical borders and boundaries."

Full Speech
Chaloea Williams Delivers J.D. Student Address
"I challenge you to commit to embracing difference, even when it forces you to question your own beliefs. And I encourage you to remain open to growing and learning from your peers that collectively we may become the extraordinary lawyers and leaders we are destined to be."
Full Speech
The Second Annual James N. Esdaile, Jr. Lecture
Featuring The Honorable Denise J. Casper of the U.S. District Court for the District of Massachusetts
Thursday, April 17, 2014
Judge Casper has been serving as a district judge on the U.S. District Court for the District of Massachusetts since January 2011. Immediately prior to her appointment to the bench, she served as the Deputy District Attorney for Middlesex County.
Prior to serving as a Deputy District Attorney, Judge Casper served for six years as an Assistant United States Attorney in the Criminal Division of the Office of the United States Attorney in Boston. Ultimately, she became Deputy Chief of the Organized Crime Drug
Enforcement Task Force Unit. Before becoming a prosecutor, Judge Casper clerked for Justices of the Massachusetts Appeals Court and was an attorney in the Litigation Department of what is now Bingham McCutchen LLP.
Judge Casper is a graduate of Wesleyan University (1990) and Harvard Law School (1994).
She has been an active member of the Boston Bar Association and has served as an officer
of the Association and a member of its governing council. She has also served on the boards
of the Big Sister Association of Greater Boston, the Executive Board of the Women's Bar
Foundation and the Massachusetts Black Women Attorneys. In addition, Judge Casper has
taught Legal Writing and Advocacy at the Boston University School of Law.
The distinguished James N. Esdaile Lecture has been made possible by the generosity of Esdaile, Barrett, Jacobs & Mone, which created it to honor James N. Esdaile, Jr. ('70), a lifelong partner in the Boston-based law firm, former managing editor of the Boston University Law Review, and BU Law lecturer, university trustee and alumni association president.
The Interface of Social Ethics and The Practice of American Constitutional Law
Featuring Daniel P. Sheehan
Friday, April 11, 2014
What do the Pentagon Papers, Watergate, Iran-Contra, American Indian Movement Wounded Knee occupation, Daniel Berrigan, SJ peace activism, Black Panthers, Attica Prison inmates, Karen Silkwood, Three-Mile Island, American Sanctuary Movement, Greensboro Civil Rights, and Lakota People's Law Project all have in common? Attorney Daniel Sheehan.
Daniel P. Sheehan received a B.A from Harvard College in American Government Studies and U.S. Foreign Policy; a J.D. from Harvard Law School in American Constitutional Law and International Law; and pursued master's and doctoral studies at the Harvard Divinity School, 1973-5, in Judeo-Christian Social Ethics and Comparative Social Ethics. He is Co-Founder and President of the Cambridge Institute for the Study of Alternative Worldviews at Harvard University.
This lecture was co-sponsored by Boston University School of Theology and Boston University School of Law.
Protecting Syrian Refugees: Laws, Policies, and Global Responsibility Sharing
Friday, April 4, 2014
The International Human Rights Clinical Program at the Boston University School of Law gave a report on a two-year research project focusing on the legal issues and problems that are creating barriers to relief and protection for refugees fleeing Syria. The project focused on the legal instruments that govern this refugee flow in the most affected states: Lebanon, Jordan, Turkey, and Egypt.
Clinical Professor: Susan Akram
Clinic Students: Aaron Lang, Sarah Bidinger and Danielle Hites
This event was sponsored by the Boston University School of Law with support from the Institute for Iraqi Studies at Boston University.
The Patient Protection and Affordable Care Act (PPACA) – Examining the Impact on American Families, Industry, and the Nation
The Healthcare Roundtable
Wednesday, April 2, 2014
A panel discussion on the Patient Protection and Affordable Care Act (PPACA), often referred to as Obamacare, featuring five noted alumni and industry leaders currently implementing America's century-long effort at national health care reform.
The panel explored how the Affordable Care Act has impacted innovation, affordability, and access to healthcare in America, the business opportunities and challenges that have emerged, if provisions have been left out of the law, and more.
Panelists:
Jeanette G. Clough (SON'75), President & CEO, Mount Auburn Hospital

David Kirshner (GSM'82), Vice President, Corporate and Business Development, Valence Health

Bill Matson, Chief Human Resource Officer, Analog Devices

Elizabeth H. Roberts (GSM'84), Lieutenant Governor of Rhode Island
Moderator:
Rear Admiral Christine Hunter M.D. (MED'80, CAS'80), Medical Director, Federal Employees Health Benefits Program, Chief Medical Officer, U.S. Office of Personnel Management
Sponsored by:
Health Sector Management Program & HSMA Student Club (SMG)

Association for Healthcare Leadership (SPH)

Students for Quality Healthcare (SPH)

Health Law Association (LAW)

The alumni offices of the School of Management, the School of Law, and the School of Public Health at Boston University

Do Government Agencies Protect Patients?

The 4th Annual Cathy Shine Lecture with Sidney M. Wolfe, MD

Wednesday, March 5, 2014

Is there a role for regulatory agencies in creating an environment to improve the health of patients? Dr. Wolfe presented the case that, yes, some agencies have a role, but have dangerously failed to perform it adequately. A prime example is the FDA, which should be a more important source of patient protection, especially where it serves as gatekeeper for drugs and devices. Others include medical licensing boards, most of which have failed to take action against physicians who are practicing substandard medicine in their states. Dr. Wolfe offered powerful examples from his experiences monitoring and influencing the FDA and medical licensing boards, and discussed recommendations for improving their performance concerning patient safety.

Sidney M. Wolfe, MD, co-founded Public Citizen's Health Research Group with Ralph Nader in 1971 and was its Director until June 2013, when he became its Senior Advisor. Under his leadership, the Group has published research on critical issues in health policy such as pharmaceutical safety and effectiveness, workplace safety, and human research subject protection, and advocated for transparency and accuracy in the development of policies affecting the health and safety of patients. Before moving to the Health Research Group, Dr. Wolfe, conducted research on aspects of blood-clotting at the National Institutes of Health. Since 1995 he has been an Adjunct Professor of Internal Medicine at the Case Western Reserve University School of Medicine and Senior Associate, Johns Hopkins University, School of Public Health. His received his medical degree from Case Western University and his internship and residency were in internal medicine. He is currently a member of the Society for General Internal Medicine and served on the FDA Drug Safety and Risk Management Advisory Committee from 2008 to 2012. He has published extensively in the medical and health policy literature and, since July 2013, has written a regular column for the British Medical Journal. His awards include receiving the 1990 MacArthur Foundation Fellowship.

Meeting the Needs of America's Heroes: A Lifetime and Community Obligation

The Tenth Annual Pike Lecture, Featuring Keynote Speaker Jonathan Woodson, MD

Monday, February 10, 2014

The tenth annual Pike lecture, featuring keynote speaker Dr. Jonathan Woodson, Assistant Secretary of Defense for Health Affairs, was held on Monday, February 10.

Dr. Woodson discussed the major medical advances that have led to the highest survivability from warfare in history. He also offered insight into the nation's long-term obligations to those who are ill or injured as a result of our most recent conflis.

Dr. Woodson serves as principal advisor to the Secretary of Defense for health issues and ensures the effective execution of the Department of Defense (DoD) medical mission. He co-chairs the Armed Services Biomedical Research Evaluation and Management Committee and exercises authority and control over the Defense Health Agency; the Uniformed Services University of the Health Sciences; the Armed Forces Radiobiology Research Institute; and the Defense Center of Excellence for Psychological Health and Traumatic Brain Injury.

Previously, Dr. Woodson served as associate dean for diversity and multicultural affairs and professor of surgery at the Boston University School of Medicine, and as senior attending vascular surgeon at Boston Medical Center. He holds the rank of brigadier general in the U.S. Army Reserve.

The annual Pike Lecture on Health Law is held in honor of Boston University School of Law alumni Neal Pike ('37), a distinguished lawyer and lifelong advocate for individuals with disabilities.
Event recap: Top Military Health Official: Meeting Needs of America's Soldiers

Distressed Municipal Financing: Navigating Uncharted Waters

A Symposium Presented by the Review of Banking & Financial Law

Friday, February 7, 2014

This Symposium, presented by the Boston University Review of Banking & Financial Law, brought together practitioners, judges, and leading scholars to discuss key financial issues arising in debt-laden communities across the nation, including: historic bankruptcies in Detroit and San Bernardino, pension obligation conflicts, and the tension between austerity measures and bailouts. Perspectives on municipal use of volatile securities and the effect of voter mobility on local finance policy, among others, were presented. Participants examined how state and local governments can navigate conflicting interests to generate workable financing solutions.

To contact the symposium editors and for additional information on the Review of Banking & Financial Law, please visit http://www.bu.edu/RBFL/symposium.

Diversity & Inclusion: Building Bridges in the New Legal Market

The Second Annual Greater Boston Asian Pacific American Law Students Association Conference

Saturday, January 25, 2014

The Greater Boston APALSA Conference celebrates ethnic and professional diversity in the legal world. In the past, BU APALSA has successfully brought together alumni—old and new, and from different law schools—whose collectively diverse background and experience will add a unique dimension to discussions on Asian American unity in the legal profession.

This year's Second Annual Greater Boston APALSA Conference hoped to inspire a new level of appreciation for a stronger connection within a larger APA community. This year's theme was "Diversity and Inclusion – Building Bridges in the New Legal Market." The conference explored emerging trends in the legal market, diversity and why it is important and instrumental, and more.

For more information, please visit the Second Annual Greater Boston APALSA Conference website.

Improved Health at a Reduced Cost? Economic Perspectives on the Patient Protection & Affordable Care Act

A Symposium Presented by the American Journal of Law & Medicine

Friday, January 24, 2014

As the Patient Protection and Affordable Care Act (ACA) is implemented, states, healthcare industry stakeholders, employers, and citizens must navigate their way through a challenging new healthcare market. The administration contends that this new market is the key to improved health at a reduced cost. Panelists analyzed and discussed wide-reaching economic impacts of the ACA, including impacts on provision of healthcare services, labor and employment, state Medicaid programs, and the insurance industry.

The Euro Crisis: Regulatory Responses, Social Consequences, and Legal Strategies

An event co-hosted by the Boston University International Law Journal and the Hellenic Bar Association of Massachusetts

Friday, January 17, 2014

The Eurozone crisis, epitomized by the Greek sovereign debt crash, continues to loom as one of the greatest financial, regulatory, and policy challenges in the history of the European Union to date. One of the long-standing aspects of the European Union's political integration is the project of a Social Europe – a particular model of polity built upon the legacy of member states' welfare policies. What are the prospects for Social Europe following the recent austerity measures demanded by lending institutions? Can it find room in a new and strengthened political union? In addition to addressing the foregoing questions, this event laid out for discussion the regulatory and investment-climate outcomes of the Greek debt crisis, identifying opportunities for legal strategies concerning both private investment and systemic regulation in Greece and at the EU level.