Training new lawyers. Serving low-income clients.
Lawyers for Affordable Justice – BC Incubator Bridging the Justice Gap
650 Beacon Street, 4th Floor, Boston, MA 02215 | Call (857) 227-1963 | lawyers4aj.org
LAJ's goal is to support, nurture, and train entrepreneurial new lawyers in innovative practice methods in order to encourage them to serve low- and moderate-income clients who cannot afford conventional legal services in Massachusetts and elsewhere in New England. Participants must demonstrate a strong interest in solo practice and will be carefully selected through a competitive application process.
LAJ helps its participants turn unmet need into profitable practices. Policymakers and other observers have for years noted the growing crisis of clients with important legal needs who cannot afford a traditional lawyer to assist them. Employees with wage claims and other work-related injustices forego remedies because of the lack of lawyers. Beginning businesses struggle with confusing regulatory hurdles. Tenants don't know where to turn for help getting their landlords to provide the most basic services. Immigrants seeking to reunite with family or secure legal status in the United States are faced with complex and confusing immigration laws. LAJ supports practices that focus on these areas of need: immigrants' rights / immigration law, employment law matters, small business/transactional issues, landlord/tenant disputes, criminal defense and divorce/family law.
LAJ addresses the challenges facing underserved populations by helping new lawyers sustain practices that will serve primarily low- and moderate-income clients, relying on efficient and technologically savvy means of delivering legal services at low cost. LAJ assists these new lawyers in developing successful businesses, while at the same time mentoring them about many aspects of solo or small-firm life.
For those lawyers accepted into LAJ, the program provides office space for client meetings, collaboration, and training sessions, with access to necessary technology for the lawyers' practices. LAJ will also provide mentoring to the new lawyers on substantive law topics, technology systems, and law office management.
The incubator is the clinical directors of each sponsoring law school, along with Executive Director Damian Turco, founder of Turco Legal, PC, a Massachusetts divorce and family law lawyer with his Boston office focused on personal injury practice. Attorney Turco, together with the clinical directors, James Rowan of Northeastern, Paul Tremblay of BC, and Bob Burdick of BU, provide guidance and mentorship to the participating lawyers on a weekly basis.
Are you interested in helping LAJ meet the needs of the justice gap? Do you need legal services but can't afford them? Click on the links below to learn more, get involved, refer LAJ cases, and, for those in the justice gap, find legal representation.
Meet Boston University Law School's Featured Participating Attorney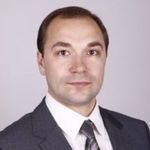 Providing criminal defense and EB-5 Visa applications representation, Attorney Paromov is capable of representing English and Russian-speaking clients, including those in the justice gap. He serves on the CPCS Criminal Defense panel and appreciates affordable representation can be hard to find, particularly when there is a language barrier.