An Indirect Path to Environmental Law
After 17 years as in-house counsel at a corporation, Wisla Heneghan transitioned to a nonprofit focused on environmental law.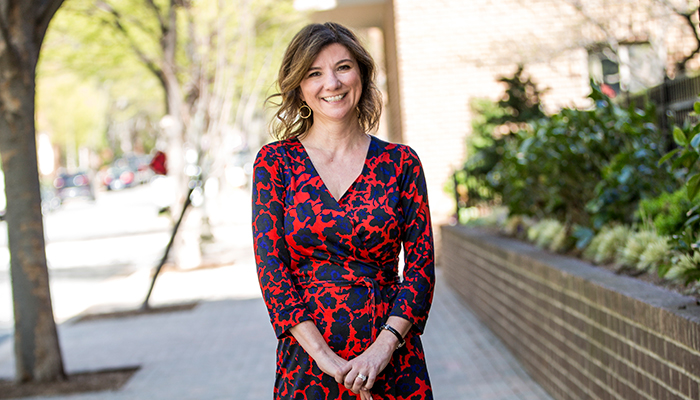 Wisla Heneghan ('96) arrived at BU Law with a plan to practice corporate law. Focusing on that area as well as litigation in school, she joined the firm of Mintz Levin after graduation.
As a new lawyer, she quickly realized that litigation wasn't a perfect fit.
"I worked with some great litigators who brought a tremendous passion to their work, but I realized it wasn't for me. I preferred the collaborative aspect of deal making and shifted back to corporate law," she recalls.
After practicing for several years at Mintz Levin and later Goodwin Procter, she joined Staples in 2000 as associate general counsel, focusing on complex commercial transactions in the US and internationally. "That was an opportunity to work with teams throughout the organization to help the company grow," she says.
"Staples was still very young. During my time there, it expanded into Europe, Asia, and Latin America."

In 2013, Heneghan had another opportunity for a career change. This time, instead of going from private practice to in-house, she joined the not-for-profit world at The Nature Conservancy as general counsel.
The Nature Conservancy is one of the largest conservation organizations in the world, operating in 72 countries with nearly 4,000 employees, including 600 scientists. Heneghan's role as general counsel was to manage the legal and ethics and compliance teams, comprised of over 100 people globally.
"One of the things that attracted me to this organization, in addition to its critical mission, was its visionary CEO, Mark Tercek," she says. "He had a different career from many in the environmental law space, having spent most of his career at Goldman Sachs, but it wasn't that different from mine. He saw the benefit of bringing people to the nonprofit world who have business experience." Since joining the organization, Heneghan was promoted to COO and general counsel. Today, she manages around 600 people on the legal, finance, human resources, diversity/inclusion, and technology teams.
As The Nature Conservancy works globally, she helps navigate the challenges that come from working across regulatory, legal, and cultural structures. Similar to corporate law, Heneghan notes that the organization's approach is "very collaborative and focused on practical problem-solving." The group works with many partners, such as governments, other nonprofits, corporations, and indigenous people.
Heneghan also points out that the organization is bipartisan. "It's more important than ever to have organizations like ours with support on both sides of the political aisle, which can bring people to the table to find solutions," she says. "We are a science-based organization, so our goal is to find real solutions that make sense for people and the environment. That is where the win is, and The Nature Conservancy is well suited to finding those wins."
Another important part of her job involves the organization's focus on diversity and inclusion. "We are committed to building a diverse workforce and diverse partnerships. I am particularly passionate about mentoring women and young professionals. I have two sons who are 11 and 12, and I like to share my experiences as a working mother and pass along my knowledge to help others."
As for hiring attorneys, Heneghan says she often thinks about her BU Law education when she talks to prospective employees. "I look for people who have built a strong and broad foundation in law school and are able to learn something new," she says. "I really value how I've been able to continue building my skills throughout my career because of my legal education."
This feature originally appeared in The Record, BU Law's alumni magazine. Read the full issue here.
Reported by Meghan Laska
Related News
Past Alumni Spotlights
July 5, 2018

As an IJC Fellow, Fuleihan will join the immigration department of the New Haven Legal Assistance Association. [ More ]

May 15, 2018

Robin A. Walker is behind some of the most cutting-edge gene-editing deals in biotech. [ More ]

April 17, 2018

A planned gift from Linda Peterson ('76) will help meet the unpredictable needs of future BU Law students. [ More ]

March 6, 2018

As an attorney for the DOJ and EPA, Quentin Pair ('71) helped develop environmental justice practices within the federal government. [ More ]