Gain an insider's perspective on lawmaking.
The Legislative Practice Program offers an insider's perspective into working as a lawyer for a busy legislature in the US or overseas. In Boston, you can complete an externship at the Massachusetts State House where you will work for a state senator or representative, or participate in a clinic where you will provide counsel to clients seeking to advance or pass a bill in the state legislature.You will also write at least two articles on legislation and public policy for the legal blog, Dome.
Legislative Externship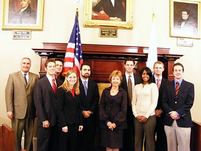 By working directly for a state senator or representative on Beacon Hill, you will get a first-hand look at how laws are made in Massachusetts. Students have interned for the Senate's Majority and Assistant Majority Leaders, as well as chairs of key committees in both the State Senate and the House of Representatives. Interns may draft legislation, evaluate testimony, attend meetings with legislators and staff, observe legislative strategy sessions and negotiations, attend floor debates and committee meetings, and research questions of law and faculty for proposed legislation. You can choose from one of the following areas of legislative focus: Environmental Law, Health Law, Tax & Business, or General Focus.
Students in the past have worked for some of the Massachusetts Legislature's busiest committees:
Public Health Committee
Health Care Finance Committee
House Committee on Climate Change and Global Warming
Economic Development and Emerging Technologies Committee
Revenue Committee
Judiciary Committee
Environment Natural Resources and Agriculture Committee
Legislative Policy & Drafting Clinic
Through a combination of classwork and fieldwork, you will learn the theoretical and practical aspects of law-making bodies: how statutory law is created through a variety of case examples; Constitutional limits to law-making; the ethical responsibilities for those involved in the process; and how law makers anticipate and shape the way the public and courts will interpret their work product. Assuming the role of legislative counsel to your client, who may be a legislator, state executive office, nonprofit organization, or advocacy group in Massachusetts, you will work to advance your client's bill or project. Students who have participated in this program have gone on to work at prestigious government agencies after graduation. Others use their newfound knowledge of the law-making process as a valuable tool in any career path.
In addition, the Clinic conducts oversight projects to review whether existing statutes and government programs are functioning as intended. For example, Clinic students have assisted the Governor's Commission on Corporate Taxation in reviewing the state's corporate tax laws, and have reviewed the Gun Control Act of 1998 on behalf of the Joint Committee on Public Safety. Finally, Clinic students work on the Legislative History Project. As an ongoing project of the Clinic, students gather, organize, and put into context documentation related to recent substantive changes to the General Laws. This documentation includes testimony submitted to the relevant committees, speeches given on the floors of the Senate and House, and committee reports. These sources will then be posted on the internet as a resource for anyone trying to understand or interpret Massachusetts statutes.
Students in the past have worked on the following projects with Legislative leadership and committee chairs:
Successful passage of a human trafficking law;
Improve mental health care for children;
Reform corporate tax code;
Proposed reform to laws regulating nursing homes;
Expand health insurance coverage for students;
Implement the REAL ID Law;
Remove harmful chemicals from furniture, clothing and household goods;
Reform the scope of practice laws for nursing.